Hello all! This will be my first post since the name change to my website! I was very sad to change it but it was pointed out to me that the previous website name was the same as another blog and in the interest of remaining unique and distinguishing my website from others out there, I decided it would be best to change my name. This new name really says everything about what I am blogging about on this website so I think it is a good fit. Let me know what you think, but for now, lets move onto more important things like… CAKE!
It was my Dad's birthday a couple of weekends ago and naturally we celebrated by doing a traditional home cooked meal at my parents house, complete with this very large and very delicious birthday cake. I love birthday's for one simple reason and that reason is the CAKE! As one of my favourite people of all time, Julia Child, would say "A party without a cake is just a meeting." Seriously, how could you not love that woman when she coins phrases like this one?
I just love that saying, and I use it every time somebody dares to tell me that they don't want a cake at their birthday party, (believe it or not, people have actually spoken these words to me before.) Usually this comes from people who aren't as infatuated with cake or don't have a giant sweet tooth like I do, but for the sake of the other guests, I must always insist on cake at a birthday party.
My Dad is the one member of my family that doesn't seem to have quite as large of a sweet tooth as the rest of us do. Given the choice between sweet or salty, my Dad would most likely choose salty – whereas if you asked me, my Mom or any of my brothers that same question, the answer would be SWEET,  hands down. There have been times when my Dad has said not to bother with making him a cake for his birthday, but my Mom and I have always been quick to shut down that crazy thought.
I wouldn't go so far as to say that my Dad is the black sheep of the family, but what I would say is that when it comes to desserts, he is the kind of guy who enjoys his classics. For example, if I was to give him a selection of every ice cream flavour under the sun, his choice would be simple… Vanilla; or when it comes to pie… gotta be Apple; Cookies?… a simple Chocolate Chip is his favourite. For my Dad, the simple and the classic are always the best choice. So when it comes to baking his Birthday Cake every year his request is, you guessed it… a classic Vanilla Cake with Chocolate Frosting.
I kid you not, this is what my Dad asks for every year and every year I can't help but think to myself… that sounds absolutely perfect.
Now I love to try new and complex recipes and eat a decadent dessert as much as the next dessert lover, but sometimes, I really think that my Dad has got the right idea. I mean, can you really blame the man for loving a simple, yet always guaranteed to be delicious, Vanilla Cake with Chocolate Frosting? When it comes to dessert, sometimes a classic is quite simply the best.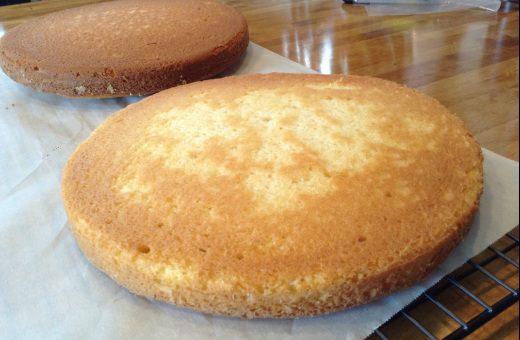 This is my go to Vanilla Cake recipe because it always comes out moist yet light and fluffy with  that classic vanilla flavour. Consider this your go to Vanilla Cake recipe because you can add basically any variation to change up the flavouring and always end up with a cake that will rise beautifully and give you that perfect cake texture.
I wanted to do something a little more special for my dads birthday, so I decided to go with a three layer cake however, you could definitely just go with a standard two layer cake if you wanted to by simply dividing the batter into two prepared round pans instead of three.
Now to avoid my cake from being labelled as boring because of its classic simplicity, I also decided to go with a different chocolate filling on the inside of the cake than what I frosted the cake with on the outside. I decided to go with a Whipped Chocolate Mascarpone Filling on the inside of the layers and then a Creamy Whipped Chocolate Frosting for the outside of the cake. This just gave the cake a little bit of dimension to the flavour and the cream filling helped to balance out the sweetness of the chocolate frosting. It really did turn out fabulously and I could have just kept eating piece after piece after piece.
So I will keep it short and sweet today my friends because that phrase describes my Dad pretty much to a T, and this cake is a tribute to him!
I hope you enjoy!
Classic Vanilla Birthday Cake with Whipped Chocolate Cream Frosting
Things you need… 
Vanilla Butter Cake
1 cup butter
1 1/2 cups granulated sugar
1/2 cup brown sugar
4 eggs
1/2 tbsp vanilla
1 1/2 cups buttermilk
3 cups all purpose flour
1 tbsp baking powder
1 tsp baking soda
1/2 tsp salt
Mascarpone Cream Filling
4 tbsp Butter, softened
1/2 container of Mascarpone
1/2 block (4oz) of Cream Cheese
3 tbsp whipping cream
1/4 cup Cocoa Powder, sifted
1 tsp Vanilla
1 cup Icing Sugar
Whipped Cream
1 cup Whipping Cream (to be folded into Mascarpone Cream)
3 tsp sugar
1 tsp vanilla
Whipped Chocolate Frosting
1/4 cup Butter, at room temperature
1/2 container of Mascarpone
1/4 cup Cocoa Powder, sifted
1 tsp Vanilla
3-4 tbsp Whipping Cream
4-5 cups Icing Sugar
How to make… 
**Note – I like to prepare the Milk Chocolate Cream filling before I start making the cake batter, because it gives some good time for the cream to refrigerate and set up while you mix, bake and let your cake cool **
Mascarpone Cream Filling
* Note * Try to make your Mascarpone Cream Filling before you begin to mix your cake batter as this will give it time to refrigerate and set up in the fridge before you assemble your cake.
In a medium mixing bowl with a hand mixer fitted with the whipping beaters, beat together butter, cream cheese, and mascarpone until creamed and there are no lumps. Add in sifted cocoa powder, vanilla & whipping cream & beat for 2 minutes to aerate the cream. Slowly add in the icing sugar. Whip until well combined.
In a separate bowl, whip 1 cup of whipping cream with 3 tsp of sugar and vanilla until stiff peaks form. Using a spatula, gently fold the whipping cream into the chocolate cream mixture.
Refrigerate until you are ready to assemble your cake.
Vanilla Cake
Preheat oven to 350 degrees and grease 3 round cake pans with butter and flour.
In a large mixing bowl using a stand or a hand mixer, beat together butter and sugar until light and fluffy, about 3-5 minutes. Add in one egg at a time, beating well after each addition. Add in vanilla and beat on high for one minute. Add in your milk and gently mix until combined. Scrape down the sides of your mixing bowl.
In a medium mixing bowl, sift together flour, baking soda, baking powder and salt. Slowly add the flour mixture to your wet ingredients, beating gently until there are no lumps in the batter, but do not over mix.
Separate cake batter into thirds, and fill your prepared pans. with an even amount of batter. Bake for 15-18 minutes or until a skewer comes out clean or the cake springs back to your touch.
Allow the cake to cool on a cooling rack completely before you assemble.
Whipped Chocolate Frosting
While the cake is cooling, prepare the frosting.
In a medium mixing bowl, using a hand mixer with the whipping beaters, whip butter & mascarpone together until blender and there are no lumps. Add in 3 tbsp whipping cream, 1 tsp vanilla & cocoa poweder; beat slowly to combine and then beat on high to aerate the cream. Add in 4 cups of icing sugar, 1 cup at a time, beating slowly until well combined. Whip the frosting on high speed for 2 minutes. If your frosting is too fluid add an additional 1/2 – 1 cup of icing sugar or if your frosting is too stiff, add an additional tbsp of whipping cream.
Assembly
Once all three of your cake layers have completely cooled and you have allowed ample time for your Chocolate Mascarpone Cream to set in the fridge (at least 1 hour), you can begin to assemble the cake.
Begin by selecting one of the three cake layers with the nicest dome top and set aside to use as the top layer of your cake. Next, using a serrated knife, cut the domes off of the top of the two remaining cake layers so that they have a completely level and flat top – this will help to make sure your cake layers stay upright once you begin to cut into it and help to make that perfect looking layer cake.
Place one of the cake layers with the dome removed onto your serving plate with the base down and the top up. Using a piping bag with a wide round tip, pipe a line of icing onto the top of the cake layer around the edge. (Think of this as a frosting barrier for your each of your cake layers as this will help to keep the cream filling from spilling out the sides and it will also give structure to the cake layers and help them to hold together) Next, dollop about 1 cup of the Chocolate Mascarpone Cream Filling onto the center of the cake layer. Using a spatula, gently smooth the cream out and level it as best you can.
Next, place the second layer (which has had its dome cut off) on top of the first layer of cake & cream- repeat the same process of above; pipe icing around the edge, foll the center with the cream and smooth out.
Finally, add your top cake layer with the dome facing up and the flat bottom facing down. Now it is completely up to you how you choose to frost you cake – I wanted to keep it classic so I simply used a spatula to smooth the frosting onto the cake with a swirling motion to get a little bit of texture.
Once the cake is all frosted it is FINALLY ready to serve! Cut the cake with a large, sharp knife, wiping off any excess filling or frosting as you plate each piece with a damp towel (or if your like my family and nobody cares about germs just use your finger)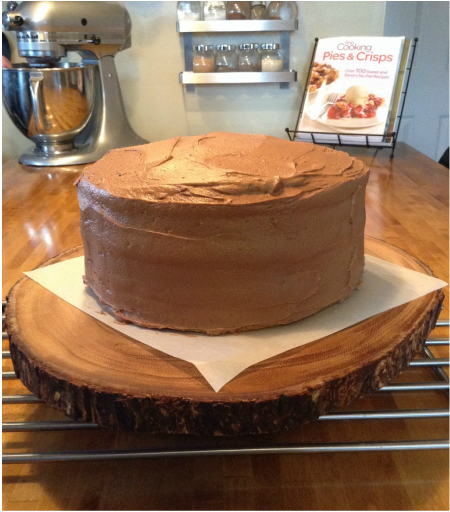 This cake in delicious all on its own, but my family loves a nice scoop of Vanilla Bean ice cream to go with that rich chocolate frosting. I dare you to eat just one slice!
At the end of the day, this cake was a huge success because most importantly my Dad LOVED it! He was raving about the filling and the frosting on the cake all night, because it was "soooo good." Delicious and beautiful this cake was, and it is a definite staple to have among your recipe books.
Thank you so much for checking out this recipe! Let me know what you think or send me pictures of how you chose to decorate your cake! I would love to see them 🙂 When it comes to cakes, they are so easy to bake, share, eat  and repeat…
I will be heading off on vacation to Tofino tomorrow morning! YAY! My boyfriend and I are going camping there and will be taking some much anticipated surfing lessons while we are there as well, (wish me luck!) I am so excited for this trip, but sadly it means you won't see a post until I return next weekend, so hang tight! I will have lots of great pictures and stories for you when I come back, not to mention some great recipes for how to make the food preparation for your next camping trip a breeze!
See you soon!
KP