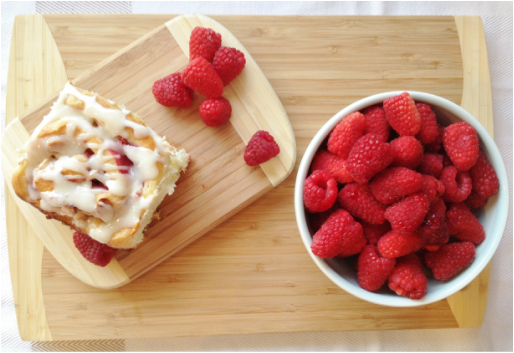 Alright, first things first, I promise that I am officially done changing up my websites name! I know it's just ridiculous how I have managed to do this twice in the span of one month, but I have finally settled on a name that I think really fits what my blog is about and also makes me smile! Let me know what you think about the name change 🙂 Now back to today's blog!
Happy Friday everyone! Yipeee! So basically it has become something of a tradition for me to bring in some sort of baked good to work on Friday mornings. How did this happen you ask? Well basically, about two months ago I started to casually bringing in some leftover treats, which I had lying around at home from various weeknight baking adventures. I finally realized that there is only so much baking that two people (Cole and I) can consume during the week without it going bad and decided it would be a much better idea to share the bounty at work.
Anyways, I guess people enjoyed the homemade goodies, because I soon found that people were seeking me out in the office to ask me if, (and what) delicious treats I would be bringing into our little staff room each week and I couldn't just stop bringing stuff in when they were asking me so nicely! So I started bringing different baked goods in every Friday morning (just because I thought this would make our Fridays even better than they already are.) Thus, the tradition of Kristie's Friday baked goods in the office was born.
Now before you judge me for being the biggest "people pleaser" ever, (which I am – and I am fully aware of this character flaw), let me just say that I swear I am not doing this for workplace glory or brownie points so that I can win employee of the month! I really just love to bake, and will therefore take absolutely any opportunity to bake more during the week without asking questions!
But seriously, how could I deny these people of baked goods when they were so eagerly awaiting them??? Besides, who doesn't want to reward themselves for a job well done at the end of each work week by filling up on delicious goodies every Friday morning? Okay so, perhaps those of you who practice some form of self control when it comes to food would be able to pass this up – but let me be just be the first to say that we are definitely not those kinds of people at my work. Therefore, we are more than happy to indulge & congratulate ourselves with delicious homemade baking on our Friday mornings.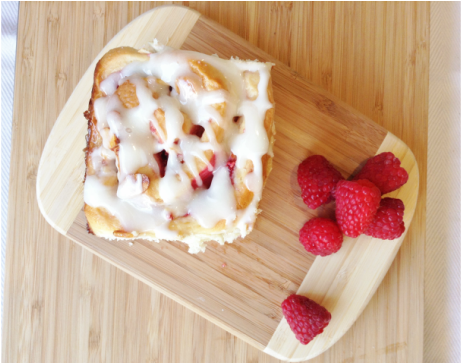 This particular Friday is an extra exciting Friday because for us British Columbian's it is a Friday before a long weekend for BC day the coming Monday! Wahoo! Cole and I also decided to spoil ourselves and take an extra-long weekend by taking this coming Tuesday off as well, which will give us a grand total of 4 days to spend together in this glorious sunshine! Truly. Heavenly. Needless to say, the countdown is officially on for 5:00pm today when I will be able to shut off my computer and forget about work for 4 straight days!
So here's hoping the day goes by nice and fast! i have to say that it is certainly off to a good start as I sit here sharing this post with you over a cup of Vanilla Chai Tea, while stuffing myself with a nice, big White Chocolate Raspberry Sweet Roll. I think it's going to be a good day… 🙂
Now, lets get to the goods shall we -I know this is what you all really came here for 😉 – and start talking about these gorgeous White Chocolate Raspberry Sweet Rolls, which were today's Friday morning work treat!
I was inspired to make these bad boys quite simply because I am shamelessly addicted Cinnamon Buns, and the other day I found myself with an unshakeable craving for a nice fat, gooey Cinnamon Bun. So naturally I figured this would be a great item to bring in to share at work. However, when I presented the idea to a couple of girls at work I came to find that they were not nearly as excited about the prospect of cinnamon buns as I was. My first reaction to these girls, (weirdo's) was something along the lines of …"SAY WHATTTTT????"
But upon further investigation, I realized that while I believe that Cinnamon Buns should be consumed all year round, other people seem to think that Cinnamon Buns are more of a baked good to be enjoyed during the months of Fall/Winter. Alright fine, I do have to agree that the classic Cinnamon Bun flavours of brown sugar and cinnamon really do lend themselves to the category of Fall flavours, so I guess these girls weren't totally crazy.
Alas, as much as it pained me to do so, I decided it would be best to save my recipe for my beloved Cinnamon Buns for the cold months to come. However, I wasn't entirely ready to give up on the general idea just yet and I decided it might be fun to experiment with swapping out that divine cinnamon sugar Fall filling for an ooey gooey, yet light and fruity Summer filling instead. Now because this summer has basically been the summer of Blueberry baking for me, I thought it would be a good idea to experiment with another berry that is at its peak right now… Raspberries! Luckily, I had just picked up two cartons of some deliciously sweet & sour, local Raspberries from the farmers market and I was ready to go!
I just love baking Sweet Rolls because they are so much fun to make! No matter how many times I do it, I can't seem to help but get a little giddy when I work with yeast; It's so satisfying to watch your simple little ball of dough rise up in to a beautiful puffy dough that just smells so yeasty and marvelous – I don't know why this is so exciting for me, but it really is. Not to mention the process of rolling up the dough with that luscious filling and cutting the log into your individual rolls is such a rewarding task. It's as if you are making your own little bundles of joy as you cut out each individual roll. Sure, it can be a messy task, but for me that just makes it all the more fun, because as you now know from my last post.. I am a messy baker… shhh don't tell Cole I've finally admitted to it!
Okay, I am done rambling I swear! Here is the recipe everyone, and I hope that you have as much fun making them as I did! These White Chocolate Raspberry Sweet Rolls are such a great Summer spin off of a classic Cinnamon Bun – Absolutely perfect for Summer baking! Not to mention they present the perfect opportunity for you to use up any of those delicious remaining raspberries before they go away for the season!
White Chocolate-Raspberry Sweet Rolls
Things you need… 
Sweet Roll Dough
1 package Yeast
1/2 cup Milk
1/4 cup Butter
2 eggs, room temperature
1/4 cup Warm Water
1/4 cup Granulated Sugar
1 tsp Salt
4 cups Flour
Raspberry Filling
2 cups Raspberries, fresh or frozen
1/4 cup Granulated Sugar
1/4 cup Corn Syrup
1 tsp Vanilla
2/3 cup White Chocolate Chips
1/3 cup Sliced Almonds
1 tbsp Lemon Juice
1 tbsp Tapioca
Egg Wash Glaze
1 Egg, beaten
Cream Cheese Glaze
4 oz Cream Cheese, softened
1 tbsp butter, softened
2 -4 tbsp Milk
1 cup Icing Sugar
How to make… 
Sweet Roll Dough
In a medium sauce pan over medium-low heat, the milk and all but 2 tsp of the sugar, butter and salt until the butter is melted; remove from heat and allow to cool to room temperature.
In a large mixing bowl, or your stand mixer bowl fitted with the dough hook, dissolve the remaining 2 tsp of sugar with the warm water. Sprinkle in the yeast and let stand until frothy – about 10 minutes. With the dough hook, stir in warm milk mixture and the eggs. Set your stand mixer to lowest speed and mix in 3 1/2 cups of the flour 1 cup at a time to form a soft, sticky dough; Mix on low speed for another 8 minutes until the dough is smooth and elastic.
Place dough in a lightly greased bowl, lightly grease the top of the dough and cover with plastic wrap or a clean, dry tea towel; Allow to rise for 1 1/2 hours or until the dough has doubled in size.
Assembly
Prepare a 9″x11″ rectangle pan by lightly greasing it and lining it with parchment paper.
Once your Sweet Roll Dough has risen (about 2 hours) Punch down the dough and turn out onto a lightly floured surface. Gently roll the dough using a rolling pin into a rectangle. Brush the surface of the dough with softened butter.
Raspberry Filling
In a large mixing bowl, toss together raspberries, corn syrup, sugar, white chocolate chips, vanilla and almond slices.
Spread the filling evenly over the dough, leaving about a 1-1.5 inch border around the outer edge.
Next, carefully begin to roll the dough up evenly. Pinch the edges together with your fingers to prevent any of the filling from falling out.
Next, cut the dough into 12 equal rolls and place into prepared pan. Cover with a clean, dry tea towel and allow to rise for another hour.
Preheat your oven to 375 degrees.
Once your rolls have risen, brush them with egg wash (if desired – this just gives them a nice sheen) and place in on the center rack of your oven. Bake for 20-25 minutes or until the tops are golden brown and the filling is bubbling.
Cream Cheese Glaze
While your rolls are baking, prepare your glaze. In a small mixing bowl, beat together softened butter & cream cheese. Slowly add in icing sugar and milk. Beat until smooth; Set aside until ready to use.
Allow our rolls to cool for 10 minutes, and then drizzle your glaze over the tops while they are still in the pan. Glazing the rolls while they are warm will melt the glaze a bit and make it nice and gooey! OH YES!!
Whether you serve these rolls warm from the oven or cooled for breakfast the next day, they will be DELICIOUS!
*Tip*
Make sure that after you cut into these rolls that you cover them well or store them in an air tight container.  This will keep them nice and fresh and ensure that the air doesn't dry out your rolls. Of course, you only need this tip if by some miracle you are able to keep these rolls around the house for more than a day- they never last longer than a day in my house! Trust me, these delicious little rolls will disappear fast so make sure you snatch one up while they last!
**Sweet Roll Dough recipe is from T"he Complete Canadian Living Baking Book – Sweet Yeast Dough "**
One final note for anybody who is interested in receiving more e-mails than you already do… (I am pretty sure I receive e-mails from over100 different stores/websites – but they are all so useful so why not!?) So if you can handle another e-mail blast coming your way, please sign up for my new monthly newsletter! Yayyy!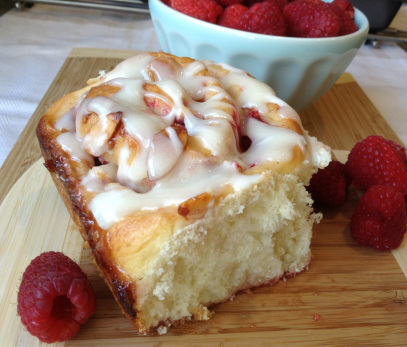 This is a new addition to my website and I am super excited about it! Basically at the end of every month I will be sending out a monthly newsletter with the months featured recipe and also a quick recap of the other posts you may not have seen during the month. So if you are worried about missing out on a good DIY post or an awesome recipe, feel free to sign up and I will get you on my list so you needn't have to worry ever again! The sign up is just on the right hand side bar —-> and it is super easy to register! And if you ever get tired of the newsletter you can opt out at any time so don't be afraid to sign up – I promise I won't stalk you! 🙂
Thank you for checking out this weeks recipe and blog! As always, if you have any comments or questions for me about this recipe, bog or the website, please feel free to post them below or you can also e-mail me if you prefer to keep it a little bit more private! I would love to hear from you!
Happy baking everyone!
KP xoxo