There are so many things I love about Summer; sunshine; blue skies; beach days; warm breezes; picnics; campfires; s'mores… the list goes on and on. But if I had to choose my favourite thing about Summer, I would have to say that fresh local berries and stone fruits steal my heart every time.
Last weekend Cole and I went berry picking and came home with buckets of ripe strawberries, sweet raspberries and juicy blueberries. I am up to my ears in fresh local berries right now and absolutely loving every minute of it.
Shop this post

I love picking an abundance of fresh berries and taking them home to freeze them, so that in a few months when all the fresh berries are for another year, I can use my frozen stock to whip up batches of berry scones, muffins and pies on demand. If you were to look in my freezer right now you would see about 6 freezer bags worth of berry loot. I'm obsessed.

Admittedly, I sometimes get a little carried away and leave a few too many berries sitting in my kitchen for a few days longer than I should have.  When this happens, my favourite quick & easy way to use up fresh berries before they go bad, is to wrap them up a a buttery puff pastry, bake it to golden brown perfection and serve them up with a scoop of good vanilla ice cream. Because warm flaky pastry + juicy berries + ice cream is always a winner, amiright?

These pastry puffs are seriously just about the easiest dessert you can whip up. Really all you need is some store bought puff pastry, berries, a bit of sugar, and you are good to go.  You don't even need to mess around with homemade pastry. I honestly LOVE store bought puff pastry. I think it's just about the most fabulous invention ever. I mean let's be honest, it's always flaky, delicious and requires little to no effort whatsoever – what more could a girl ask for?
The one thing I do recommend when I buying store bought puff pastry, is to look for a brand that uses "all-butter" in their dough. I'm all about the butter and you can definitely taste the difference.

I made a batch of these pastry puffs with blueberries this week because that's what I had sitting on my counter, but you could easily use whatever berry  or stone fruit you have on hand or are craving. I have made these with cherries, strawberries, peaches, nectarines, plums, apples, and the result is always delicious. So don't be afraid to swap in your favourite fruit.

Despite being beyond easy, these pastry puffs are always a little bite of heaven – especially when they are still warm from the oven, and the ice cream gets all melty like this……

So enough chit chat, and more recipe sharing, because these berry pastry puffs need to be on repeat in your life all summer long.
Here is the recipe lovelies & happy baking!
KP xoxo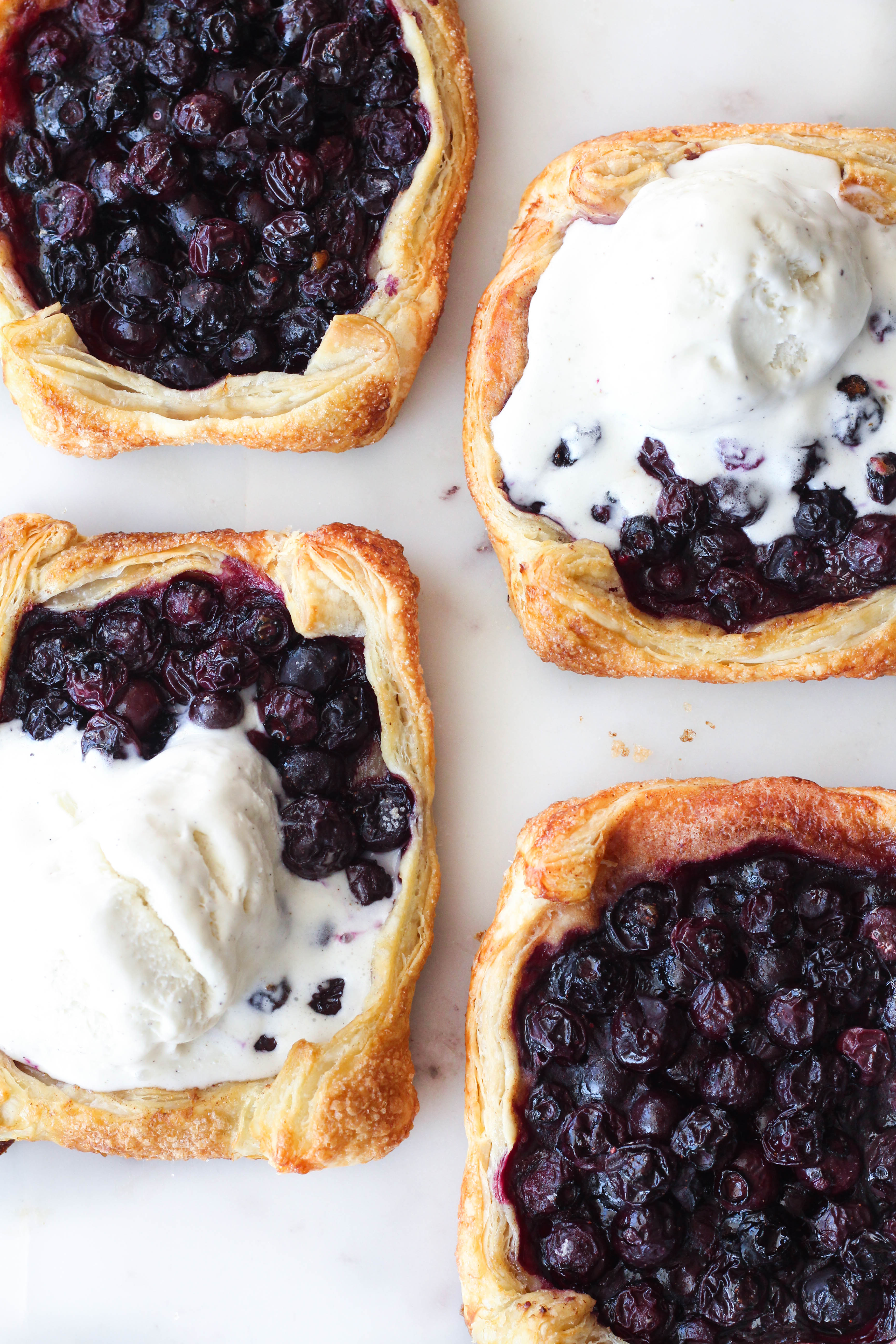 Blueberries and Cream Pastry Puffs
Makes 4 pastries
Things you need…
Blueberry Filling
1 heaping cup blueberries
1 tsp orange zest
1/4 cup brown sugar
1/2 tsp cinnamon
1/4 tsp pure vanilla extract
pinch of salt
2 tbsp cornstarch
Cream Cheese Spread
4 oz cream cheese, room temp
2 tbsp icing sugar
1/4 tsp vanilla extract
1 sheet of frozen puff pastry, thawed
Egg wash: 1 egg + 1 tsp sugar + 1 tsp cream or milk, whisked together
How to make…
Preheat oven to 375F degrees. Line a baking sheet with parchment paper.
Roll the puff pastry into a square that is about 1/4 inch thick. Use a sharp knife to cut the dough into 4 equal squares. Set them on the parchment lined baking
sheet. Set aside.
In a medium bowl, beat the cream cheese until smooth. Scrape down the sides of your bowl and beat in the icing sugar and vanilla until smooth and creamy. Spread about 1 tbsp of the cream cheese mixture onto your puff pastry squares, leaving a 1 inch border all the way around.
In the same bowl, mix together all the ingredients for the blueberry filling until evenly combined. Divide the blueberries among your puff pastry squares, leaving that same 1 inch border all the way around.
Fold the edges of your puff pastries up all the way around to create a little crust on each one. Brush the edges with egg wash and sprinkle with a bit of sugar. Place in the oven and bake for 18-20 minutes or until golden brown.
Remove from oven and allow to cool for 5 minutes. Serve with a generous scoop of ice cream and enjoy!