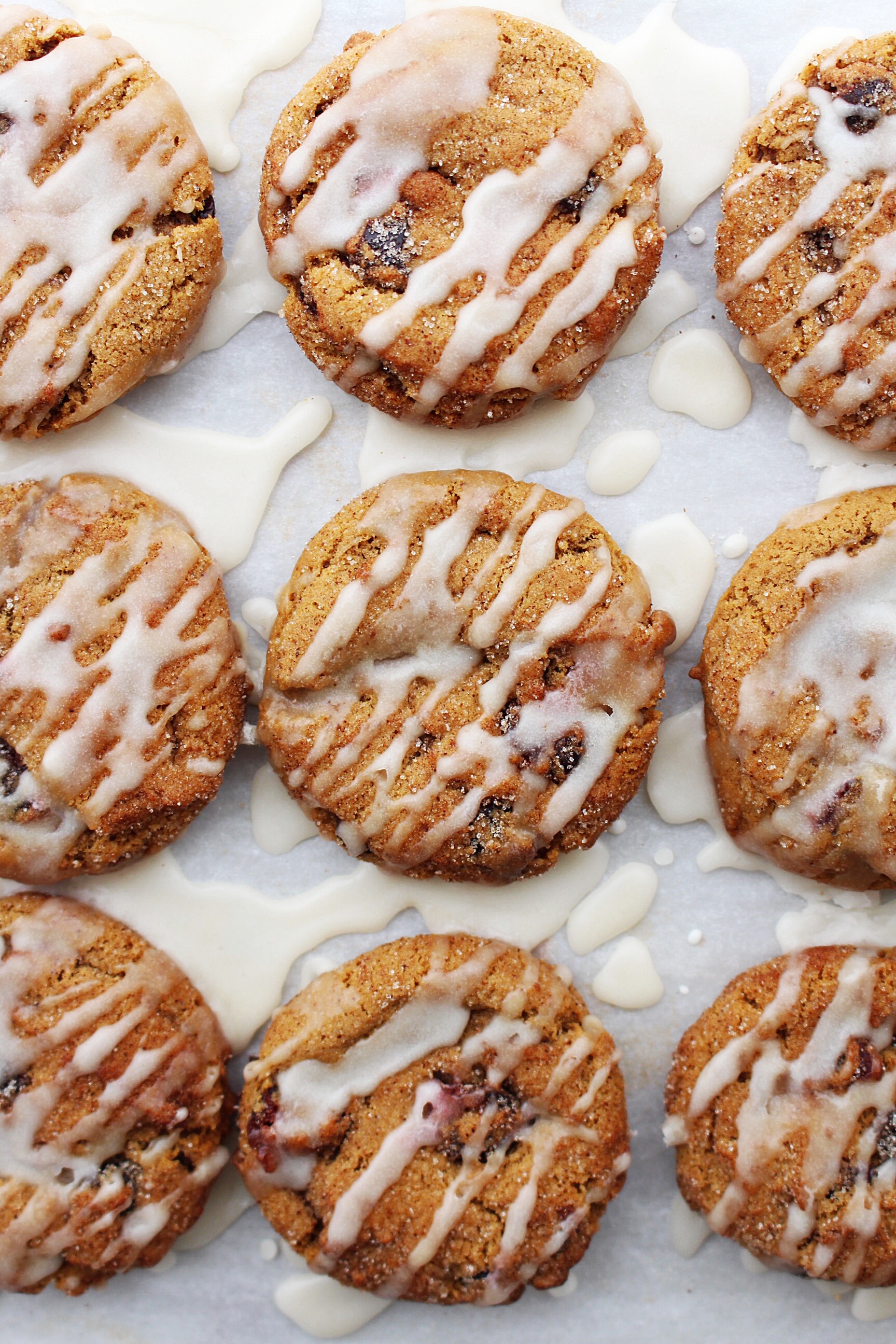 Happy Saturday lovelies!
I can't believe how quickly December is flying by! Before we know it Christmas will already be here. Do you have all of your shopping done? Somehow this year I have managed to get ahead of the game (which is not the normal circumstance).
Truth be told, I'm just not a very good Christmas shopper. I'll be the first to admit it. Are you a good Christmas shopper? Some people really have it down. My mum is an amazing Christmas shopper. She always manages to find us the most thoughtful gifts and makes it look totally effortless. I on the other hand am a total procrastinator when it comes to Christmas shopping. Mostly because I tend to get myself stuck on finding the perfect gift for people & end up overthinking the whole thing way too much for my own good.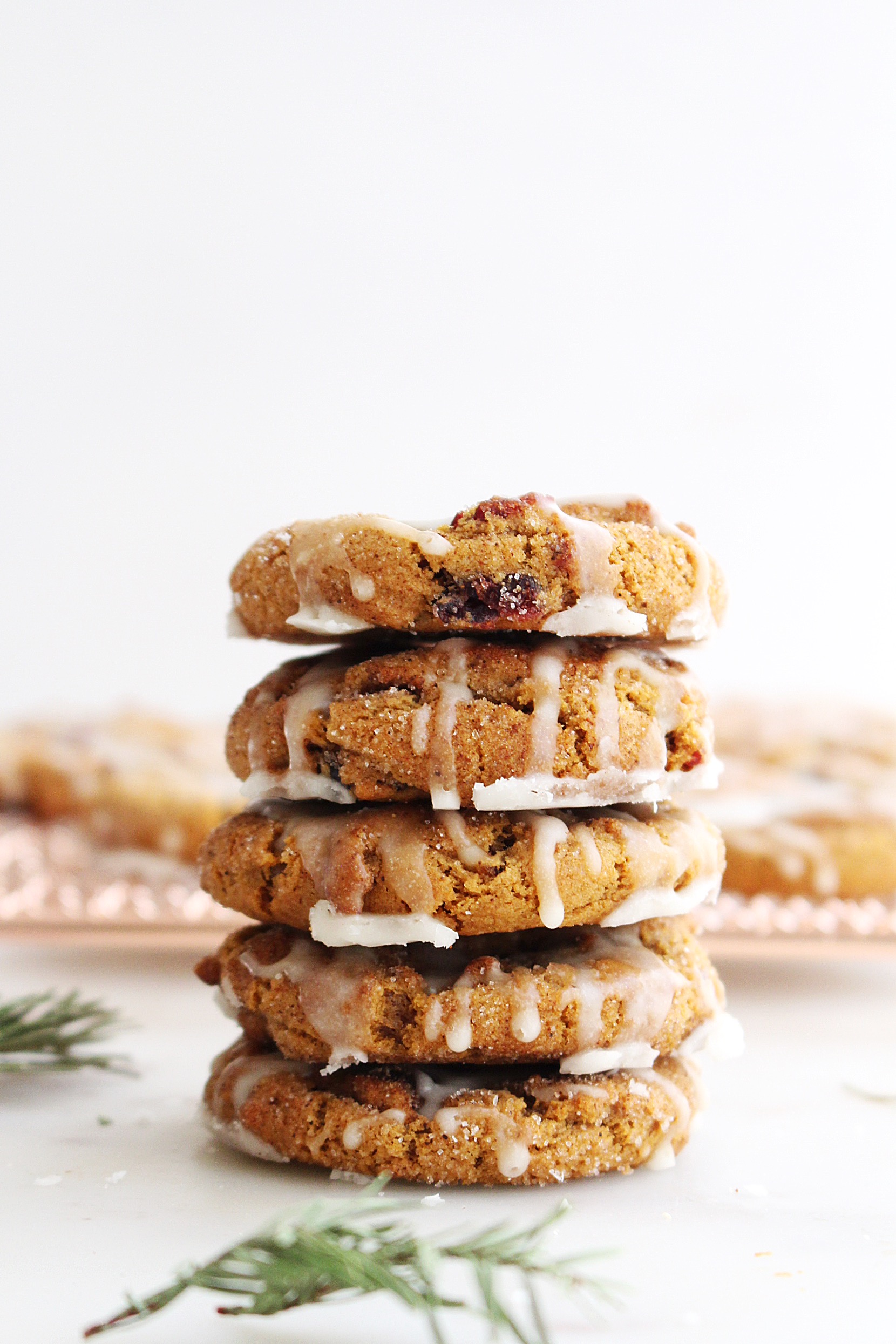 Rather than go out and buy presents, I much prefer to give something that comes from my heart & for me that means it's usually in the form of a homemade baked goodie. I try my best to bake up the favourite treats of my loved ones and have way too much fun packaging them up with a festive ribbon or two.
I just love giving out homemade gifts to friends and family during the holidays. There is something about it that brings me so much joy to bake homemade yummies for people. I think it's because I know that they will take their treats and share and enjoy them with their family too; creating happy memories of full tummies in the process. At least that's what I hope for.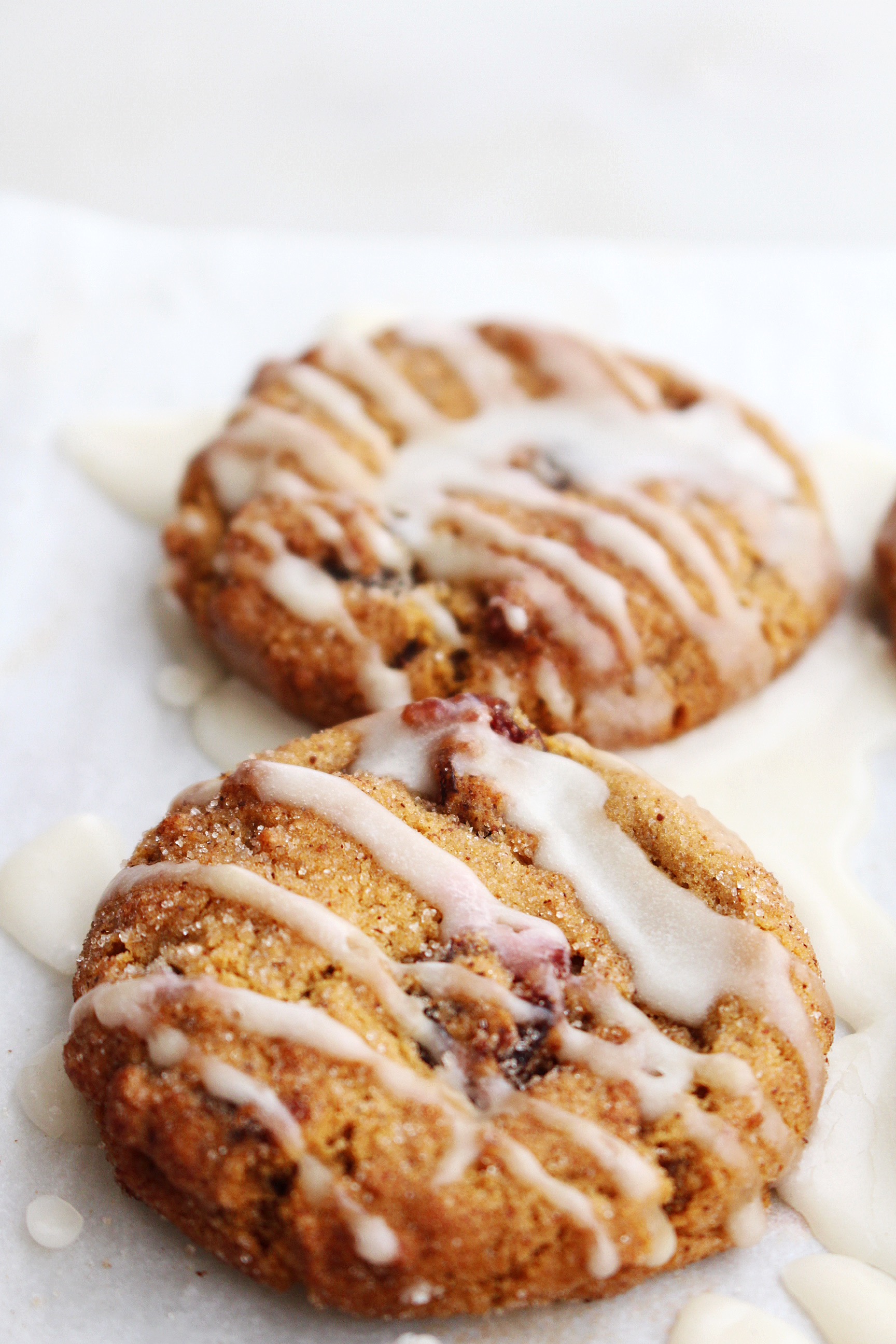 These cookies were the result of a little Christmas cookie gifting experimentation & oh my goodness, they might just be my new favourite cookie ever. I'm a total molasses cookie and chai tea junkie. It's my favourite cookie / caffeinated beverage combo ever – so one day it finally hit me; A Chai Spiced Molasses Cookie… duh! Now I can literally have my chai tea and eat it too! … okay, bad joke? Totally.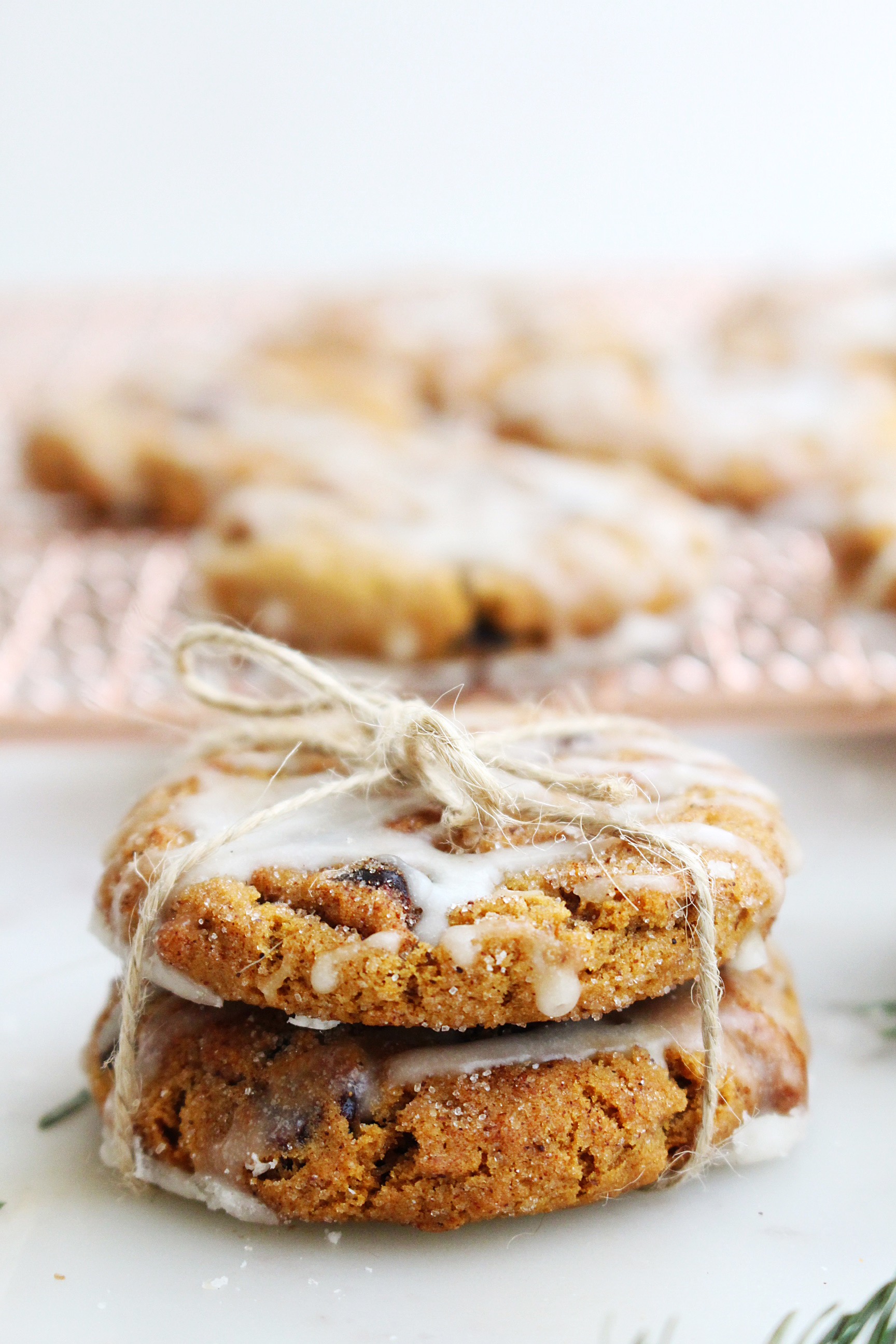 Seriously though you guys, these cookies are phenomenal & totally perfect for your edible holiday gift giving needs. They are perfectly spiced, chewy molasses cookies studded with tart dried cranberries and drizzled w/ a chai tea glaze, that I could pretty much just drink it's so damn delicious.
Also, just look at how darn cute they look wrapped up in a simple piece of twine string!!  It's honestly too much for me to handle. I LOVE THESE COOKIES!
Okay I should probably go and calm down now…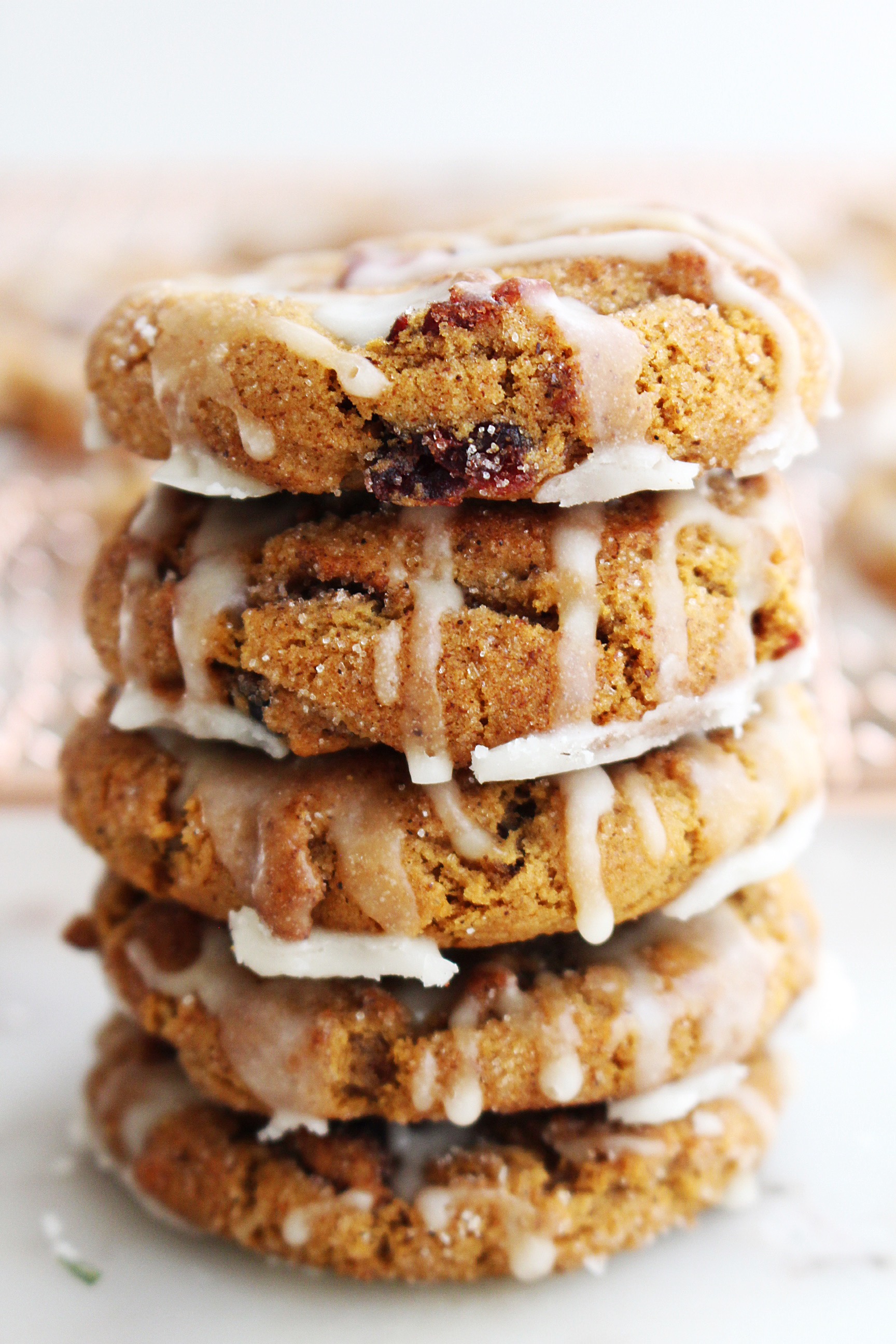 So I'm officially done because instead of losing time reading my ramblings, you need to spend more time baking these cookies. I hope you have as much fun as I did baking and packaging them up.
Happy holiday cooking baking loves.
KP xoxo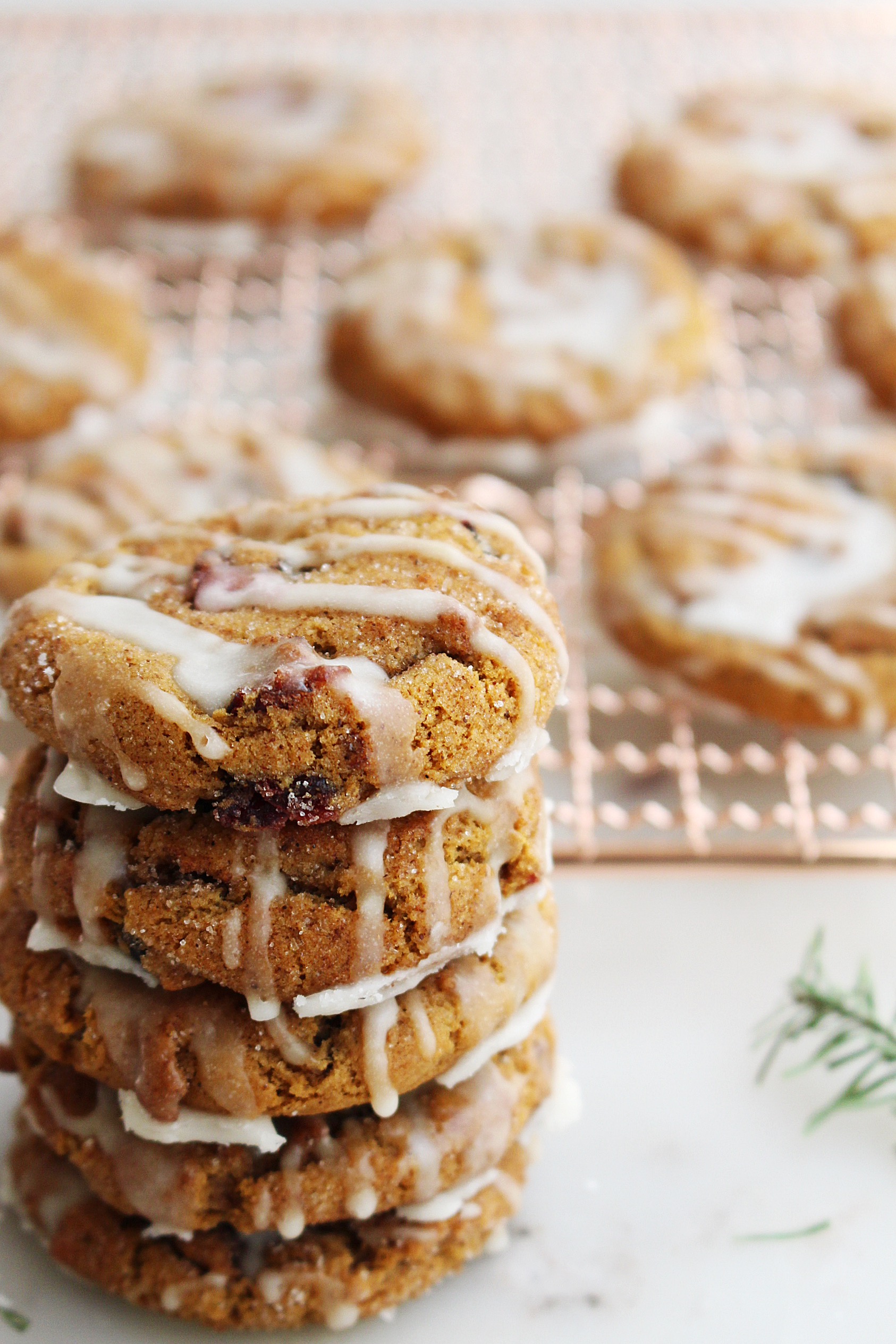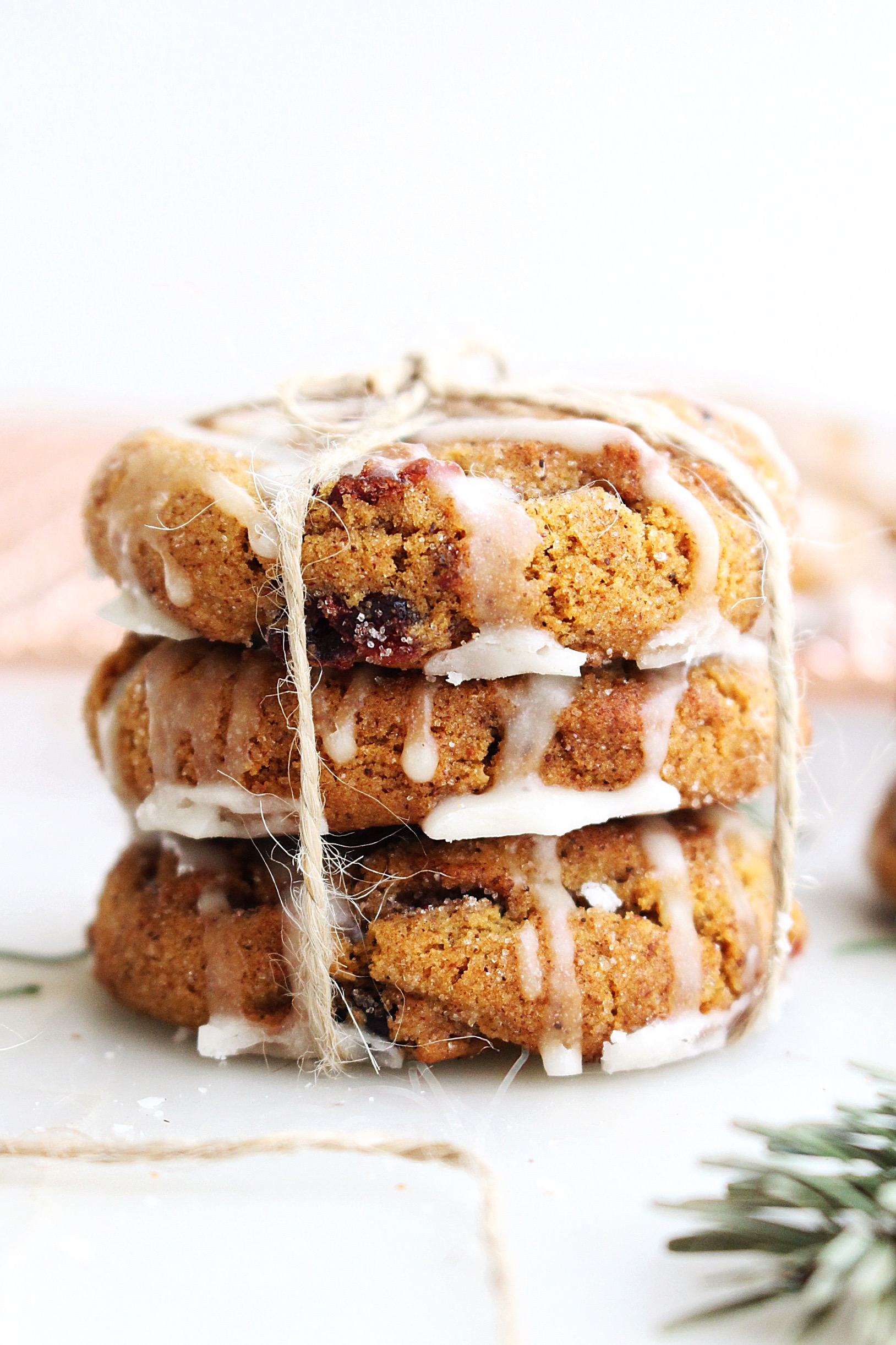 Chewy Chai Spiced Cranberry Molasses Cookies
Things you need… 
3/4 cup butter, softened
1/2 cup brown sugar
1/2 cup granulated sugar
1/4 cup fancy molasses
1 egg
2 tsp vanilla
2 1/4 cup all purpose flour
2 tsp baking soda
3/4 tsp ginger
1/4 tsp nutmeg
1/4 tsp cardamom
1 tsp cinnamon
1/8  tsp cloves
1/4 tsp salt
1 cup dried cranberries
1/2 cup granulated sugar (for rolling)
1/2 tbsp cinnamon
Chai Tea Glaze
2-3 tbsp strongly brewed chai tea
1 1/2 – 2 cups icing sugar
Dash of vanilla
How to make… 
Preheat your oven to 350 degrees (convection if possible) and line 2 cookie sheets with parchment paper; Set aside.
In a large bowl, beat together butter, granulated sugar and brown sugar with an electric mixer until pale and fluffy. Beat in eggs, molasses and vanilla until just combined.
In a separate bowl, whisk together flour, baking soda, ginger, nutmeg, cinnamon, cardamom, cloves and salt. Add in three stages to wet ingredients beating on low until well combined. Add in the dried cranberries and mix until distributed.
Spoon 1 tbsp of dough out onto prepared baking sheets, fitting 12 to a sheet. Whisk together the granulated sugar and cinnamon. Roll dough balls in granulated sugar/cinnamon to completely coat and set back on the baking sheet.
Bake in preheated oven for 9-11 minutes or until tops are crackly, edges are golden and beginning to firm to the touch. Remove from oven and allow to cool for aa few minutes before drizzling with chai tea glaze.
Chai Tea Glaze
Simply whisk 2 tbsp chai tea, 1 1/2 cups of icing sugar & vanilla together until smooth and creamy – depending on the consistency you may need a bit more chai tea or icing sugar. Once the cookies have cooled for a few minutes, drizzle with the glaze