Happy almost Friday all of you lovely people!
It's currently six AM and I'm wide awake beaming with happiness because last night Food52 re-grammed my Mocha Brownie Sandwich Cookies & I could not be more excited. I know it's a silly thing to be so dang excited about but I honestly could not be more grateful and overjoyed.
So instead of just laying around doing nothing and waiting for the day to start I thought I would make use of this time and catch up on a recipe post that I have been meaning to share with you guys. You are all so patient with me when it comes to recipes and I really want you to know how much I appreciate that.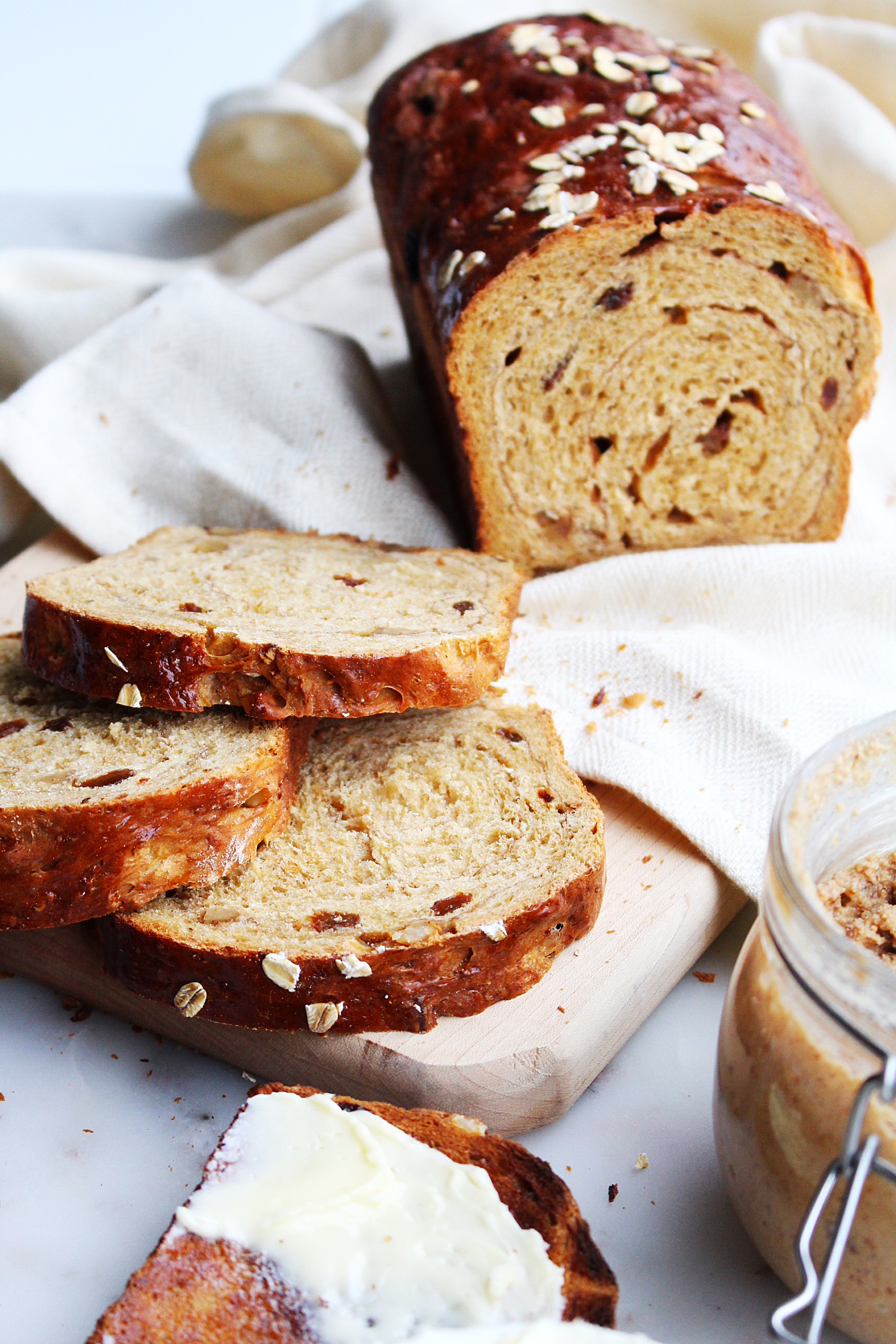 So because it's almost the weekend I wanted to make sure I got this recipe down for you guys, because I think it's the perfect little weekend baking project.
Not only is a slice of this Cinnamon Raisin Molasses Oat Bread – maybe toasted with a little (or a lot) of butter – an absolutely wonderful way to start your Saturday or Sunday morning; It's also a great prep recipe for the week to come.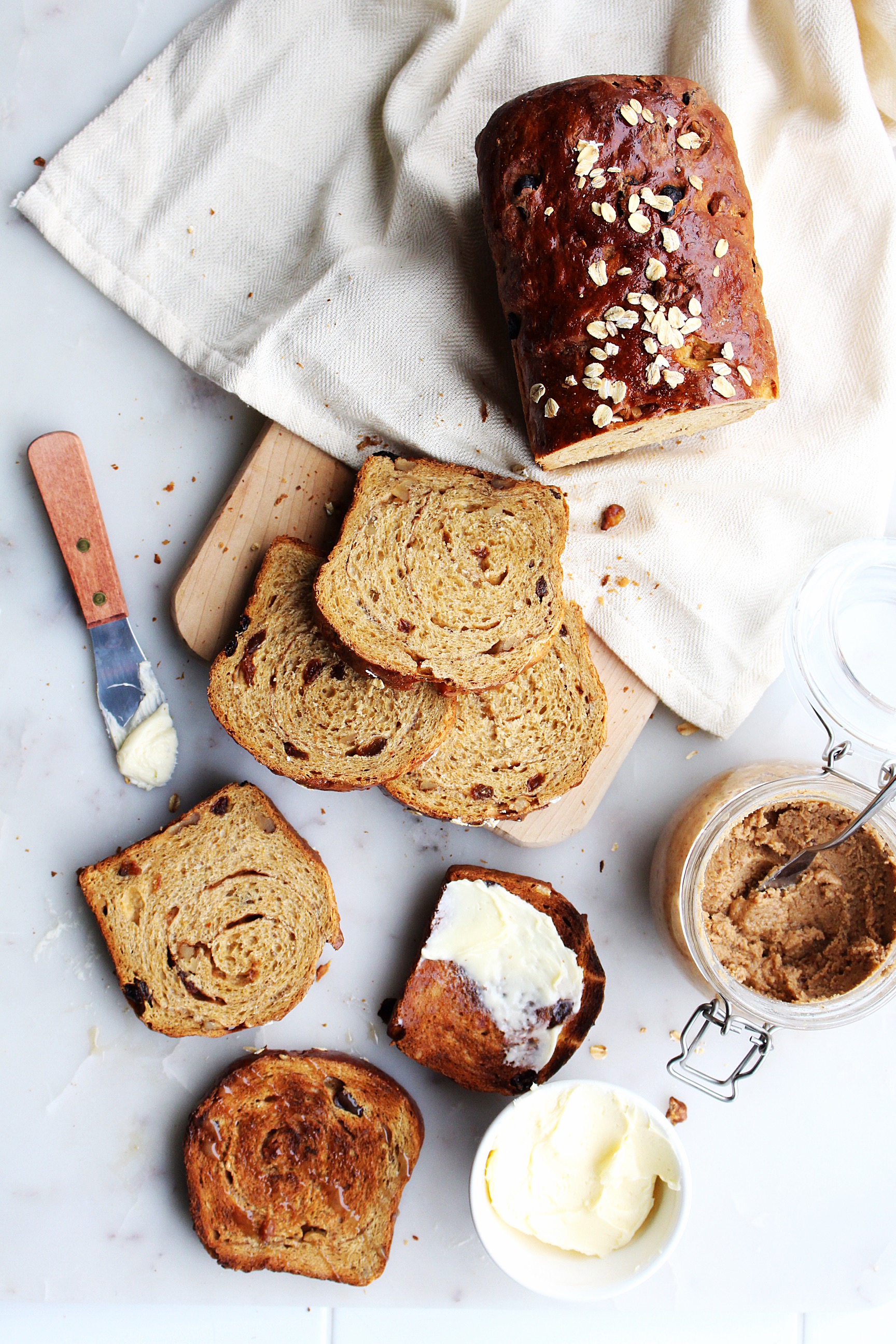 This recipe makes 2 loaves so you can enjoy one fresh and then pop the other in the freezer for later to have readily on hand for another day. Don't you just love recipes like that?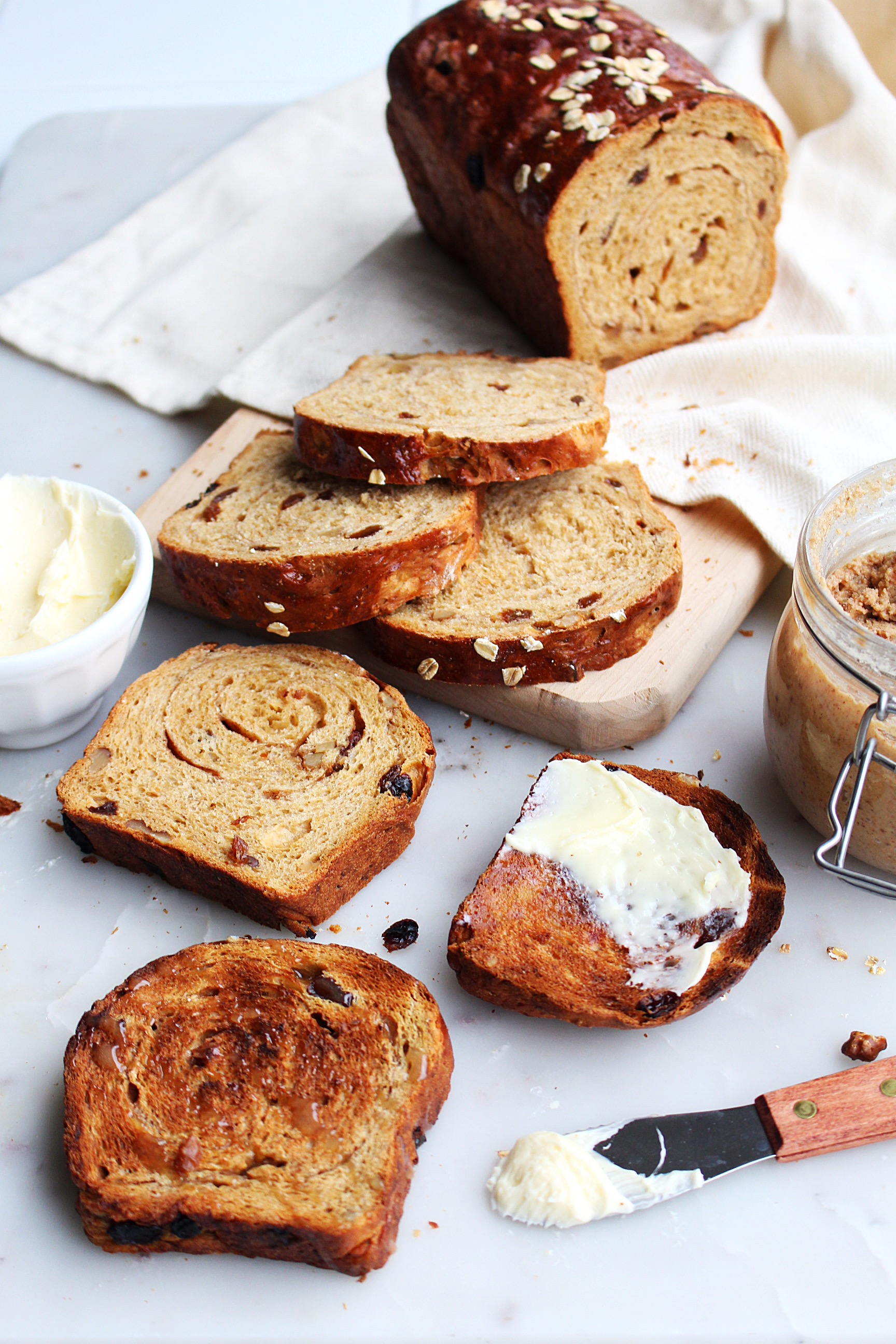 Not to mention the flavour of this bread is just unreal. The molasses, with the oats, the cinnamon, the raisins and the walnuts – all of the components of this bread come together and form flavourful magic in your mouth when you take a bite. And it's actually a very simple bread to make.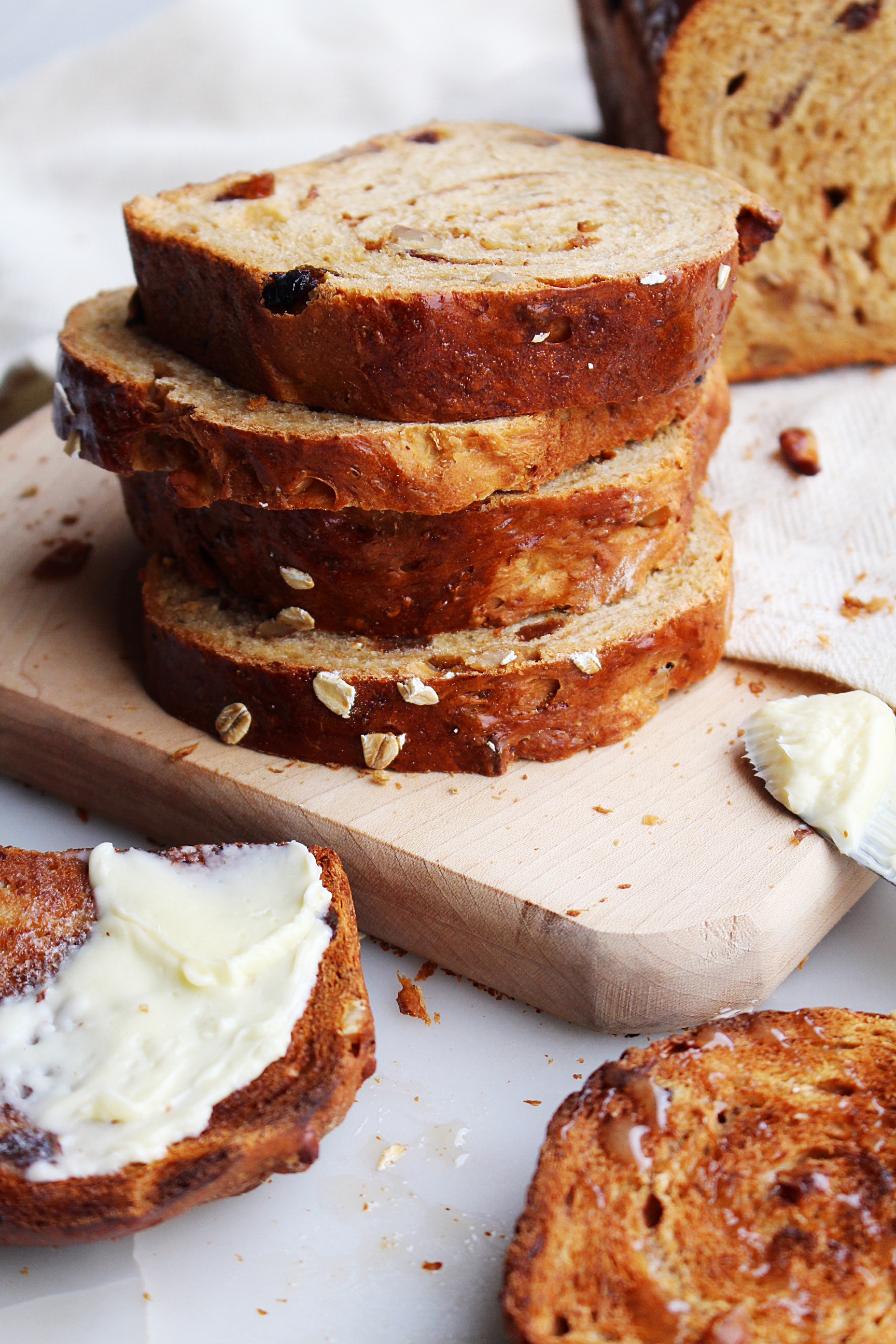 So that's all I have to say about this bread friends but I hope that you enjoy this recipe & that you have an amazing weekend ahead.
Oh! And Happy Thanksgiving to all of my American friends out there! Wishing you all a joyous day!
Happy Baking!
KP xoxo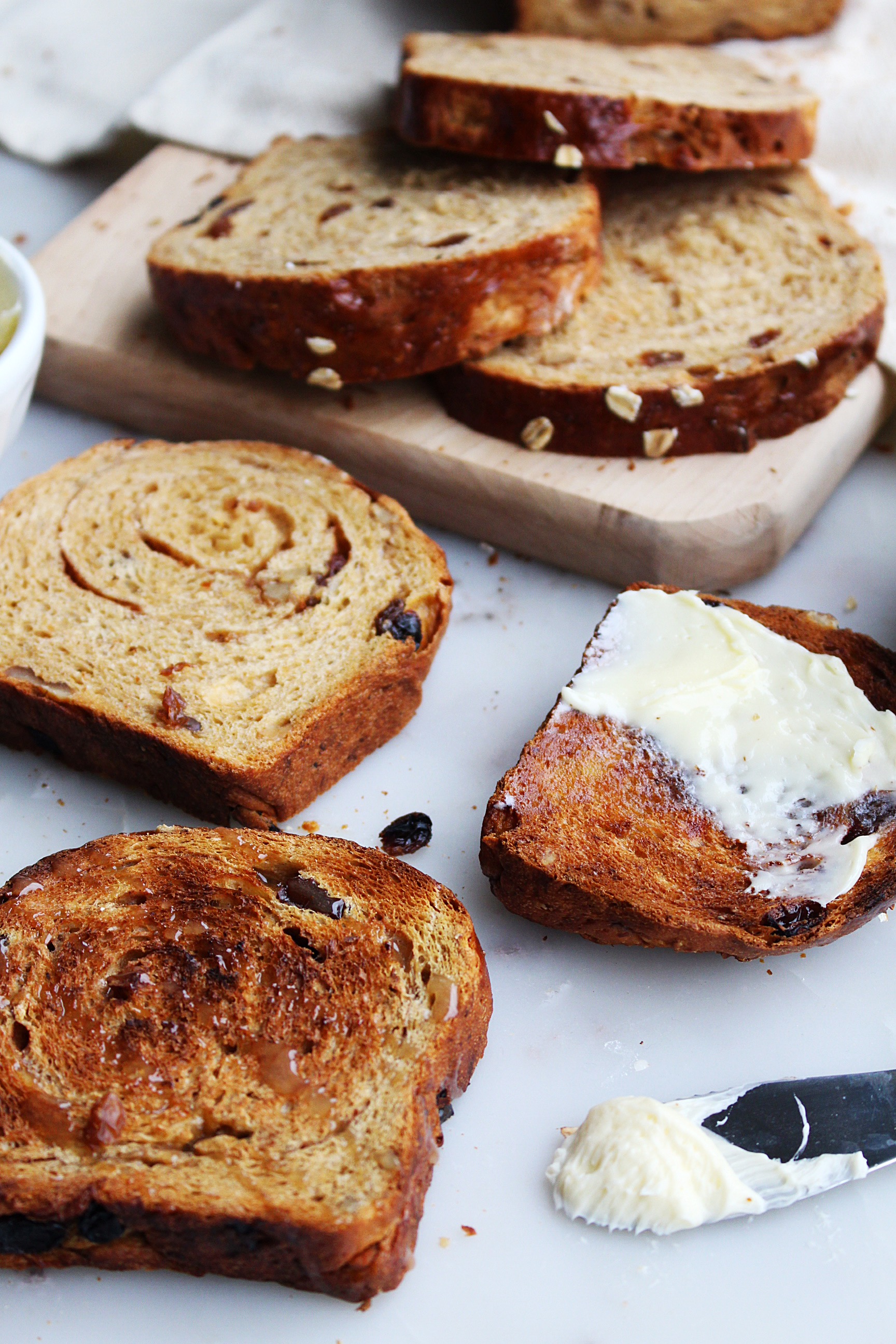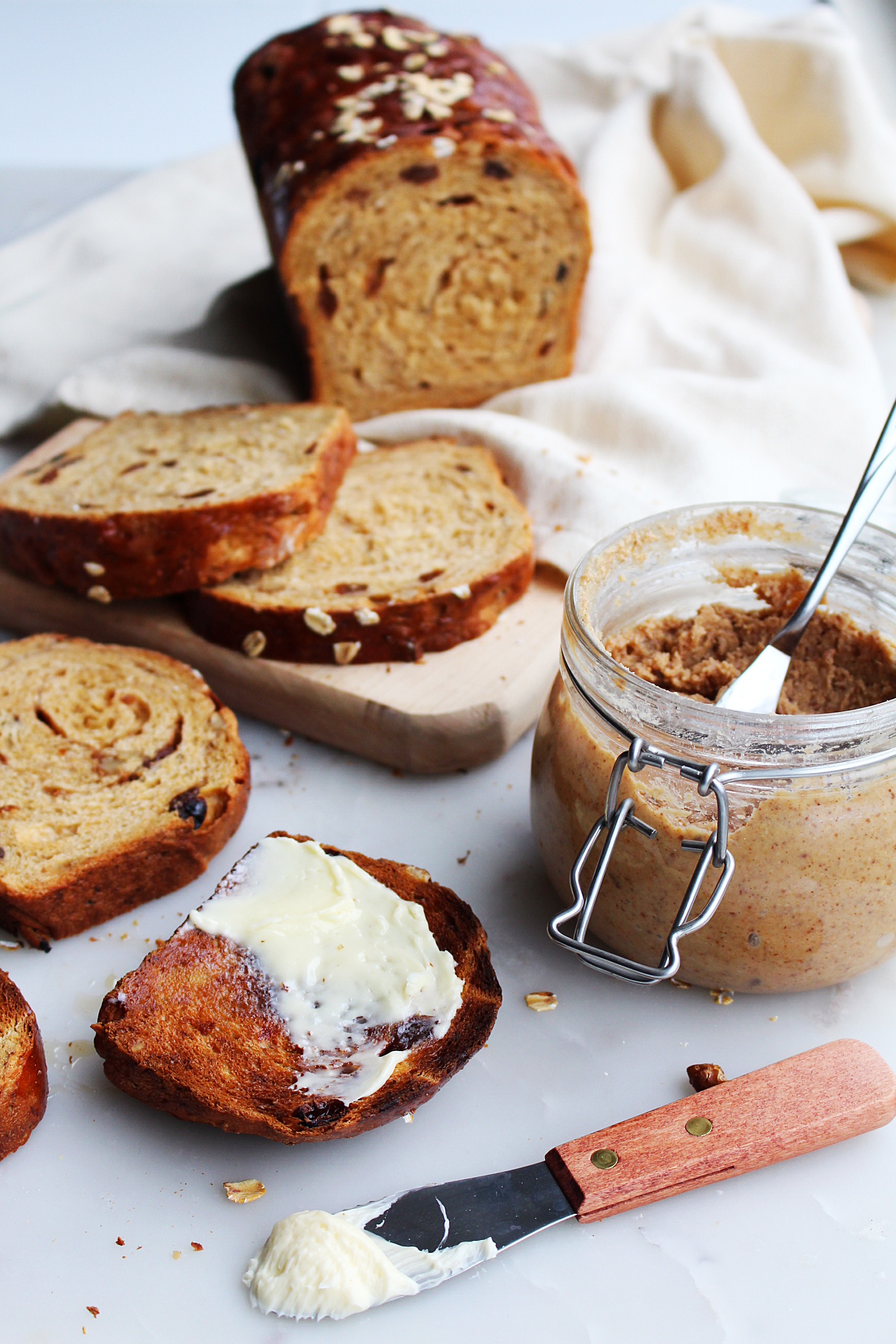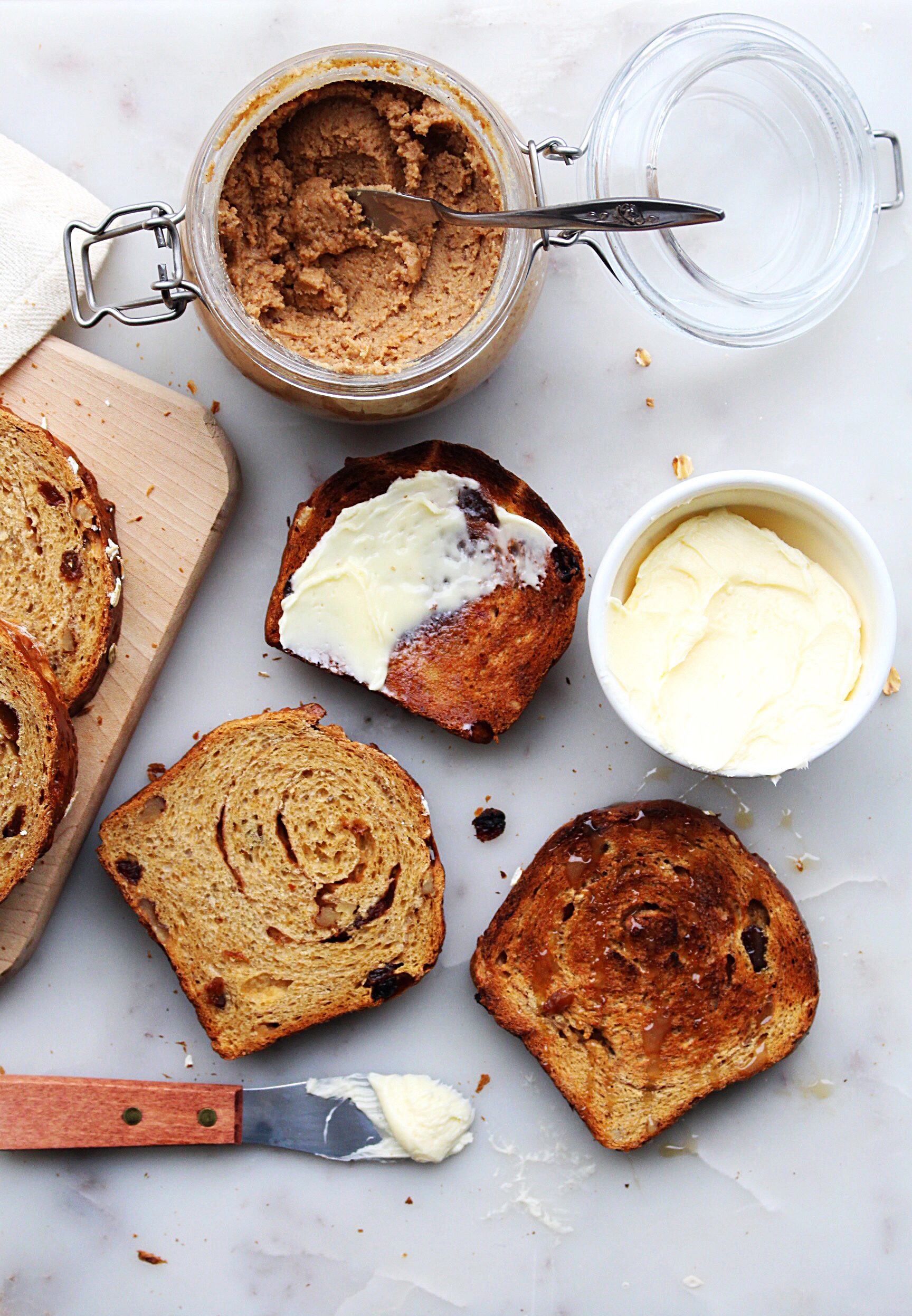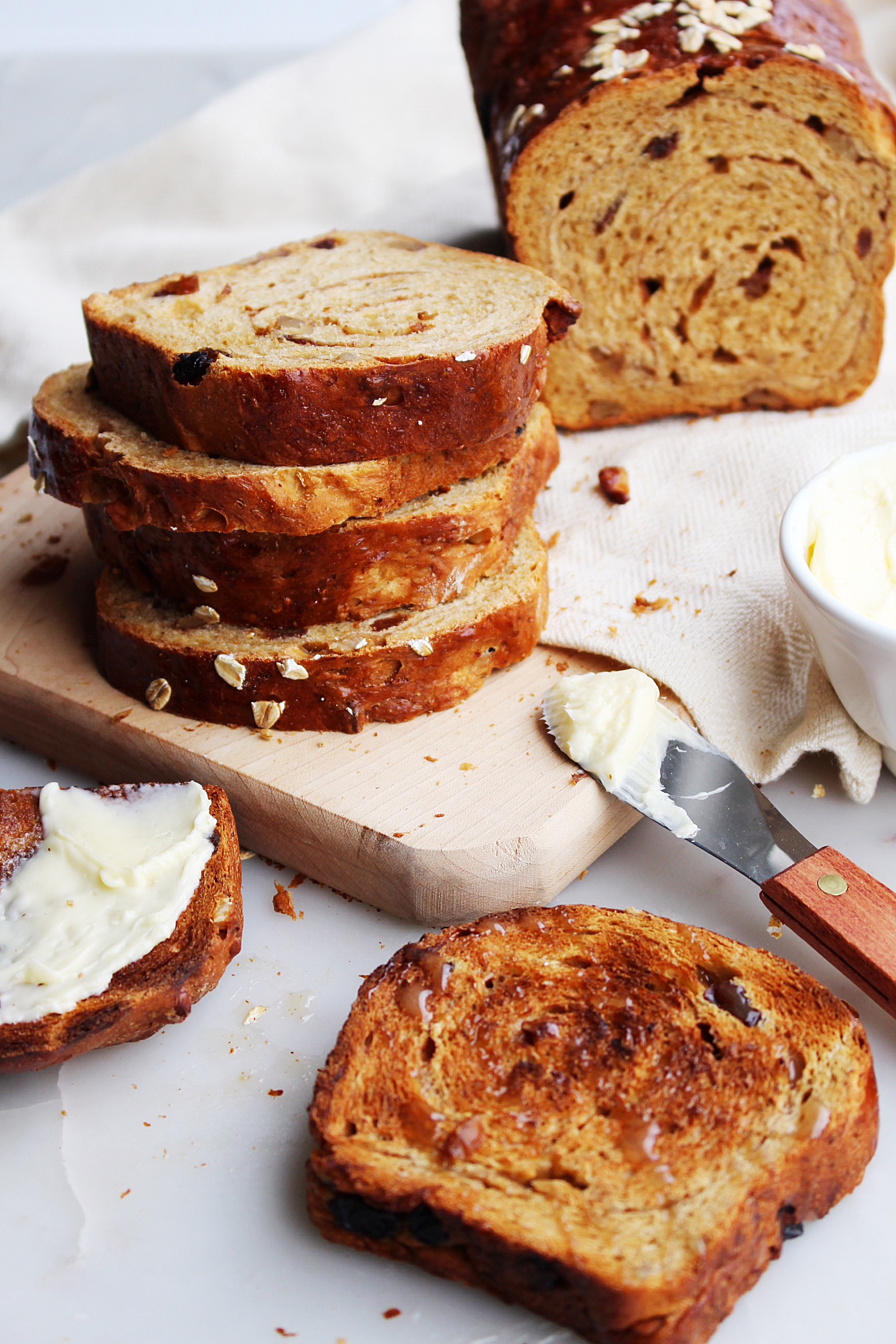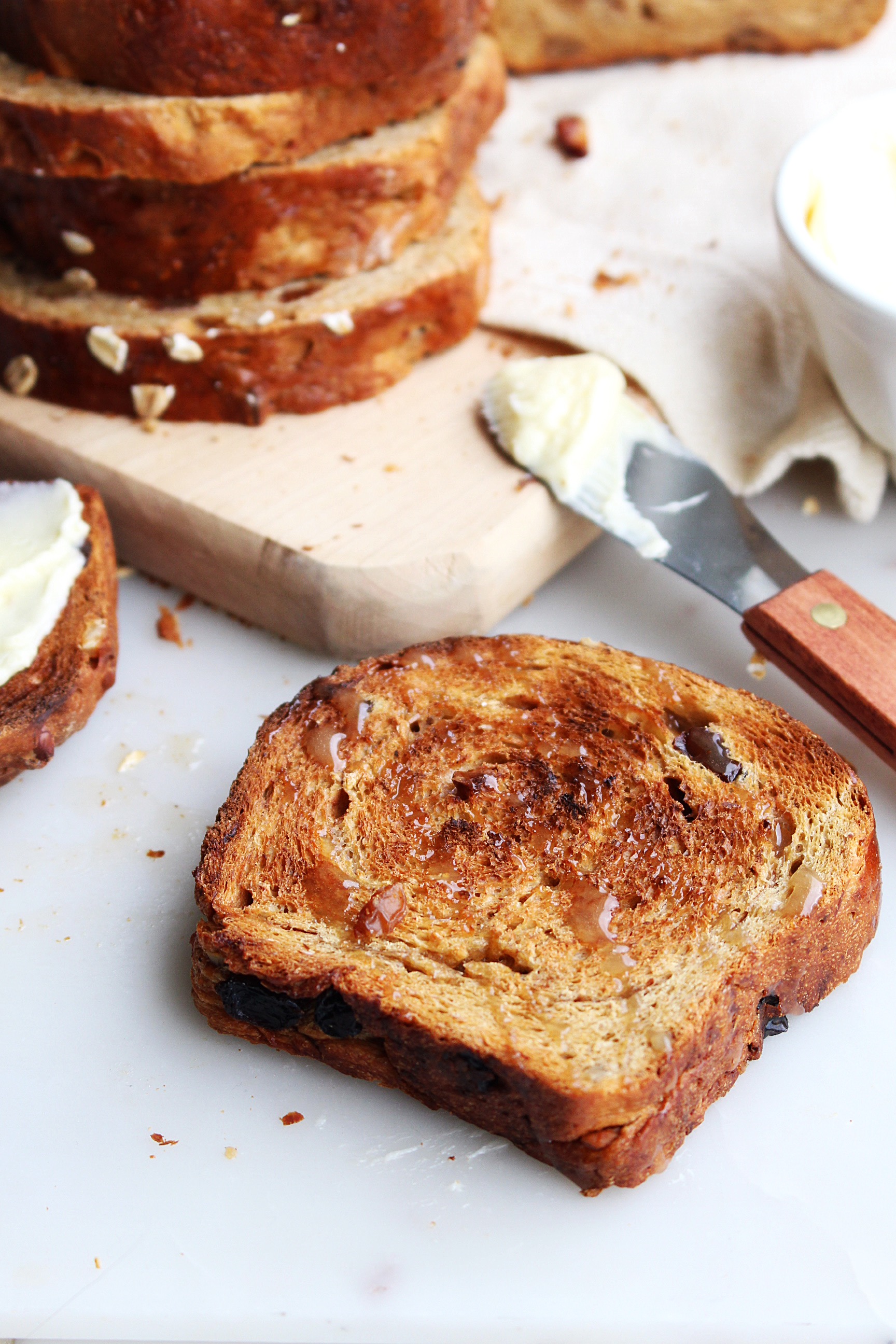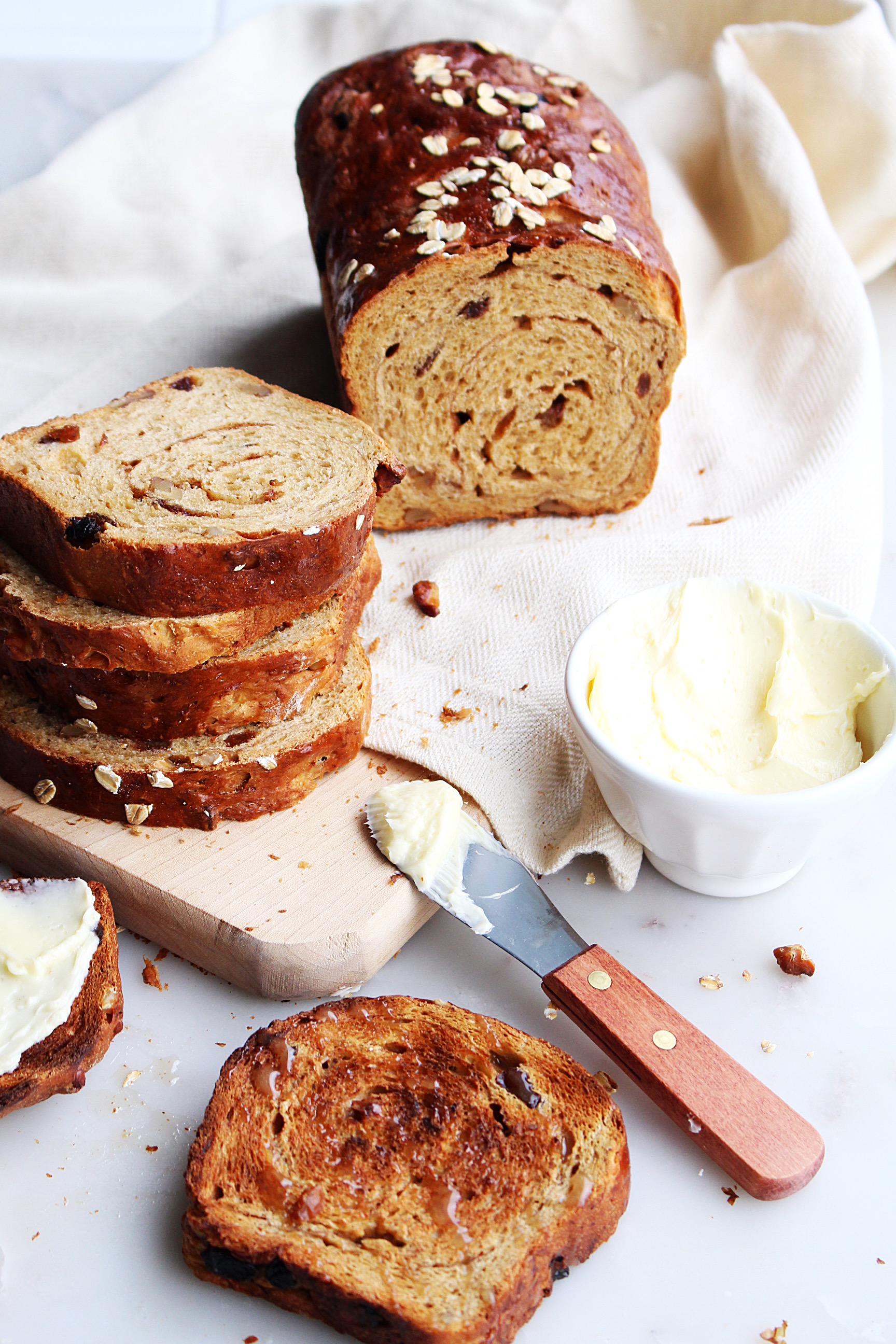 Cinnamon Raisin and Walnut Molasses Oat Bread
** Recipe adapted from Canadian Living Oats and Molasses Bread
Makes 2 Loaves
Things you need…
Molasses Oat Bread
1 1/4 cup boiling water
3/4 cup rolled oats
1/3 cup molasses
1 egg, beaten
2 tbsp butter, room temp
1 tbsp brown sugar
1/2 cup milk, warmed
1 tbsp active dry yeast
3 cups all purpose flour
1 cup whole wheat flour
1 1/4 tsp salt
1/2 tsp cinnamon
3/4 cup dark raisins
1/2 cup toasted walnuts, chopped
Cinnamon Swirl
1/4 cup granulated sugar
1/4 cup brown sugar
1 tbsp cinnamon
Topping
1 egg beaten
2 tbsp Rolled Oats
How to make…
In a heatproof bowl, combine oats and boiling water. Allow to sit for 15 minutes until the oats have absorbed the water. Stir in molasses, butter and egg. Set aside.
Meanwhile, in the bowl of a stand mixer combine warmed milk, yeast and brown sugar. Let stand until frothy – about 5 to 10 minutes. Mix in the oat and molasses mixture to combine. Use the dough hook and turn the mixer on to low and add in the whole wheat flour. Next slowly add in 2 1/2 cups of the all purpose flour 1 cup at a time until the dough is coming together. At this stage it will look wet and sticky. Add in just enough of the remaining 1/2 cup of flour until the dough is no longer sticking to the sides of the bowl. Once all of the flour is added turn the mixer onto medium-high and work the dough for 4-5 minutes.
Turn the dough out onto a lightly floured surface and gently knead until smooth and elastic – about 2 minutes. Grease your bowl with butter and return the dough to the greased bowl. Cover with plastic wrap and allow to rise in a warm place for 1 hour.
While your dough is rising, mix together the cinnamon swirl ingredients in a small bowl; set aside.
Once your dough has risen, punch it down and turn it out onto a lightly floured surface. Sprinkle the raisins and walnuts over the dough and gently knead the dough until the raisins and walnuts are evenly combined throughout the dough.
Divide the dough in half and roll each half into a 8×11 inch rectangle. Sprinkle 1/2 of the cinnamon swirl mixture onto each half of dough. Gently press the sugar into the dough. Roll each of the rectangles up jelly-roll style and pinch the ends together. Grease 2 loaf pans and set the rolls into the prepared pans. Cover with plastic wrap and set in a warm place to rise again for another hour.
While your dough is rising, preheat your oven to 375 degrees & beat the egg for the eggwash. Once your loaves have risen, brush them with the egg wash and place on the center rack of your oven to bake for 35-40 minutes or until the tops are a dark golden brown and the loafs sound hollow when you tap the bottoms.
Set the pans on a cooling rack to cool for about 5 minutes & then remove the loaves from their pans to cool completely. Slice & enjoy with butter… lots and lots of butter. And maybe a drizzle of honey or some cashew butter.