Can we just talk about hot cross buns for a minute? Or like maybe five minutes because… hello – they are delicious! I mean anything that involves a warm soft, fluffy bun, studded with goodies & topped with a sweet glaze is right up my ally!
Also, Easter is right around the corner, which means baking fresh batches of hot cross buns on repeat until then is perfectly acceptable and therefore we should all take full advantage of this opportunity 😀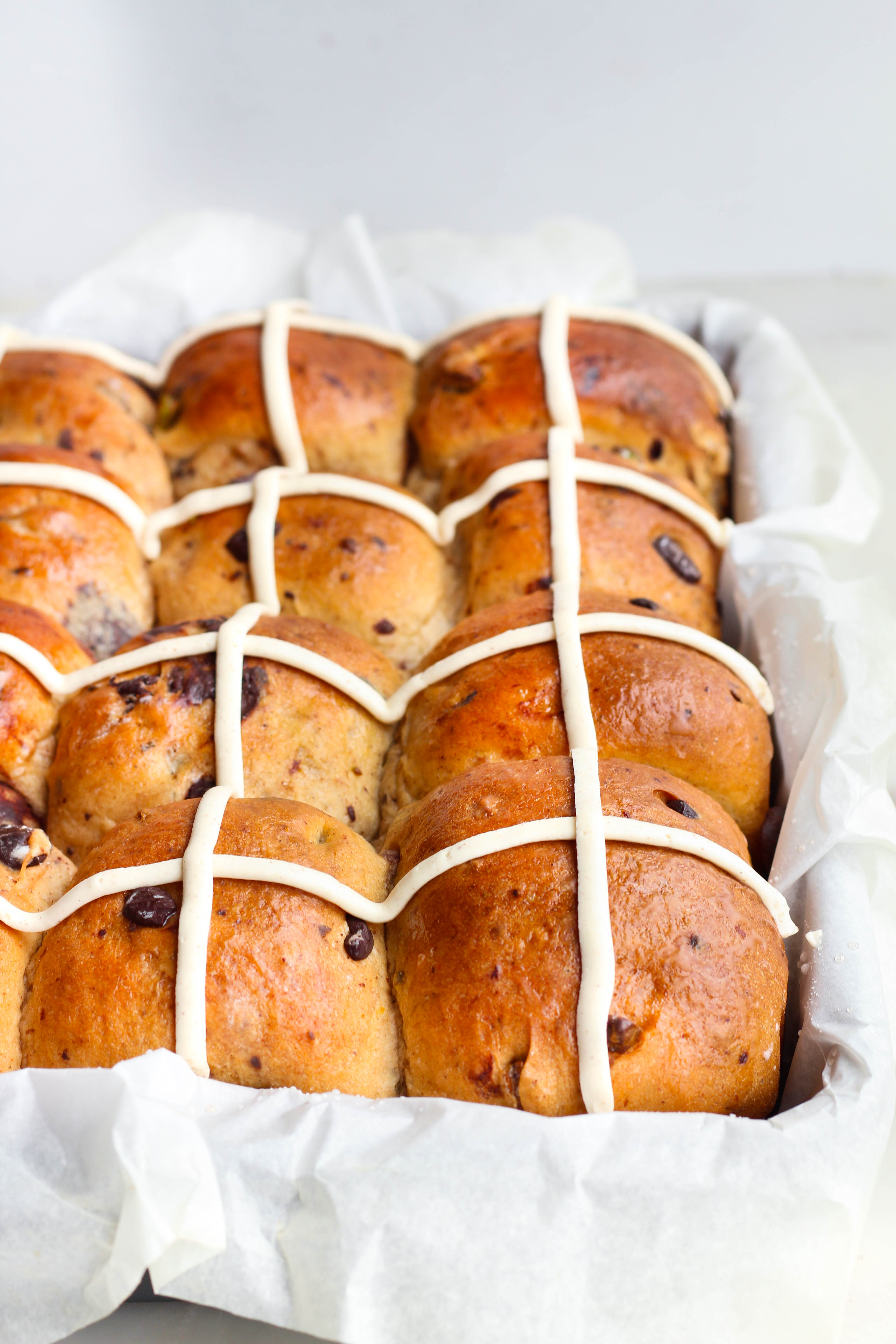 I think what I love the most about Hot Cross Buns is that once you find a good base recipe, you can just swap our the add-ins however you want to suite your current flavor cravings.
Today I had a serious hankering for chocolate (as always), and a bunch of pistachios sitting in my pantry that I have been waiting for the perfect opportunity to use and I was just like… Chocolate & Pistachio Hot Cross Buns? Uhm yes!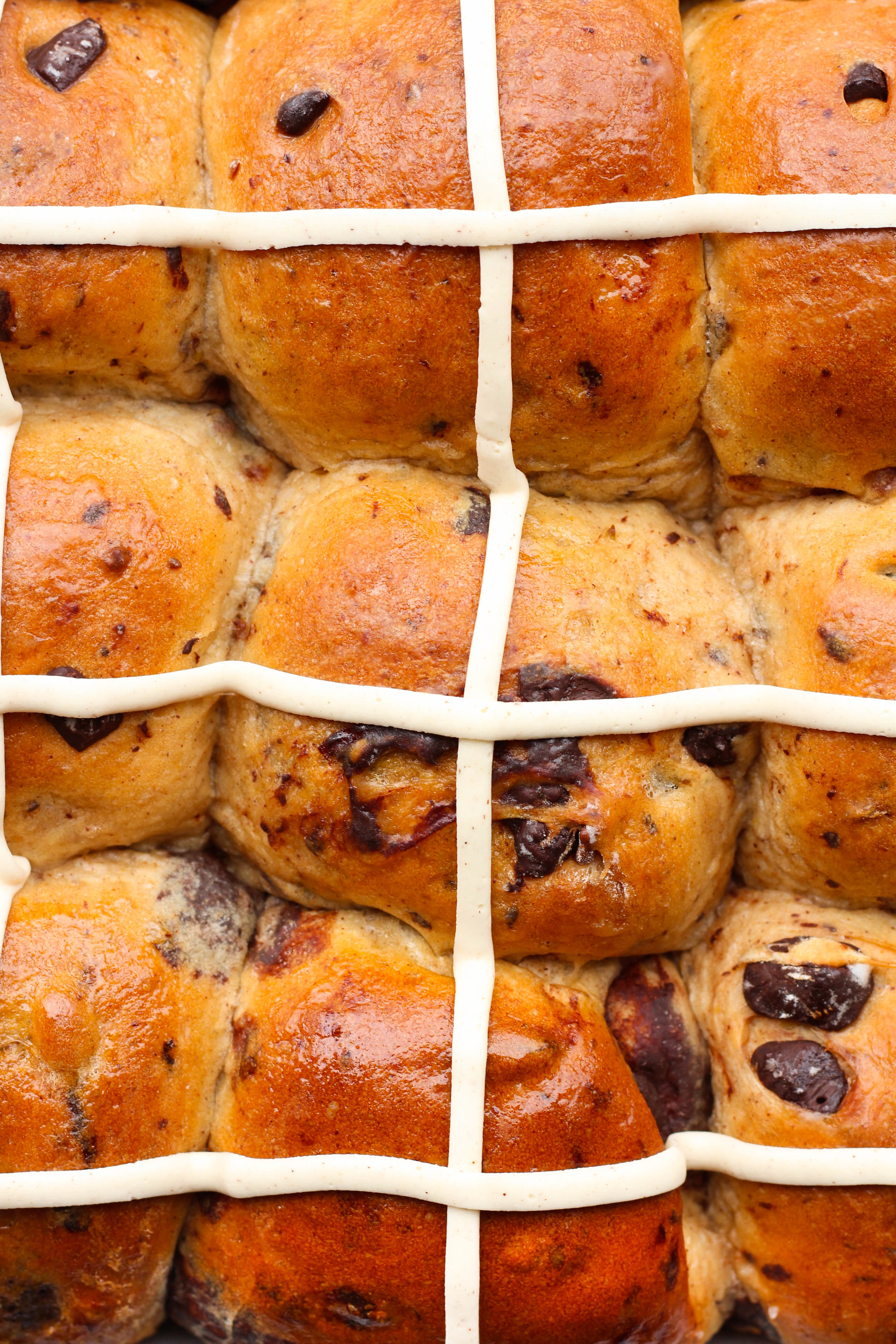 So despite the fact that this combo was conceived completely on a whim – I am completely smitten with these buns. They are oh so soft and fluffy & served warm from the oven they are studded with amazing chunks of melty dark chocolate & toasty pistachios – need I say more?
Not to mention, I finished these bad boys with a brush of vanilla glaze and maple cinnamon butter crosses that pretty much made me want to wrap my arms around the tray to protect it from anybody else that might be lurking nearby and devour each and every last one myself…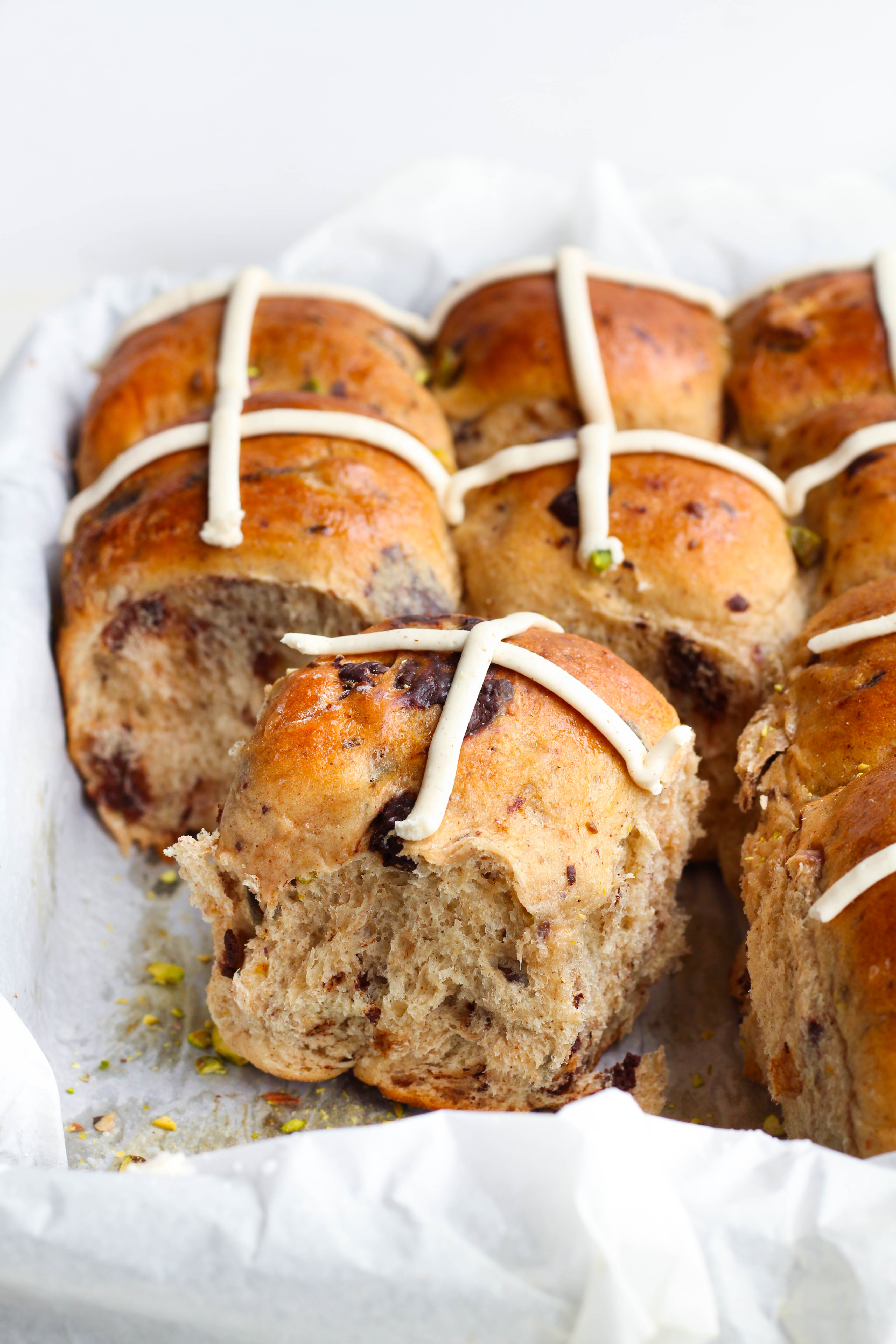 That being said – if you are not a fan of the chocolate and pistachio combo, you could totally swap in your favourite goodies.
I love adding more orange zest and swapping in boozy brandy soaked dried sour cherries or raisins for that matter. The possibilities are endless. So here is the recipe & I hope you have some fun playing around with it for Easter this year!
Happy baking!
KP xoxo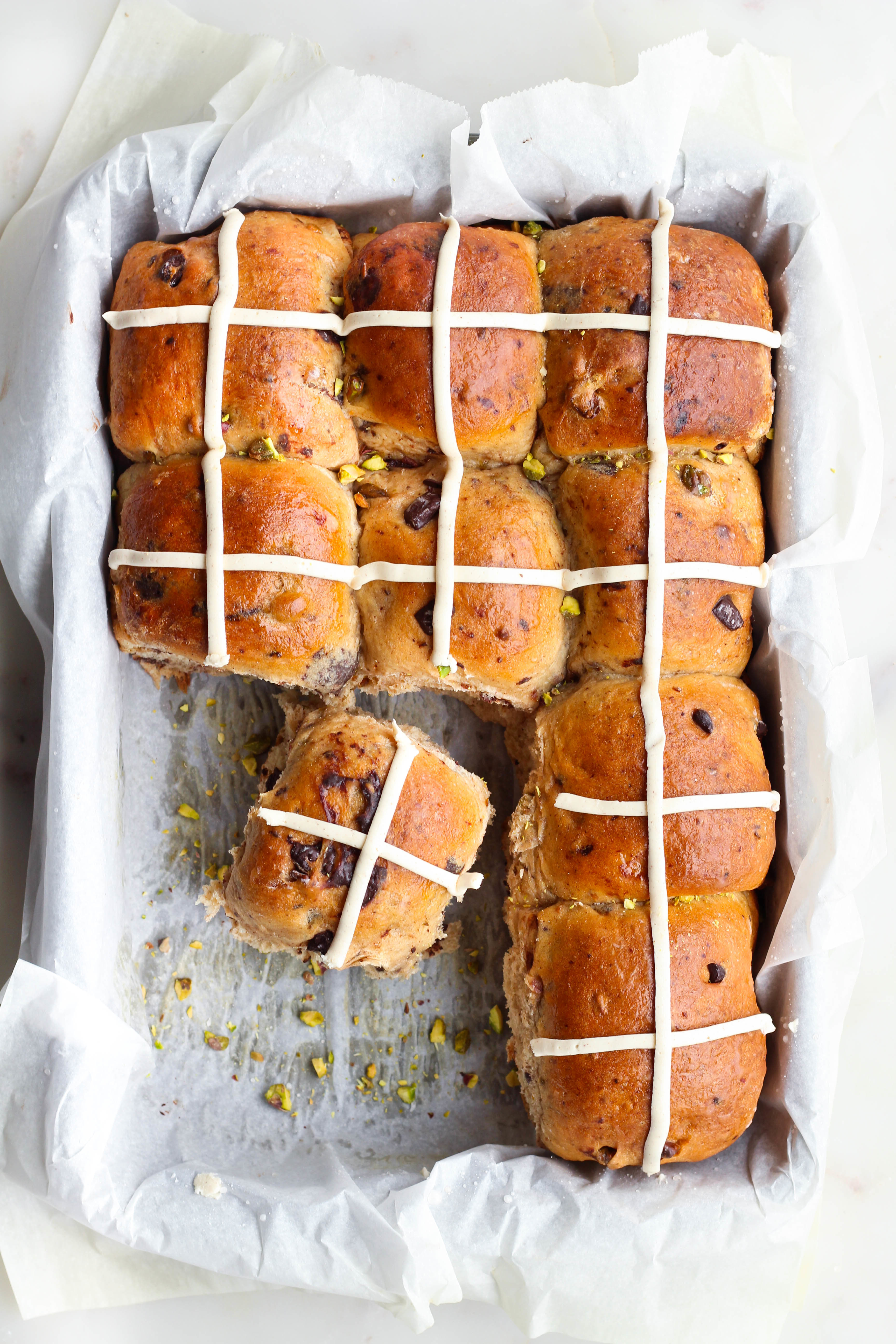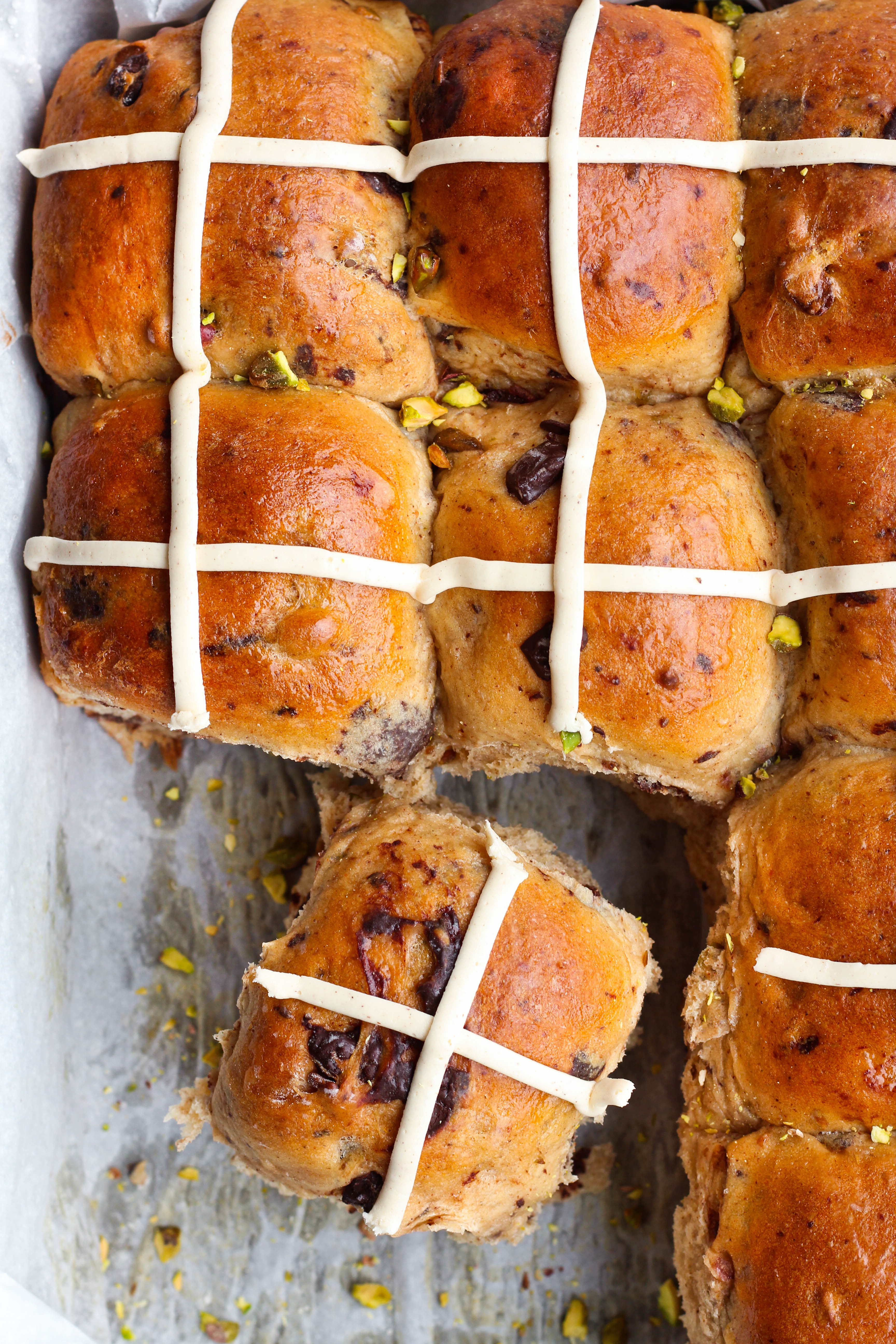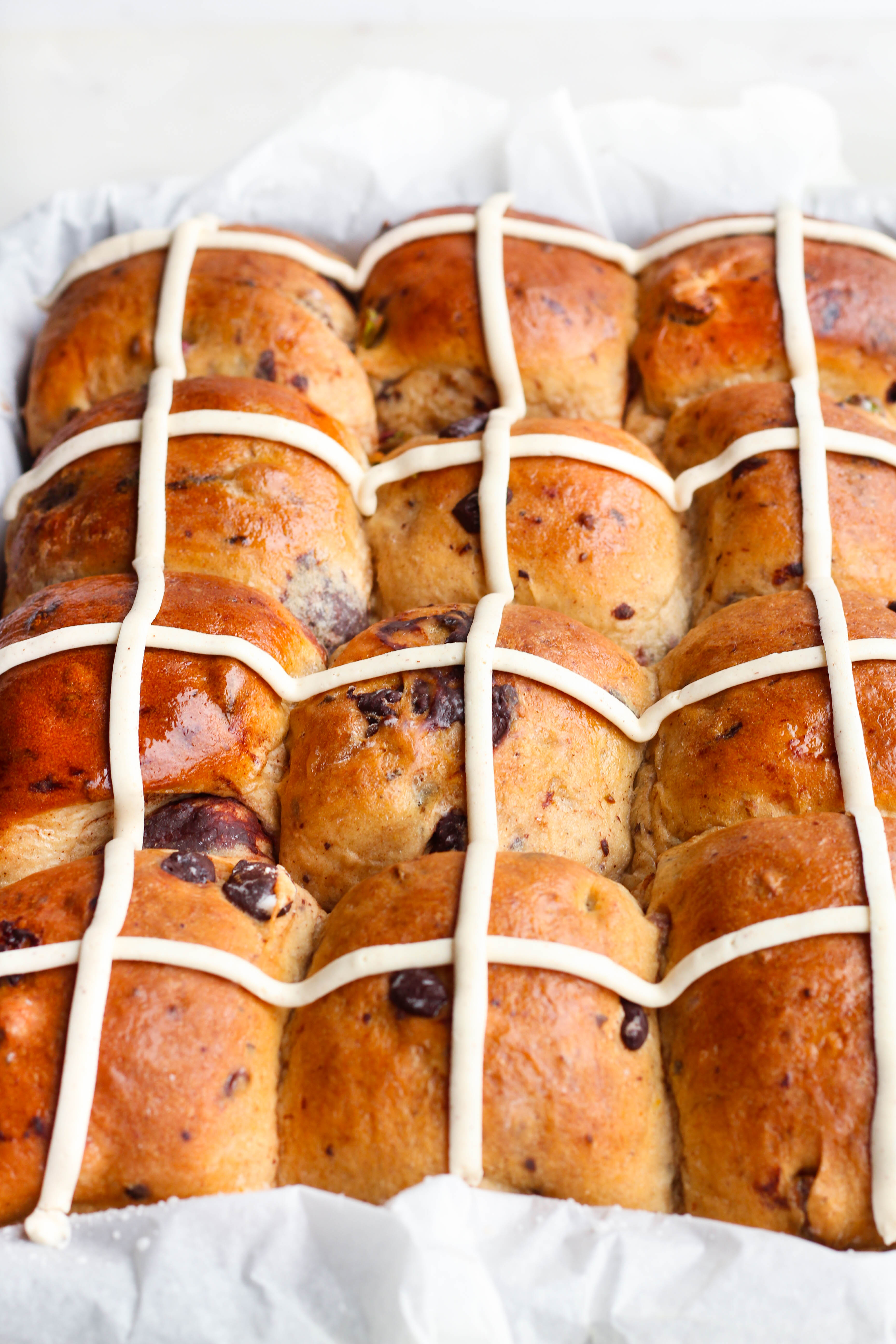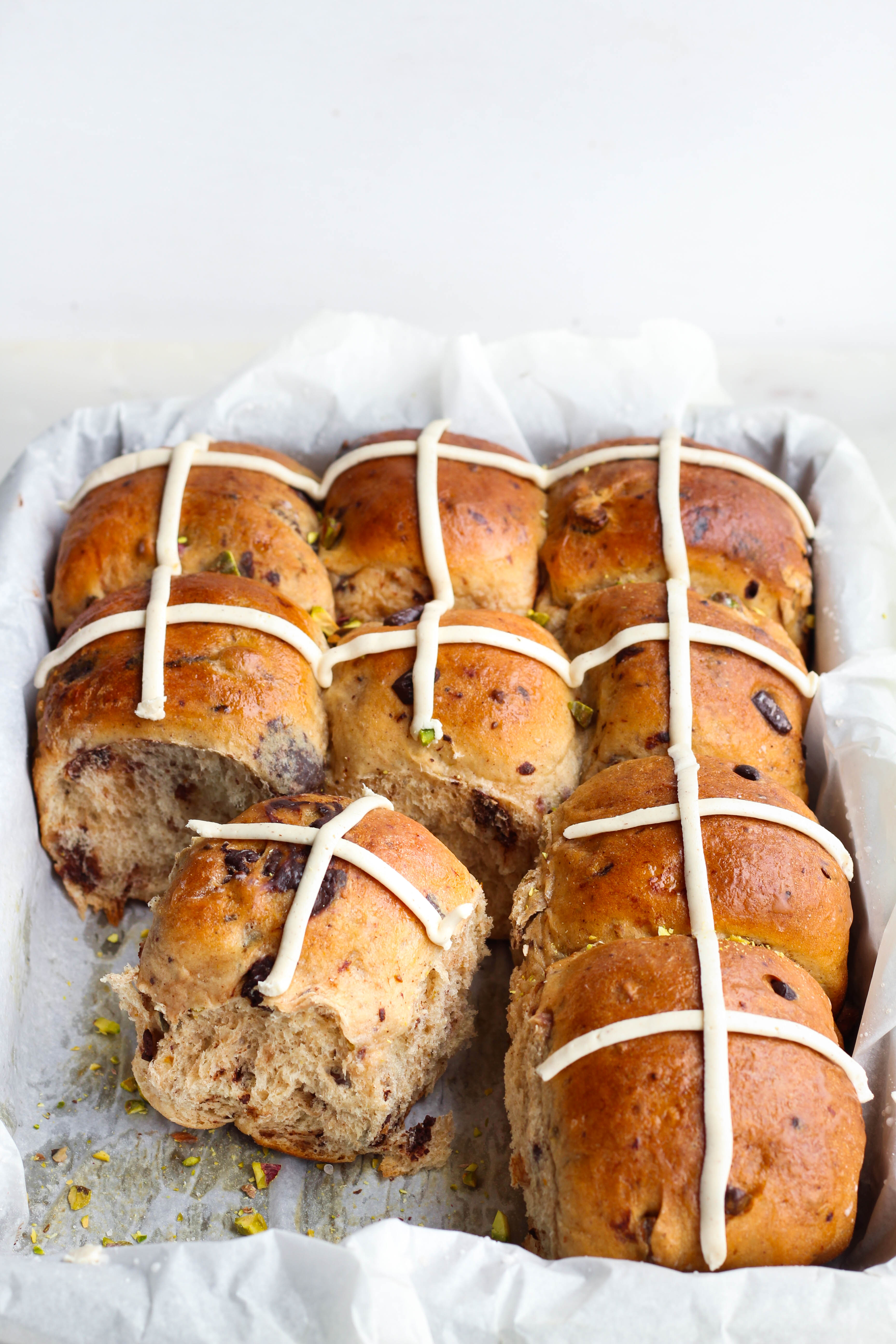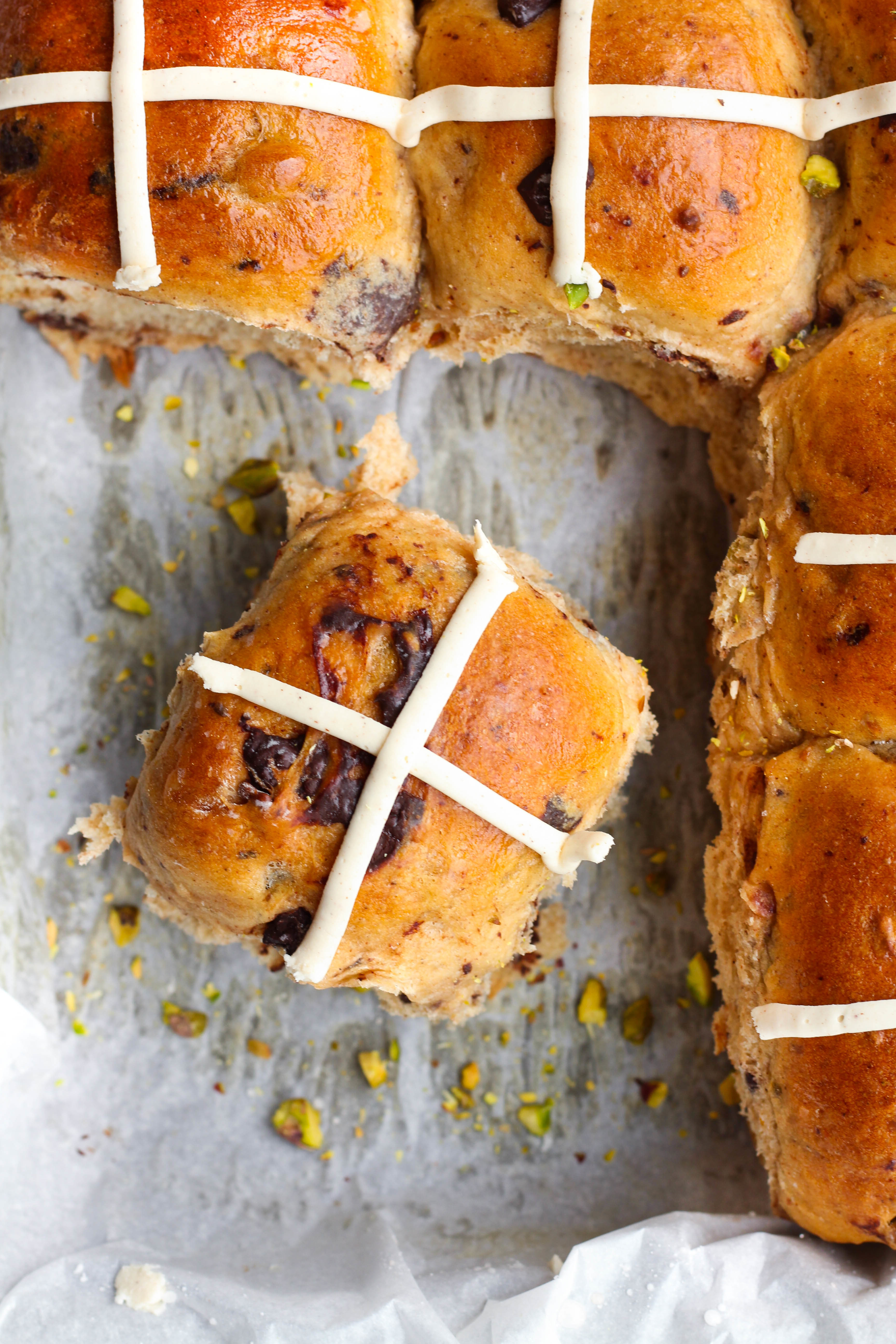 Dark Chocolate Pistachio Hot Cross Buns with Maple Cinnamon Butter
Makes 12 buns
Things you need…
Dark Chocolate Pistachio Hot Cross Buns
2 pckgs yeast (16 grams)
1 1/2 cups whole milk
1/4 cup granulated sugar
1/4 cup brown sugar
1 egg, beaten
1/4 cup butter, melted
1 tsp vanilla
1 tsp orange zest
4 1/4 cups all purpose flour
2 1/2 tsp cinnamon
1/4 tsp cardamom
1/4 tsp nutmeg
1/4 tsp ginger
pinch of salt
3/4 cup dark chocolate, chopped
3/4 cup pistachios, chopped & lightly toasted
Cinnamon Glaze
1/4 cup water
1/4 cup granulated sugar
squeeze of fresh orange juice
1 cinnamon stick
1/2 tsp vanilla
Maple Cinnamon Butter
1/4 cup butter, softened
1/4 cup icing sugar
1 tbsp maple syrup
1/4 tsp cinnamon
How to make…
Dark Chocolate Pistachio Hot Cross Buns
In the bowl of a stand mixer fitted with the dough hook add your yeast and a couple tsp of the granulated sugar. Pour the warmed milk over the yeast and sugar and lightly whisk to combine. Allow your yeast to sit in the warm milk like this for 5-10 minutes to proof. When you come back to your yeast after 5-10 minutes it should be frothy – this indicates that your yeast is active and good to go. If you come back and your yeast hasn't gotten frothy or foamed up, discard the contents in your bowl and start over with new fresh packages of yeast and proof again using the same technique.
While your yeast is proofing, whisk together flour, spices and salt. Set aside.
Once you have proofed your yeast, add the remaining granulated & brown sugar to the mixture as well as the melted butter, beaten egg and vanilla. Turn your mixer onto low to begin combining the ingredients. Mix for a minute or so until the mixture is beginning to come together. Keep the mixer on & slowly begin to add your flour mixture 1/2 cup at a time allow the flour to incorporate slightly before each addition.
Once you have added all of your flour, turn your mixer onto medium speed and allow it to mix the dough for 4 minutes. At this point you want to slowly start adding in your chopped chocolate and pistachios & allow the mixer knead the dough for another 1-2 minutes. The dough should be soft and a bit sticky, but not so wet that it is sticking to the sides of the bowl. If you find that your dough is sticking to the sides of your bowl, add a bit more flour 1 tbsp at a time until it comes away from the sides of the bowl. In total your dough should be worked in the mixer for about 5-6 minutes.
Remove dough from bowl – it should be smooth and elastic. Knead with your hands for an additional 1 minute on a lightly floured surface. Next, place your dough into a large greased bowl, lightly grease the top of your dough and cover with plastic wrap or a dry tea towel. Set your dough aside to rise in a warm place for 1 – 1.5 hours or until doubled in size.
Line a 9×13 inch baking pan with parchment paper; set aside.
Once your dough has finished rising, gently punch it down and turn it out onto a clean, lightly floured work surface. Divide your dough into 12 equal portions and gently shape each portion into a ball. Place the balls into your prepared baking pan. Cover the pan and set aside in a warm place to rise for an additional 30-45 minutes.
While your buns rise for the second time, pre-heat your oven to 375. Once your buns are done rising place them in the center rack of your oven and bake for 14-17 minutes or until golden brown.
Cinnamon Glaze
While your buns bake, prepare your glaze.
Place all ingredients in a small saucepan & stir to combine over medium high heat. Bring to a boil and allow to boil for one minute. Remove from heat and set aside until you are ready to use.
Once your buns come out of the oven, use a pastry brush to evenly coat the glaze on top. I usually do this 2-3 times.
Maple Cinnamon Butter
While your buns cool slightly, prepare your maple butter.
In a bowl, cream together all ingredients with an electric mixer until fluffy. Place into a small piping bag (or just use a sandwich bag and snip off the tip for a small opening). Pipe crosses over the buns.
Serve buns warm with extra maple cinnamon butter & enjoy!