You guys… Biscoff. Cookie Butter. Eggnog Cinnamon Buns…
I really don't know what else to say about this. This recipe is like the be all end all. One bite & my life was forever changed; never to be the same again, & once you try this recipe, you will understand my ramblings.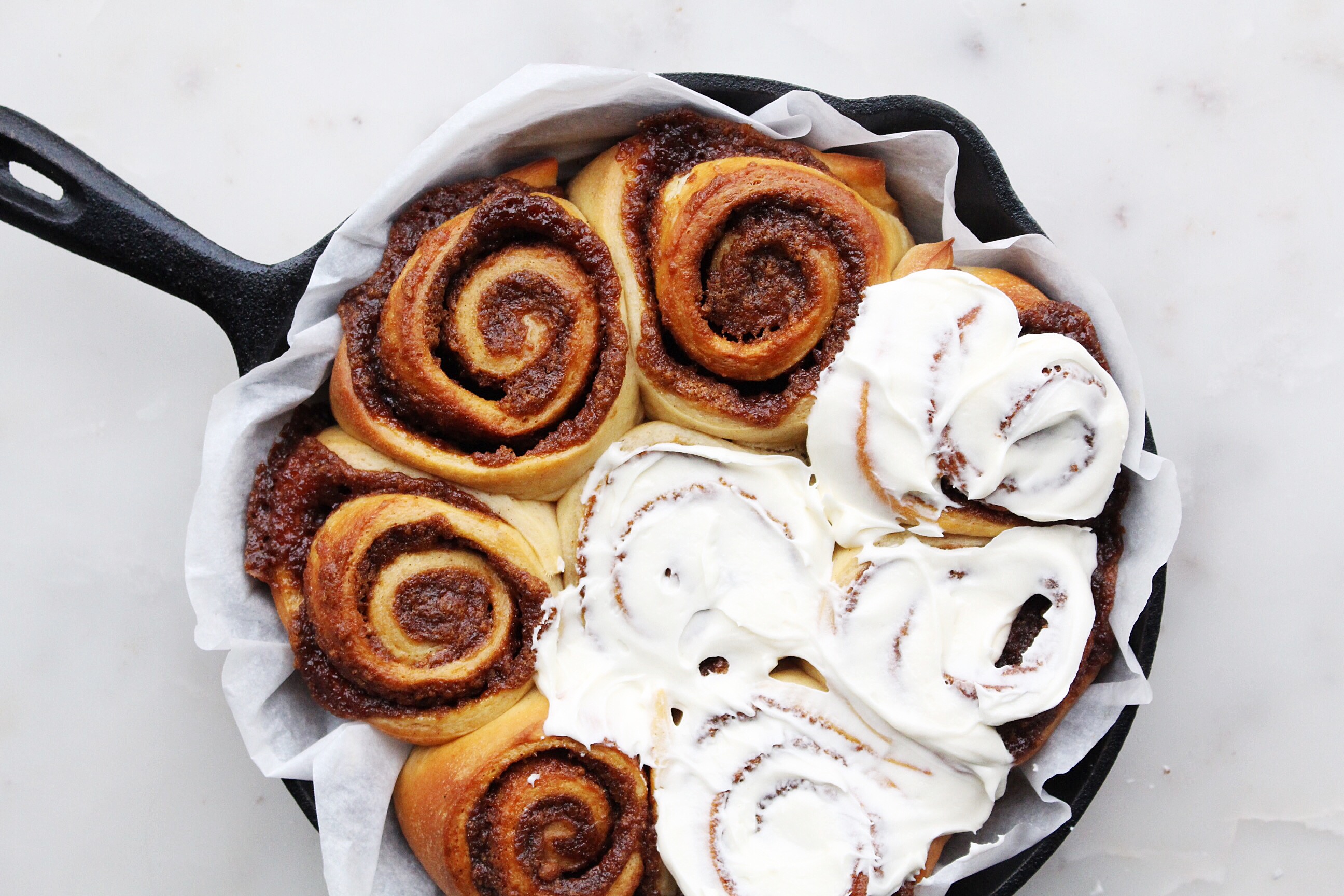 I can't lie to you guys. This recipe is really the result of my slightly concerning addiction to two key ingredients; Eggnog & cookie butter.
Hi my name is Kristie & I'm addicted to eggnog… oh and yes I have this little problem with cookie butter too. And by "problem" I mean if not supervised by a responsible adult, I tend to eat the entire contents of a jar in about 5 minutes flat.
Quick question – does anybody out there actually use cookie butter as a spread on things?? Or are you like me and just attack the jar with a spoon ? Or  you know, your finger – should all of your spoons be otherwise tied up in the dishwasher – I mean…I don't do that…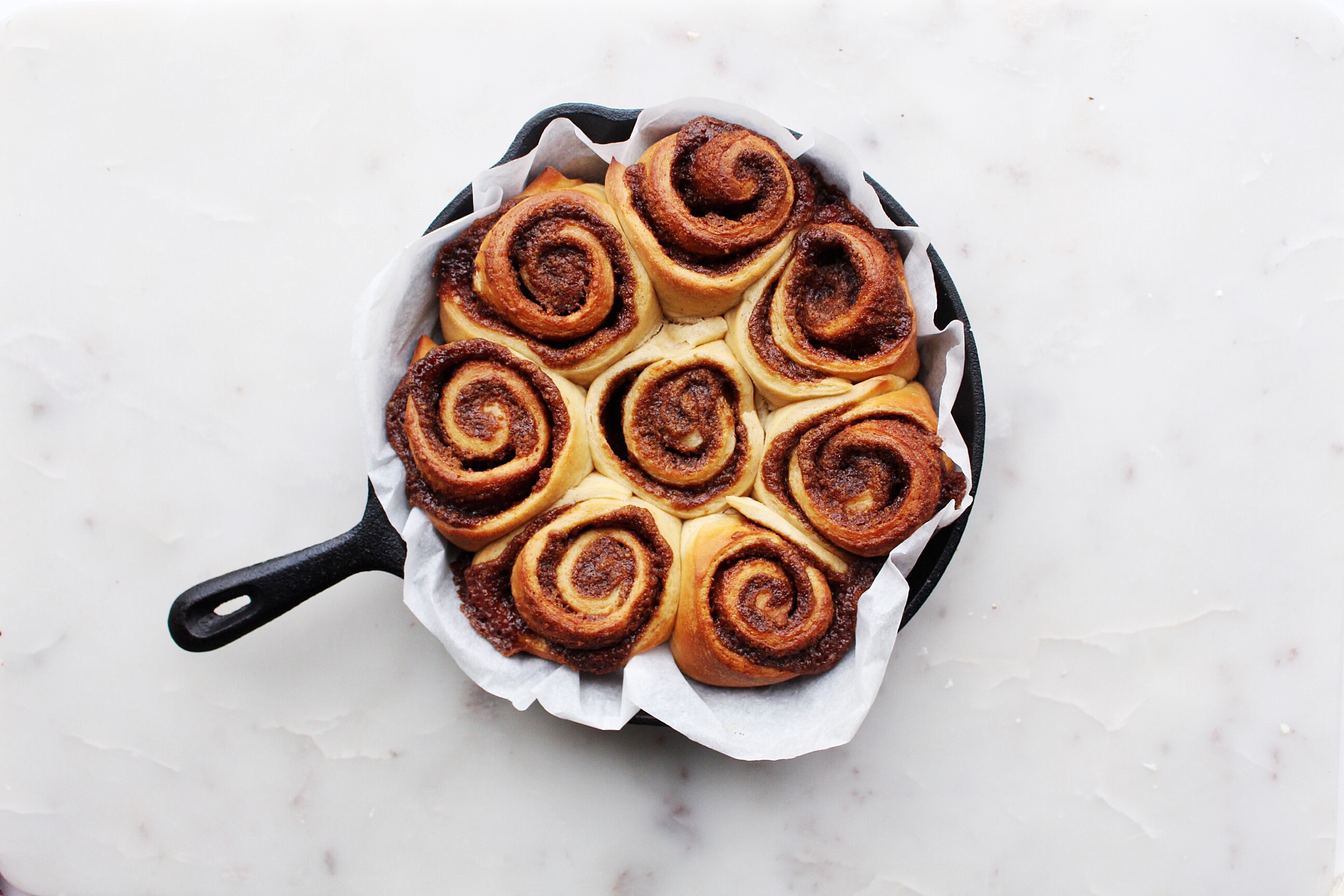 I actually don't think I have ever spread cookie butter onto another item of food. Probably just because I can't be bothered to waste precious time making a meal of it when I could just be eating it right then and there. Have I frightened you? I apologize.
Now before you judge me to harshly  – just remember that these rolls are the sweet love child of my weirdo addictions. Yeah… so don't hate, because there is only room for love on this blog. Sweet, eggnog infused, fluffy cinnamon bun & cookie butter spread the love. Oh an we can't forget the eggnog cream cheese frosting… because that would just be criminal.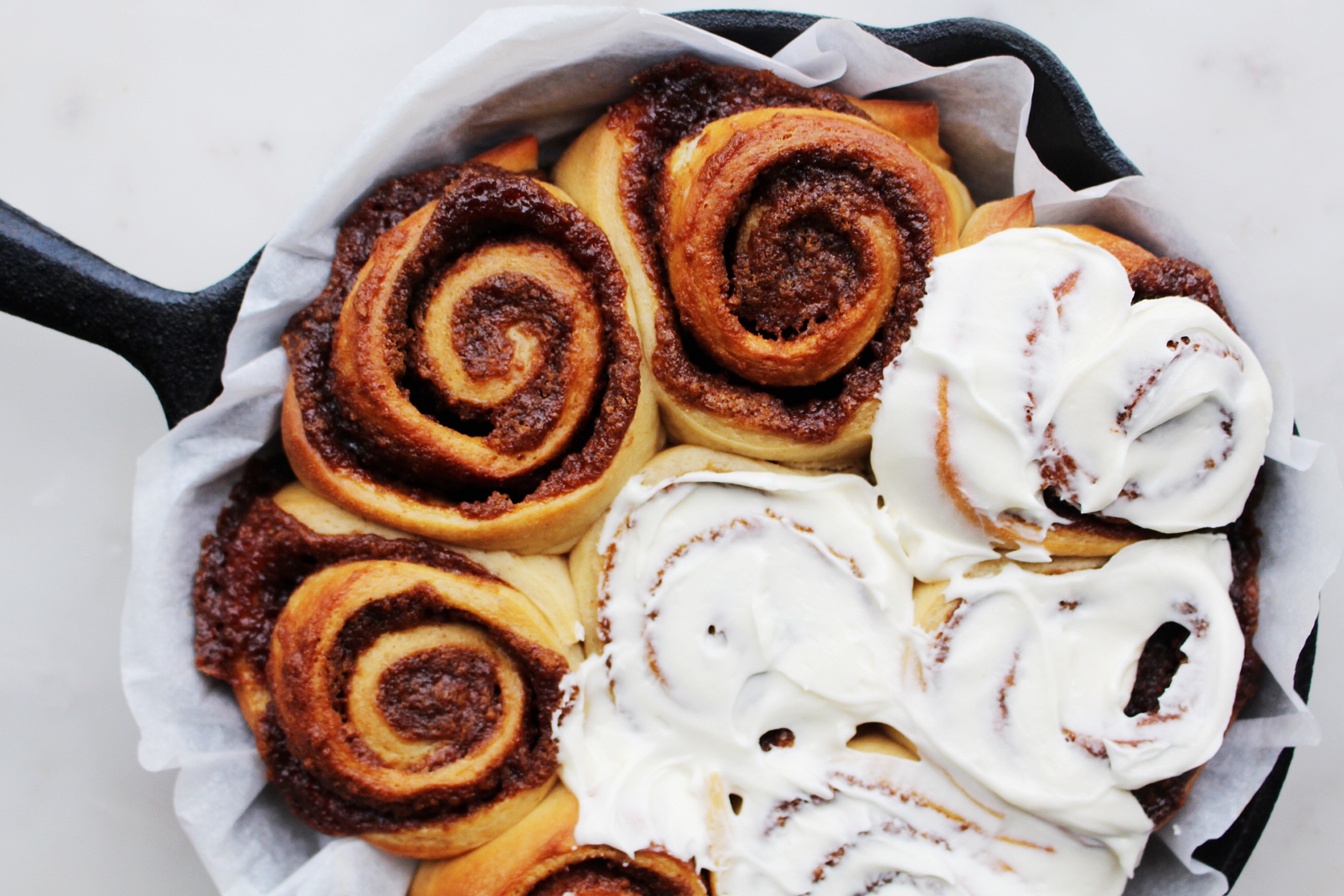 In all seriousness you guys… this recipe is unreal. Even if you only make it once in your life, you just have to do it. I absolutely cannot let you live your life without eating one of these bad boys. We are too good of friends  & I just couldn't live with myself knowing you had been deprived like that.
So let's all spread a little love this morning with a batch of these incredible, (albeit slightly ridiculous,) Eggnog & Biscoff Cookie Butter Cinnamon Buns. Sometimes you just don't need a reason.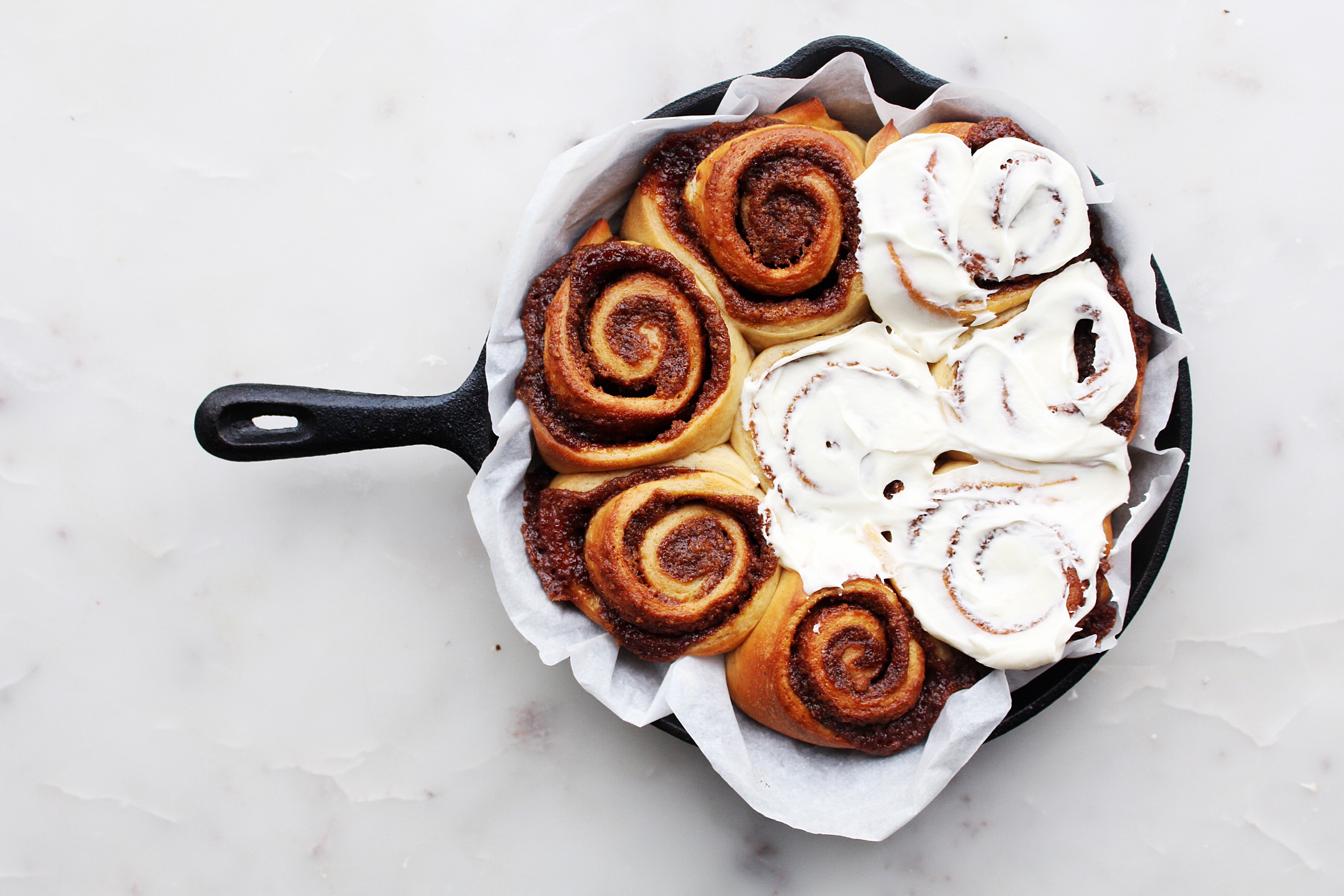 Cookie Butter Cinnamon Buns with Eggnog Cream Cheese Frosting
Makes: 8 Cinnamon Buns
Ingredients:
1 pckg dry instant yeast
1/2 cup whole milk, warmed
1/3 cup granulated sugar
1 egg, room temp
1/4 cup butter, room temp
2 1/4 cups all purpose flour
1/4 tsp cinnamon
1/4tsp nutmeg
1/4 tsp salt
Filling
1 jar of your fav Cookie Butter
Eggnog Cream Cheese Frosting
1/4 cup butter, softened
1/2 package cream cheese, softened
3 1/2 cups icing sugar
1 tsp vanilla
3-4 tbsp eggnog
Directions:
In the bowl of a stand mixer fitted with the dough hook add your yeast and a couple tsp of the sugar. Pour the warmed milks over the yeast and sugar and lightly whisk to combine. Allow your yeast to sit in the warm milk like this for 5-10 minutes to proof. When you come back to your yeast after 5-10 minutes it should be frothy – this indicates that your yeast is active and good to go. If you come back and your yeast hasn't gotten frothy or foamed up, discard the contents in your bowl and start over with new fresh packages of yeast and proof again using the same technique.
Once you have proofed your yeast, add the remaining sugar to the mixture as well as the softened butter and turn your mixer onto low to begin combining the ingredients. Mix for a minute or so until the softened butter is broken up into chunks. Add your beaten egg and allow to mix until combined. Slowly begin to add your flour, cinnamon, nutmeg & salt 1/2 cup at a time allow the flour to incorporate slightly before each addition.
Once you have added all of your flour, turn your mixer onto medium speed and allow it to mix the dough until a large smooth mass forms. The dough should be soft and a bit sticky, but not so wet that it is sticking to the sides of the bowl. If you find that your dough is sticking to the sides of your bowl, add a bit more flour 1 tbsp at a time until it comes away from the sides of the bowl. Allow to turn on medium speed for 5 minutes.
Remove dough from bowl – it should be smooth and elastic. Knead with your hands for an additional 2 minutes on a lightly floured surface. Next, place your dough into a large greased bowl, lightly grease the top of your dough and cover with a dry tea towel. Set your dough aside to rise in a warm place for 1 1/2 – 2 hours or until doubled in size.
** My oven has a warming function, so I usually set the warming function to low and let my dough sit in here to rise. If your oven has this feature, this is a great way to let your dough rise. If not, simply preheat your oven to about 200 degrees, shut it off and place the dough in there to rise as there will be enough residual heat in your oven to keep it nice a warm.
Assembly
Once your cinnamon bun dough has risen, punch dough down and turn out onto a lightly floured surface. Roll out into a rectangle that is 1/4 inch thick.
Spread about 1 cup of cookie butter filling out across the dough, leaving a 1 inch border at the bottom.
Roll dough up jelly-roll style and pinch the end together to seal. Cut into 12 even 1 inch rolls. Place rolls into two parchment lined 9×9 inch cast iron skillets – 6 per skillet. Set aside to rise again in a warm place for another 30 – 45.
While your rolls are rising, preheat your oven to 350 degrees. Sprinkle with granulated sugar and bake for 20-25 minutes or until golden. Remove from oven and allow to cool 5-10 minutes before frosting with cream cheese icing.
Eggnog Cream Cheese Frosting
While your cinnamon buns are baking, whip up your cream cheese frosting.
In a medium bowl, beat together butter and cream cheese using an electric mixer until completely smooth and there are no lumps. Add in 3 tbsp of eggnog and beat until smooth. Add in icing sugar 1/2 cup at a time, beating until combined before each addition. Once all of your icing sugar is mixed in, add in vanilla and turn the mixer onto high and beat for 3-4 minutes until pale and fluffy. If your icing is a but too thick add the additional 1 tbsp of eggnog. Set aside until your cinnamon buns are ready to be frosted.
Spread a generous helping on top of each cinnamon bun, serve warm, and enjoy!