Friends! I Keep promising you that I will be keeping up with more recipe posts & I feel like I keep letting you down!
I can't tell you all how much I love having you request recipes when I post photos to instagram & I really want to do my best to post them quickly for you, but sometimes I really just don't know where the time goes. But it was a rainy Vancouver day today, so we had a nice cozy day at home, giving Cole & I some much needed time to catch up on some things we have been putting off.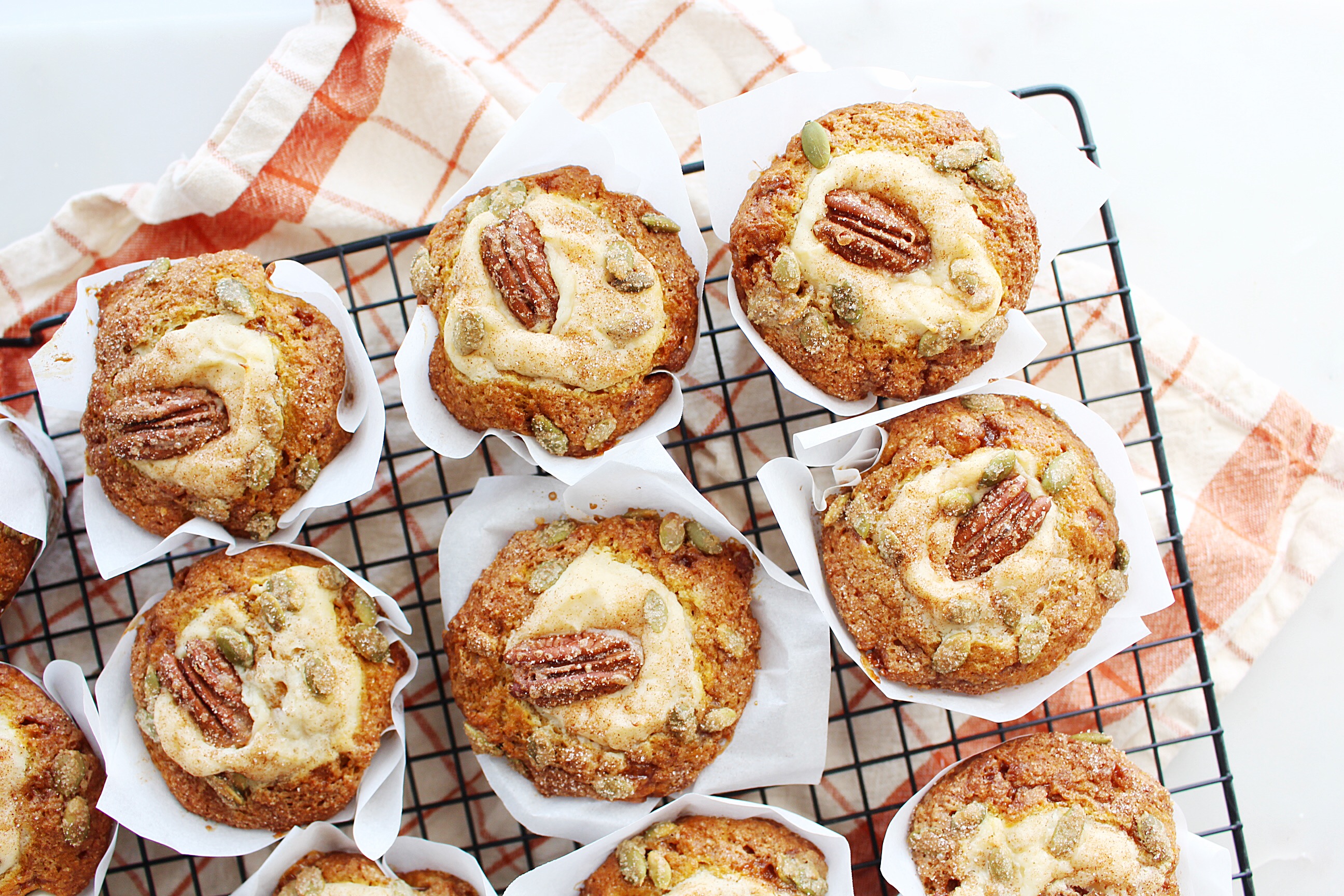 I'm sitting cross legged in front of the fire right now getting ready to post some recipes, while Cole is in the kitchen fixing a leak in our kitchen sink like the amazing fiance he is. He has been tinkering away at it for the past couple of hours now & I feel completely guilty because I don't know how to help him. He is in good spirits about the whole thing ( as usual – he is always looking on the bright side), and he keeps assuring me that everything is fine, but I still feel terrible for being so useless with these kinds of things.
Cole is a wizard when it comes to these kinds of things & I can't help but wonder how I got so lucky to get to have him in my life. So while my man is busy saving the day in the kitchen, I will finally be getting round to posting the recipe for these Pumpkin Muffins like I promised you all last week.
These muffins were inspired by two things;
– One; my compulsive need for all things pumpkin spice right now.
– Two; my obsession with combining all things pumpkin spice with cream cheese; because the flavour combo is just downright phenomenal.
So naturally these muffins happened & it was amazing. The muffins are so moist and flavourful on their own, what with all of the delicious pumpkin spices and toffee bits – but then that maple cream cheese filling gets thrown into the mix & the toasted pepitas & pecan topping…….. I can't even…. It's basically like muffin heaven up in here.  But don't take my word for it – try em' out for yourself.
Maple Cream Cheese Pumpkin Toffee Muffins with Toasted Maple Pepitas & Pecans
Makes 12 Medium muffins
Things you need…
Muffins
2 cups all purpose flour
1 tbsp baking powder
1 tsp baking soda
1 1/2 tsp cinnamon
1/2 tsp nutmeg
1/2 tsp ginger
1/8 tsp cloves
pinch of salt
1 cup brown sugar
3/4 cup butter, melted
1/2 cup buttermilk
1 cup pumpkin puree
2 eggs
1 1/2 tsp vanilla
1/2 cup toffee bits
Maple Cream Cheese Filling
1/2 pckg cream cheese, at room temp
1 tbsp maple syrup
1 tbsp brown sugar
Maple Nuts Topping (optional)
1/4 cup pepitas
12 whole pecans
1-2 tbsp Maple syrup
1/2 tbsp brown sugar
How to make…
Muffins
Pre-heat oven to 375F degrees & line a muffin tin with paper liners or just grease the cups.
In a large bowl, whisk together flour, brown sugar, baking soda, baking powder, cinnamon, nutmeg, ginger, cloves and salt. In a separate bowl, whisk together melted butter, buttermilk, pumpkin puree, eggs and vanilla. Make a well in the center of the dry ingredients and pour the wet ingredients into the well. Use a spatula to gently fold the wet ingredients into the dry until starting to come together. Add in toffee bits and continue to fold until the batter has just come together. It's okay if there are still a few streaks of flour.
Use a scoop to drop the batter into the prepared muffin tin. Depending on how large you want your muffins, fill them anywhere from 3/4 to all the way to the top of the cup. I filled mine just to the top.
Maple Cream Cheese Filling
In a small bowl, beat together cream cheese, maple syrup and brown sugar until creamy and there are no lumps. Drop a heaping tsp of the batter on top of each muffin, using the back of the spoon to flatten it out a bit on top of the batter.
Maple Nut Topping
In a a small bowl, mix together the pepitas, pecans, maple syrup and brown sugar to coat all the nuts evenly in the sugars. Place a pecan in the center of the cream cheese filling and sprinkle the pepitas over the tops of the muffins.
Dust the muffin tops with a bit of cinnamon sugar & place the muffins in the center rack of your oven to bake for 20-25 minutes or until the tops are golden and the cream cheese looks set.
Allow to cool for 5 minutes before digging in! Enjoy!
Happy Baking!
KP xoxox