**This post was done in collaboration with
Tree Island Yogurt
,
but all opinions and stories are 100% my own.

I'm a big fan of easy breakfasts; And when I say easy breakfasts, I mean the kind that can be prepped ahead of time and require little to no preparation on the morning of. Are we on the same page here?
On the weekends I will batch prepare things like overnight oats & homemade granola, so that I have them on hand, for quick and easy weekday breakfasts. It just makes life so much easier on busy weekday mornings.
And with all of the local summer berries in full swing here in Vancouver, I have been taking every chance I get to enjoy them; morning, noon and night. So these easy Mixed Berry Yogurt Tarts with Almond Oat Crust have become my go-to breakfast this summer.
Shop this post


I love these tarts so much, because I can easily bake off a batch of the almond oat crusts on a Sunday night, so that they are ready to go on busy weekday mornings. And then all I have to do is quickly fill one with a dollop of creamy yogurt, top it off with a few fresh berries and voila! You've got a seriously delicious & healthy no fuss breakfast that's ready in literally seconds.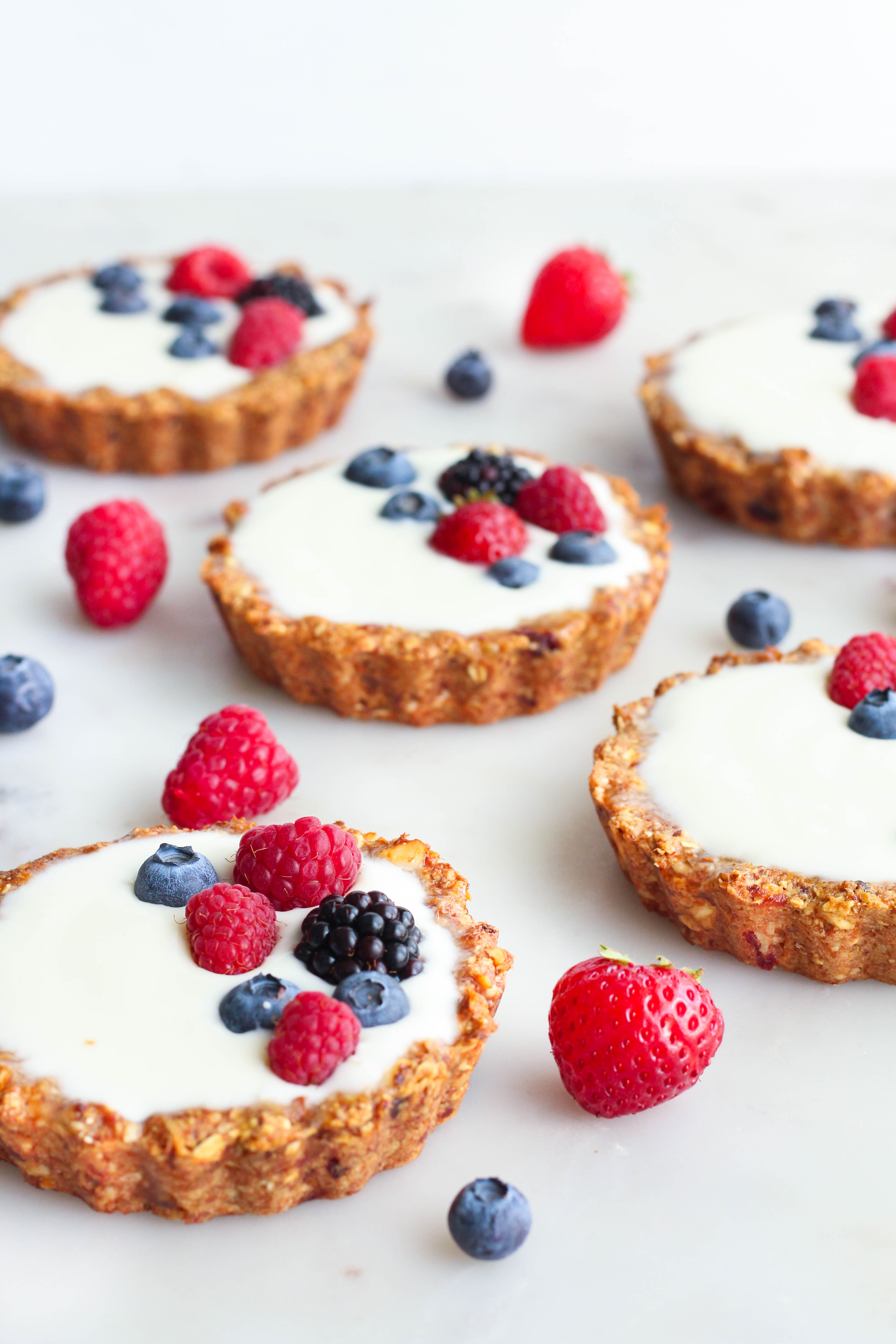 The almond oat crust for these tarts is naturally sweetened with dates and dried blueberries, and loaded with healthy almonds and oats; So not only are they super delicious, but you can feel hella good about eating them for a breakfast treat, or even for dessert!

And if you want to feel extra good about these tarts, try filling them up with my favourite Tree Island Yogurt.  These tarts are absolutely divine with any of Tree Islands yogurts, but I especially love them with either their Honey Cream Top Yogurt, Coconut Lime Greek Yogurt or Lemon Greek Yogurt. Suuuuper yum and even more amazing because all of their yogurts are made from 100% fresh Grass Fed BC Whole Milk with no antibiotics, thickeners, skim milk powders, or growth hormones. Heck yes! 
So here is the easy recipe friends & I hope you enjoy them as much as I do!
KP xoxo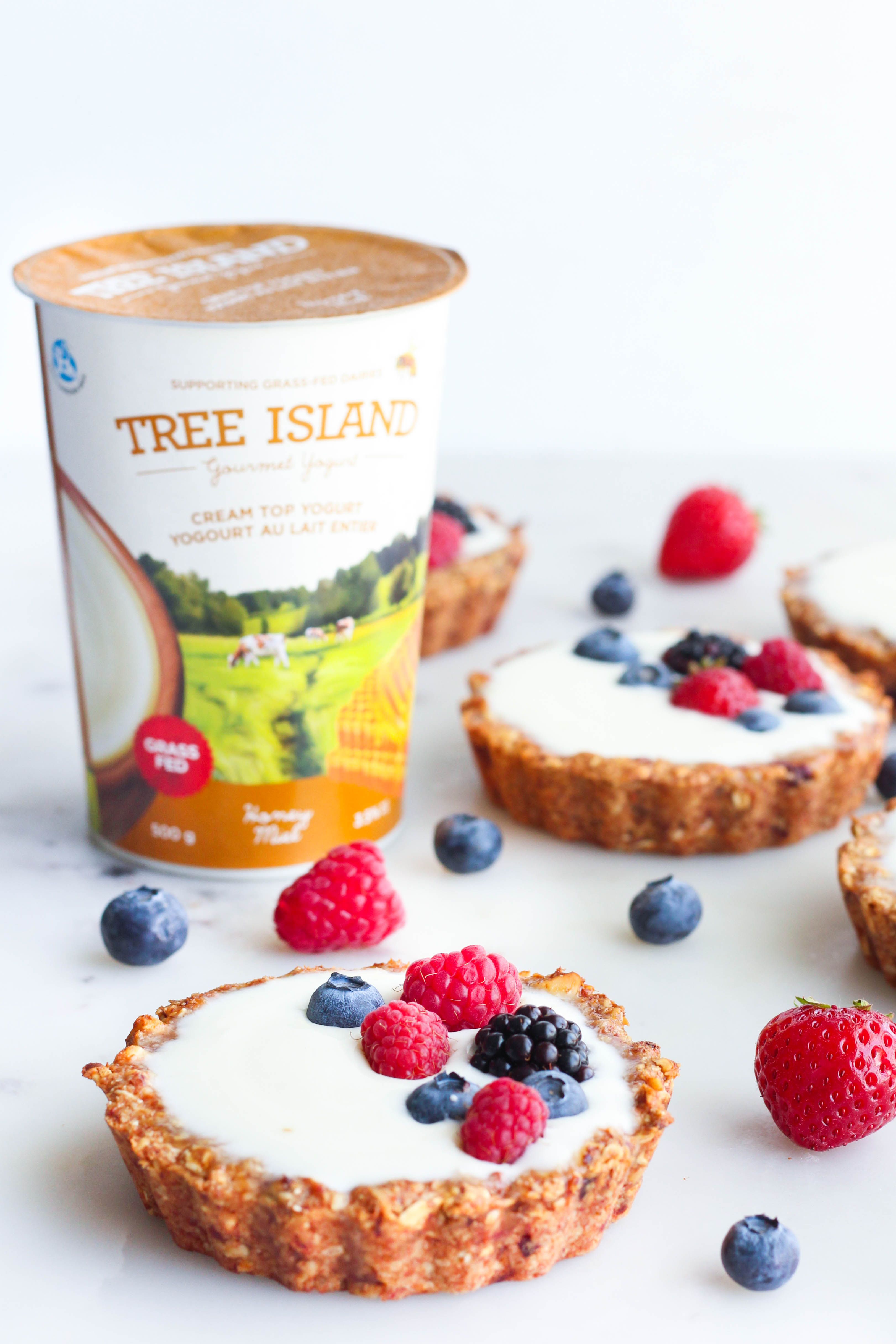 Mixed Berry Yogurt Tarts with Oatmeal Almond Crust
Makes 8 Small Tarts
Things you need…
Tart Shells
1 cup pitted dates
¾ cup whole almonds
¾ cup oats
½ cup unsweetened coconut flakes
½ cup dried blueberries, cherries or cranberries
1 tsp pure vanilla extract
¼ tsp cinnamon
¼ tsp salt
1 tbsp coconut oil, melted
Filling & Toppings
1 package Tree Island Honey Yogurt
Fresh mixed berries, such as blackberries, blueberries, raspberries or strawberries
How to make…
Preheat oven to 350F degrees.
In a food processor, pulse together, almonds, dates, coconut, dried blueberries, vanilla extract, cinnamon and salt until it forms a coarse crumb consistency. Drizzle in the coconut oil and pulse again until the mixture comes together to form a dough like mass.
Divide the dough between 8, 4 inch mini tart shell molds and press around the edges to form the crusts. If the dough is sticking to your fingers, wet your fingers with a bit of cold water to make the process easier.
Prick the bottom and the sides of each tart shell with a fork all over the base and up the sides. Place the tart shells in the preheated oven and bake for 15-17 minutes or until golden brown and fully cooked through.
Remove your tart shells from the oven and allow to cool completely before serving.
Once your tart shells are completely cool, fill them with Tree Island Honey Yogurt and top with fresh berries. Enjoy!
**Tip: I like to just keep these tart shells on hand and fill one up for a quick weekday breakfast.. Only fill as many tart shells as you need for serving at the time and save any remaining tart shells for later, as if you let the yogurt sit in the shells for too long the crust will get soggy.