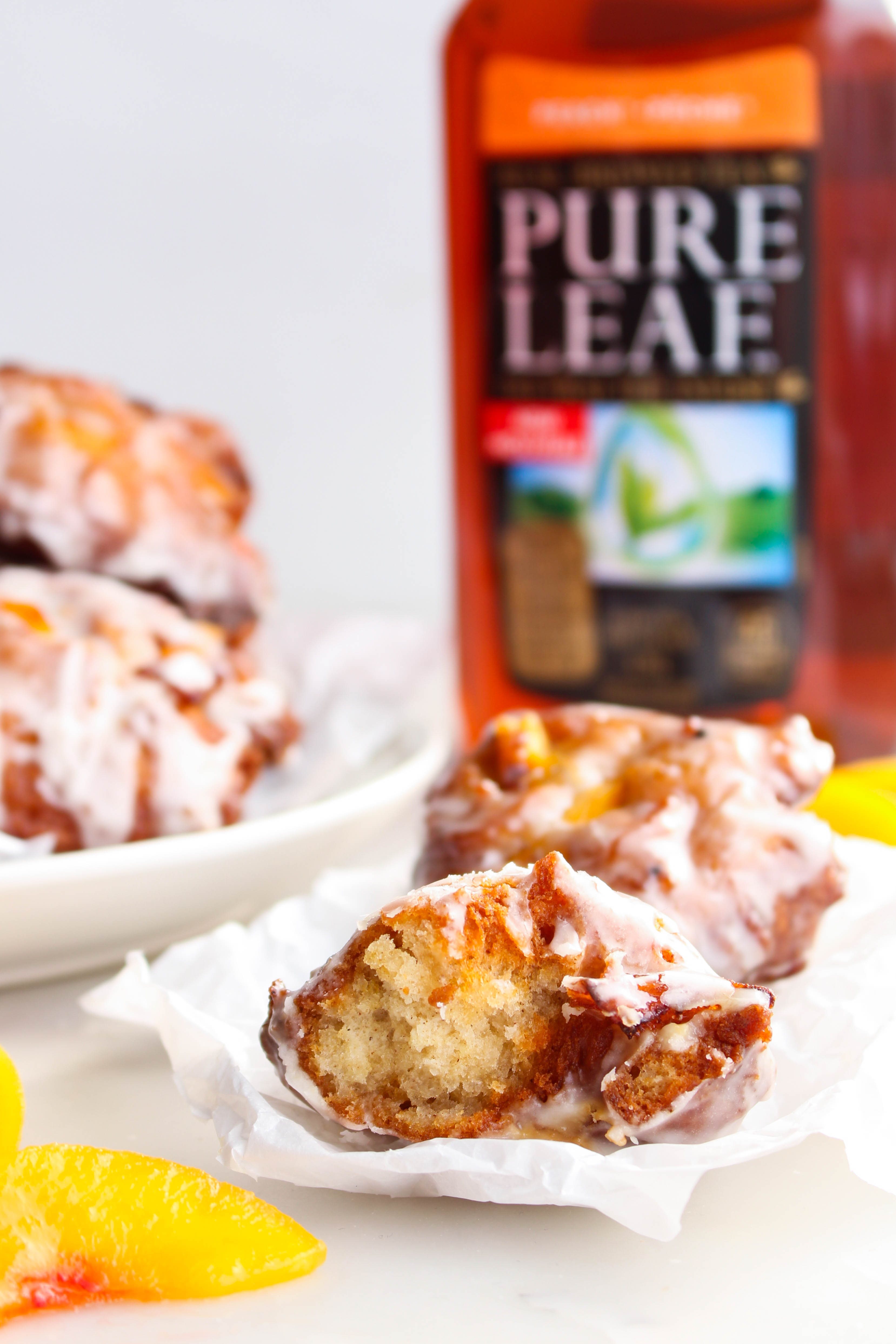 We have had one heck of a winter here in Vancouver & I don't know about you guys, but I  honestly could not be more ready for summer. Like, at this point I would be completely fine if we could just skip Spring and go straight to hot sunny days, filled w/ trips to the beach and the market to pick up fresh summer berries & stone fruits.
Okay, so I know it's still February and we have a longgg way to go before days like that can happen – but hey, a girl can dream right?
So today, (despite gloomy, freezing Vancouver weather,)  I am embracing all the summer vibes, and throwing a little impromptu donut party w/ Pure Leaf Peach Iced Tea and these Ginger Peach Fritters. Who else wants to join in!?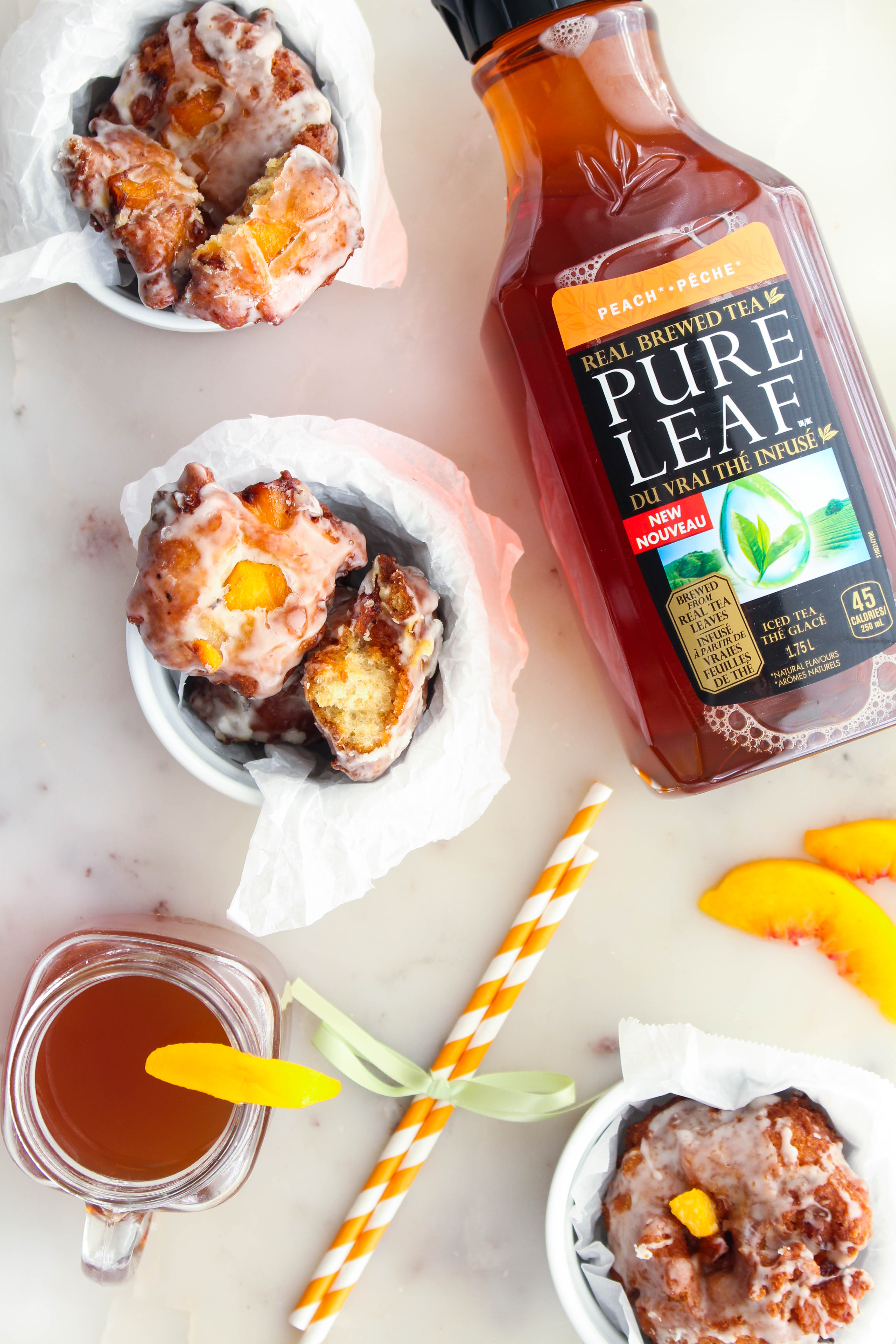 For me these doughnuts are what summer baking is all about. It's light, it's fruity and completely delicious. I made it with Pure Leaf Peach Iced Tea & some leftover summer peaches that had gotten lost at the bottom of my freezer (best winter discovery ever!) Suffice to say, this was exactly what I needed to escape the gloom of winter this week.
What I love most about Pure Leaf is that every bottle is brewed from real tea leaves, & has no artificial colours or ingredients – I mean seriously, how awesome is that? Oh and did I mention that Pure Leaf Peach Iced Tea now comes in 1.75L bottle? So it's the perfect size to share w/ my donut party friends!
So if you're like me and need a bit of a holiday from the gloomy winter weather – I can think of no better cure for the winter blues than homemade donuts – especially these summery Ginger Peach Fritters. They are a little crisp on the outside with a fluffy moist interior, and most importantly full of sweet juicy peaches and warm spices you won't be able to resist.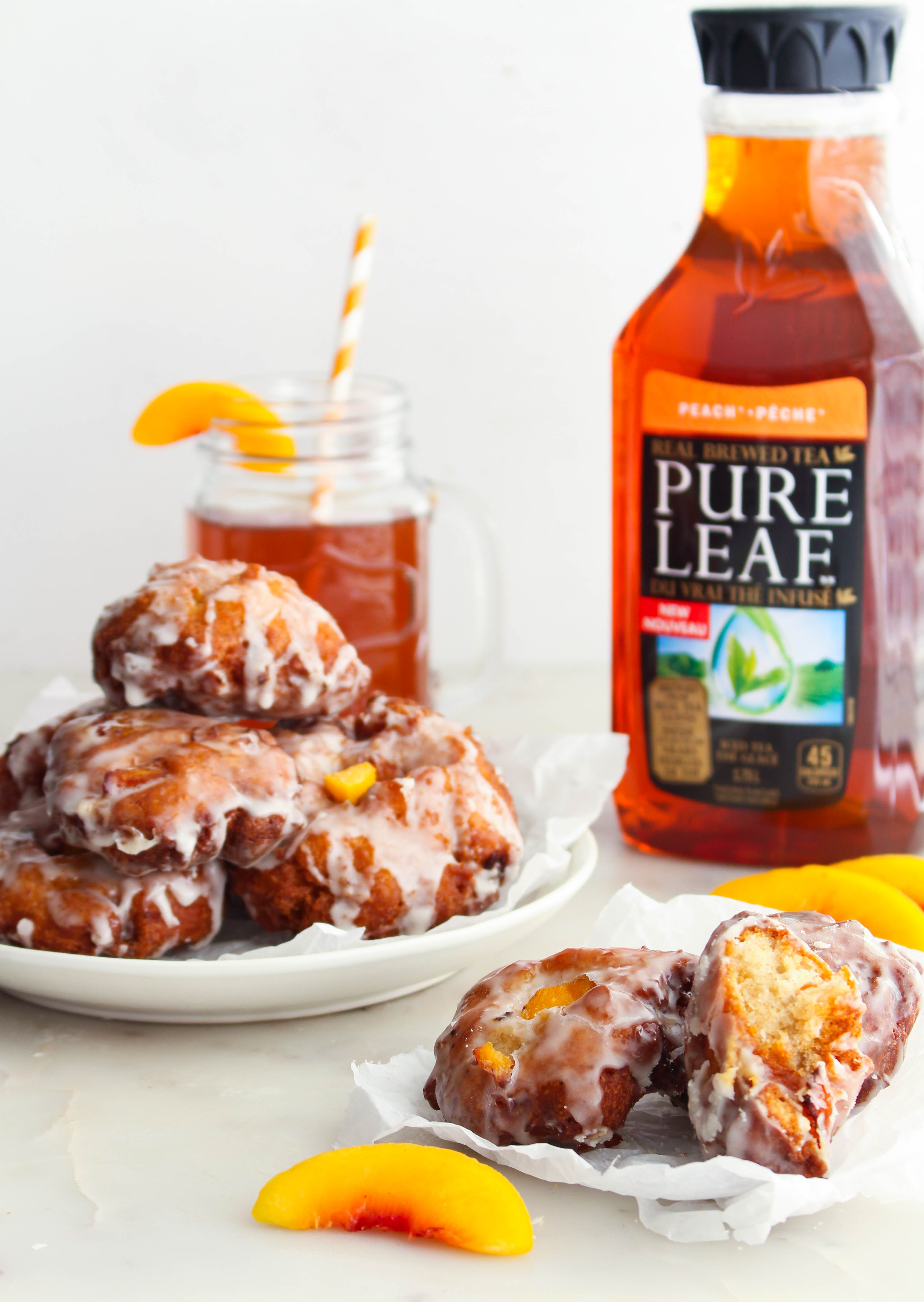 Oh and the best part about these fritters? There is no fooling around with yeast in this recipe, so you can literally just plop the batter in the oil and boom! Donuts! If you start right now, you could be eating them in a half hour… make em' happen!
Here is the recipe lovelies & I hope you enjoy!
Ginger Peach Fritters
Things you need…
Ginger Peach Fritters
3 ½ cups all purpose flour
1 tbsp baking powder
1 tsp baking soda
1 tsp cinnamon
1 tsp ginger
¼ tsp nutmeg
⅓ cup butter melted
2 eggs
1 cup sour cream
1 tsp vanilla
1 tsp lemon zest
2/4 cup chopped peaches, frozen
Peach Tea Glaze
⅓ cup Pure Leaf Peach Iced Tea
3 cups icing sugar
1 tsp vanilla
1 tbsp maple syrup
1/4 tsp cinnamon
1/4 tsp ginger
How to make…
Fritters:
Heat a heavy bottomed pot of about 2 inches of oil over medium heat to 350 degrees, no hotter and no lower.
Meanwhile; In a large mixing bowl, whisk together flour, baking powder, baking soda, cinnamon, nutmeg, ginger and salt; make a well in the center and set aside.
In a medium mixing bowl using an electric mixer, cream together eggs, sugar, vanilla and lemon zest until pale and thick. Slowly add in melted butter and beat until combined. Add half of the sour cream in and beat to combine; add the remaining sour cream and beat until smooth and completely combined.
Toss the chopped frozen peaches into the dry ingredients and mix to coat. Pour wet ingredients into the well of the dry ingredients and use a spatula to gently fold the wet ingredients into the dry until just combined.
Once your oil is heated, use a 1 tbsp ice cream scoop to gently scoop 3-4 spoon fulls of the of the fritter dough at a time into the oil to cook. Once your fritters float nicely to the top, allow them to cook for about 1 more minute before flipping and frying for an additional one minute on the other side. You can always look to see the colour before flipping to check that your donuts are a nice golden brown before flipping them.
Once cooked, use a slotted spoon and allow the fritters to drip off any excess oil into the pot. Place the cooked donuts onto a wire rack with some paper towel underneath to cool and drip off anymore excess oil. They will be extremely hot, so please take care not to burn yourself.
Allow to cool for a few minutes before dipping in the glaze.
Ginger Peach Tea Glaze
Whisk all ingredients together until smooth. Dip your fritters in the glaze and use your finger to run off excess. Place on a wire rack to set for 5-10 minutes.