Did someone say homemade soft pretzels…??? Yup – brace yourselves because this is happening people.
So I know the idea of homemade soft pretzels probably sounds incredibly time consuming, difficult and all around like something you don't want to make at home – but trust me when I say this; Making homemade pretzels is actually super easy & totally worth the effort of making them at home!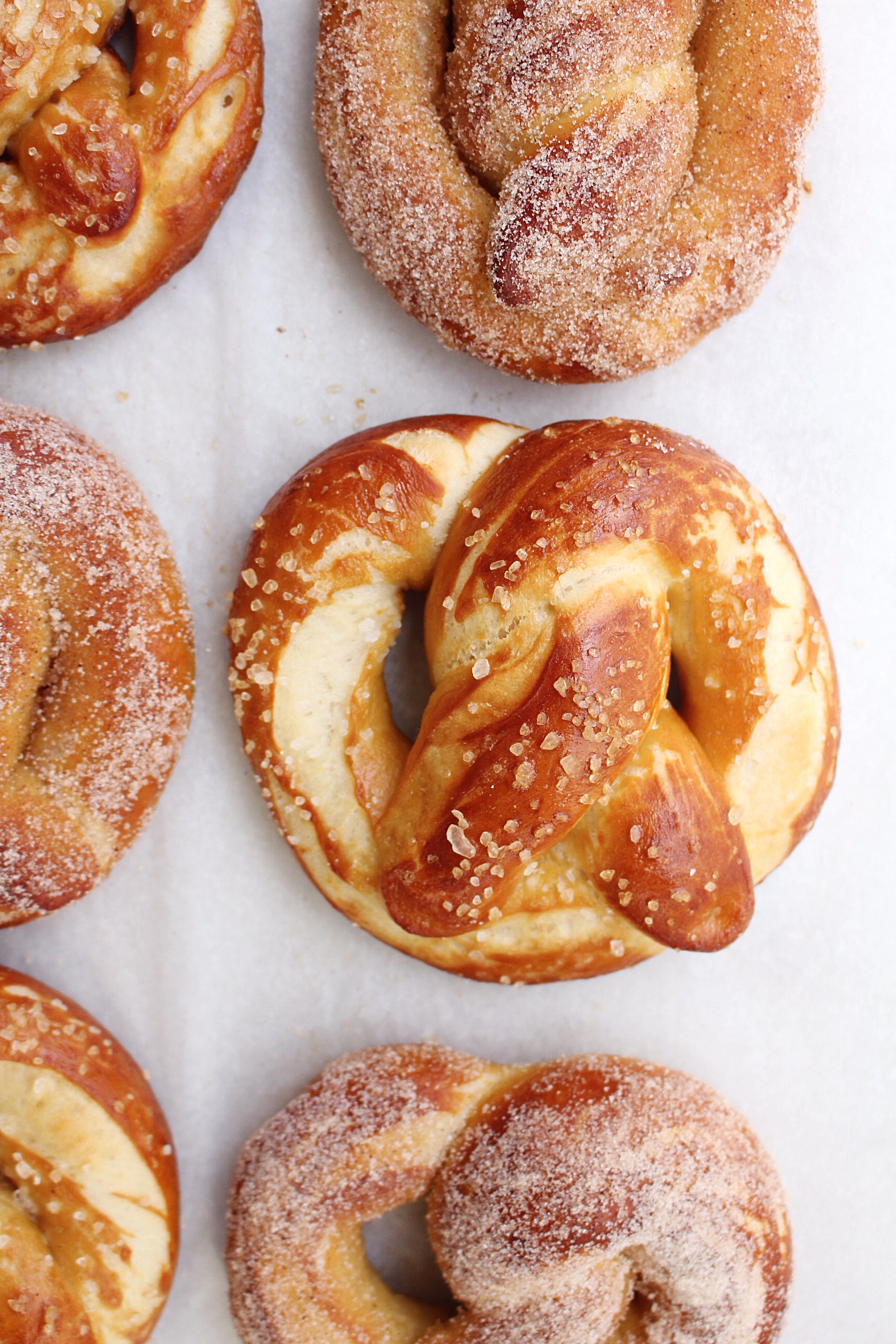 So here's the thing about pretzels; not only are they amazingly delicious – but thy are actually so much fun to make.
Everything from making your dough, watching it rise, to shaping the pretzels & watching them puff up as you boil them, to pulling them out of the oven and seeing that perfect golden brown colour… I could make pretzels everyday. Maybe I will 😀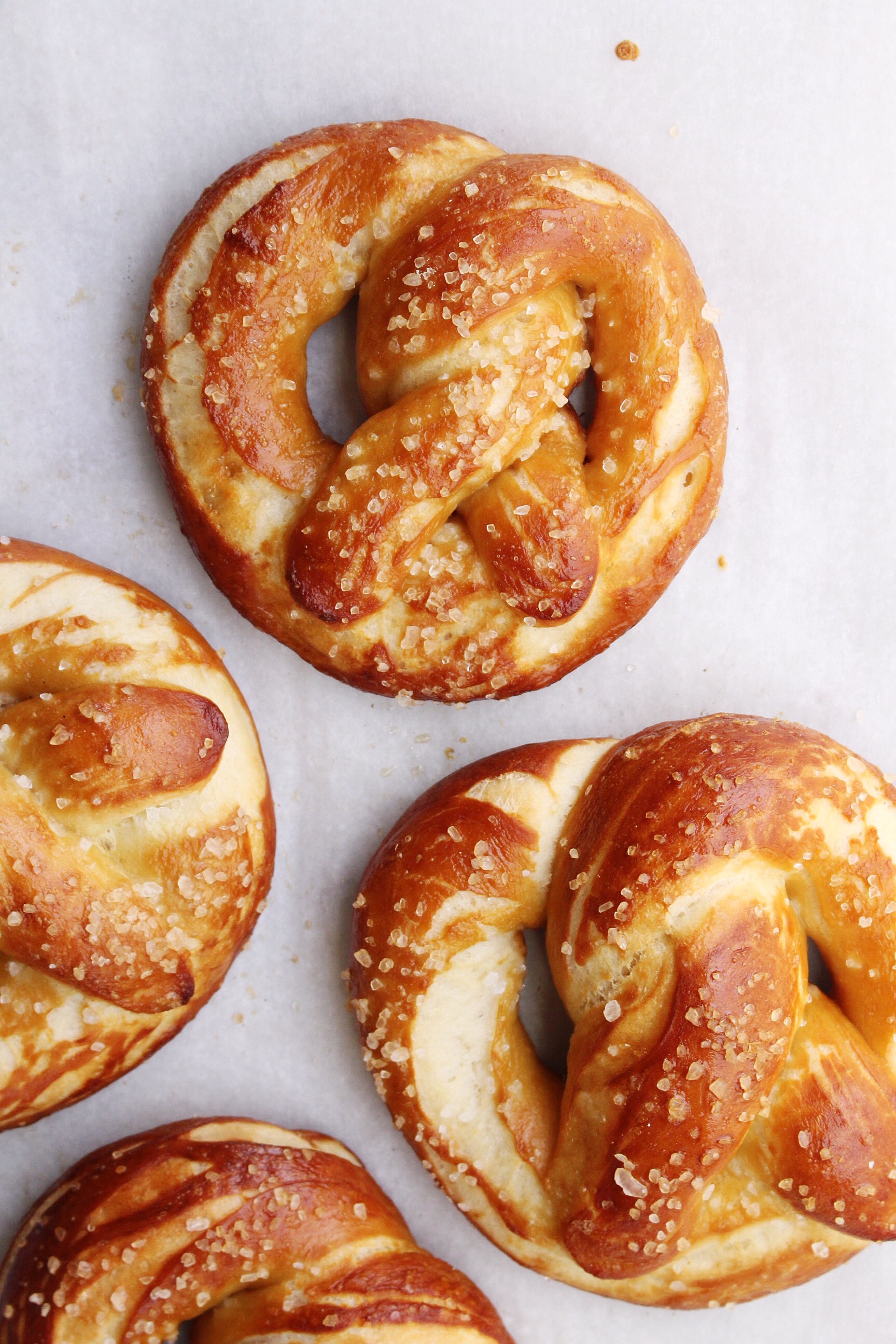 Honestly the hardest part about making homemade pretzels is just learning how to shape them – but please don't get discouraged if your pretzels aren't that perfect pretzel shape your first time around. My pretzels are never perfect and despite whether they are pretty or not – they will taste amazing. So really you have nothing to fear! Just have fun shaping your pretzels and play around with different shapes if you want!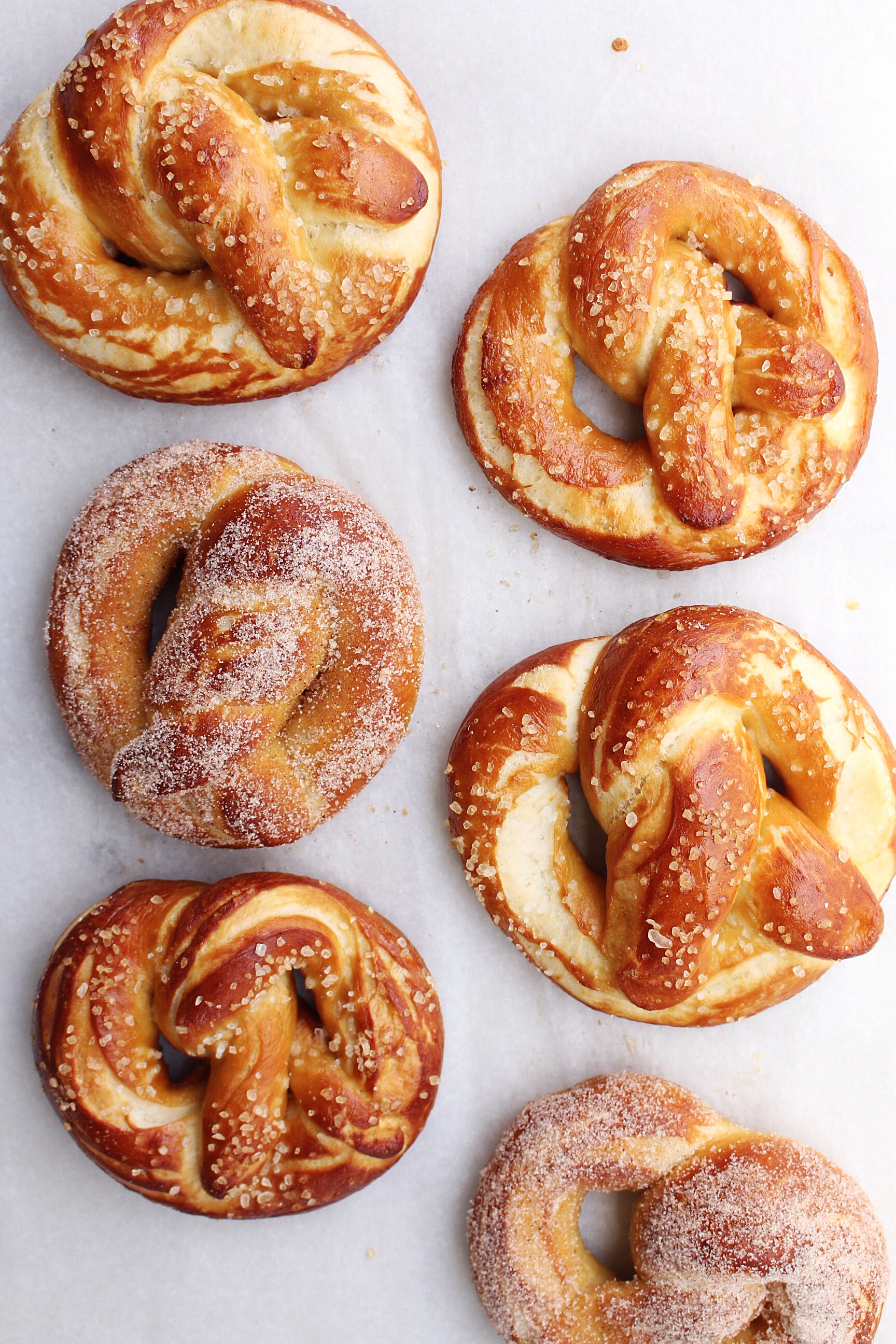 So here is the super simple recipe friends & I hope you enjoy a warm pretzel this weekend for me!
Happy baking!
-KP xoxo
Soft Pretzels Two Ways
Makes: 8 pretzels
Things you need…
1 1/4 cup whole milk, warmed
1 pckg yeast
3 tbsp brown sugar
1/4 cup butter, melted
3 cups all purpose flour
1 egg beaten (for eggwash)
1/4 cup baking soda
water (for boiling)
Toppings:
Course Salt
2 tbsp melted butter
1 cup granulated sugar
1 tbsp cinnamon
How to make…
In a large mixing bowl fitted with the dough hook combine warmed milk with 1 tbsp of the sugar and the package of yeast. Allow to sit for 5-10 minutes to proof until foamy. Stir in the rest of the sugar and melted butter. Turn mixer on low, and add the flour 1 cup at a time, mixing with the dough hook until just combined before each addition until you have added all the flour. If your dough is a little bit sticky, just add in flour 1 tbsp at a time until it pulls away from the edges of the bowl. Turn mixer onto medium-high and allow to knead until dough is smooth and elastic – about 5 minutes.
Turn dough out and knead by hand to shape into a ball. Grease your bowl with olive oil and set the dough back in. Cover with plastic wrap and allow to rise in a warm place for 60-90 minutes until doubled.
Pre-heat oven to 450 degrees and line 2 baking sheets with parchment paper. Bring a large pot of water to boil with 1/4 cup of baking soda.
Once your dough has risen, turn it out onto a clean work surface, that has not been floured. You want your dough to kind of stick to the work surface as this will make it easier to shape. Cut dough into 8 equal parts. Use your hands to roll each piece into about a 20 inch long rope. Work from the middle of the piece of dough and work your way to the edges to stretch and roll at the same time. Make a U shape with the dough rope bring the ends into the middle of the U shape and twist them over each other to link and press the ends into the bottom of the pretzel U gently. Set pretzel onto prepared baking sheet & repeat with remaining dough pieces.
Once you water is boiling, add pretzels to the water 2 at a time and let them boil for 30 seconds. Give them a couple dunks under the water while they boil. Use a slotted spoon to remove them from the water and place back onto baking sheets.
Brush the pretzels with your egg wash. Sprinkle 4 of the pretzels generously with coarse salt, and leave the remaining four plain with just the egg wash.
Place in the oven to bake for 12-14 minutes or until a nice golden brown colour. Remove from the oven. At this stage the salted pretzels are good to go but you still need to roll the others in cinnamon sugar.
For the cinnamon sugar pretzels; Stir together granulated sugar with cinnamon until combined. Brush the pretzels lightly with melted butter and toss with cinnamon sugar mixture. Set back on baking sheet & enjoy!