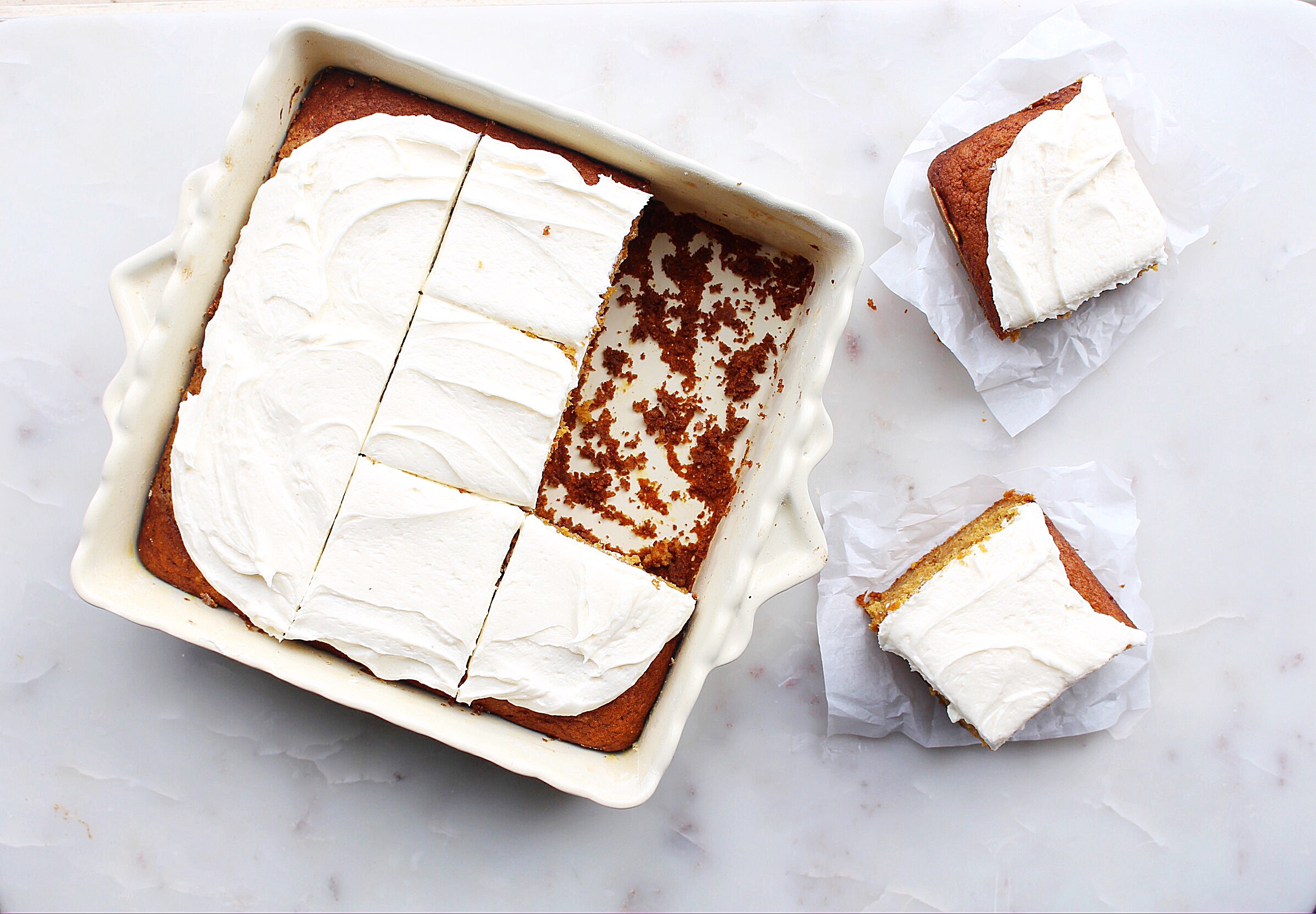 It's Canadian Thanksgiving in a couple of days, & I'm so excited to spend the day cooking and baking delicious food with my mom, while my brothers sneak bites of food and my mom and I pretend not to notice.
It's going to be our first Thanksgiving at my parents new house & I can't help but be excited about this being the first of many special Thanksgiving dinners that we will spend there for years to come. My parents bought a new dining table, that is large enough for everybody to sit comfortably around  – which is something of a change for our large family.
As I get older, I cherish more and more the times that the whole family can come together to enjoy a meal together & catch up on some much needed family time. So I'm really looking forward to Thanksgiving this year.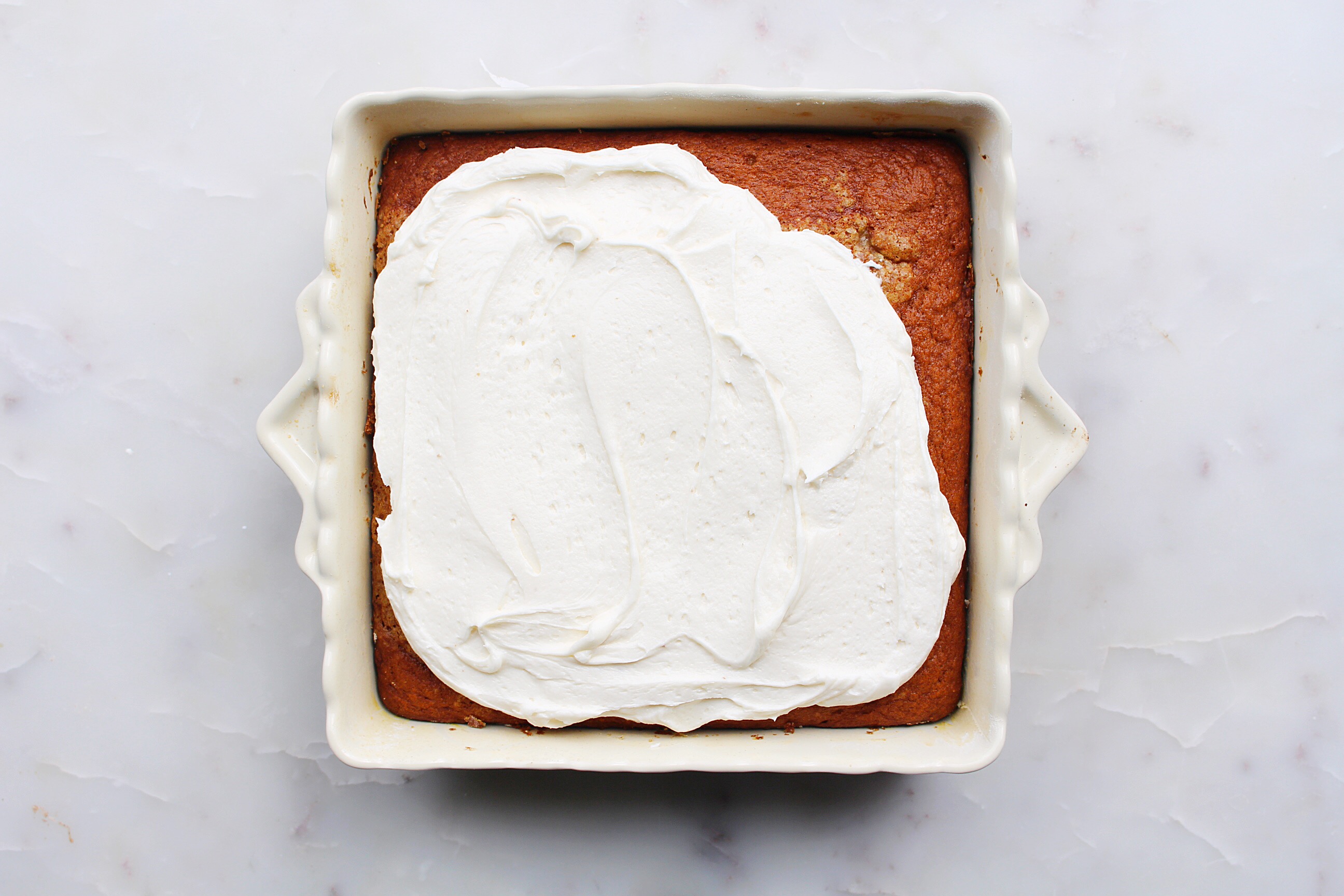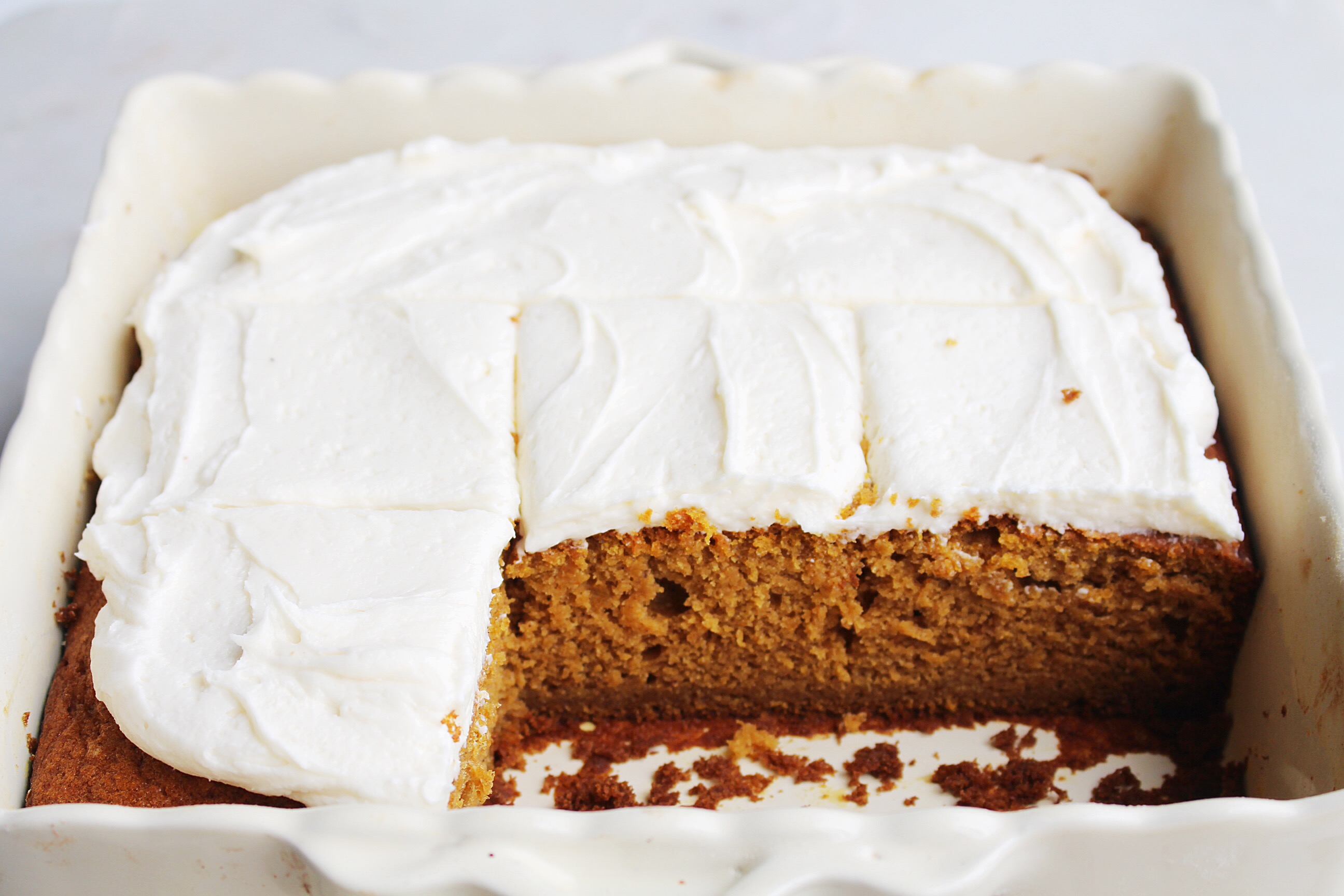 Admittedly my mum & I always go a little bit over board with the cooking and the baking on Thanksgiving. We usually end up with enough turkey, stuffing and dessert leftovers to feed a small army, but we just can't help ourselves. Especially when it comes to desserts…. we kind of have a thing for desserts 😀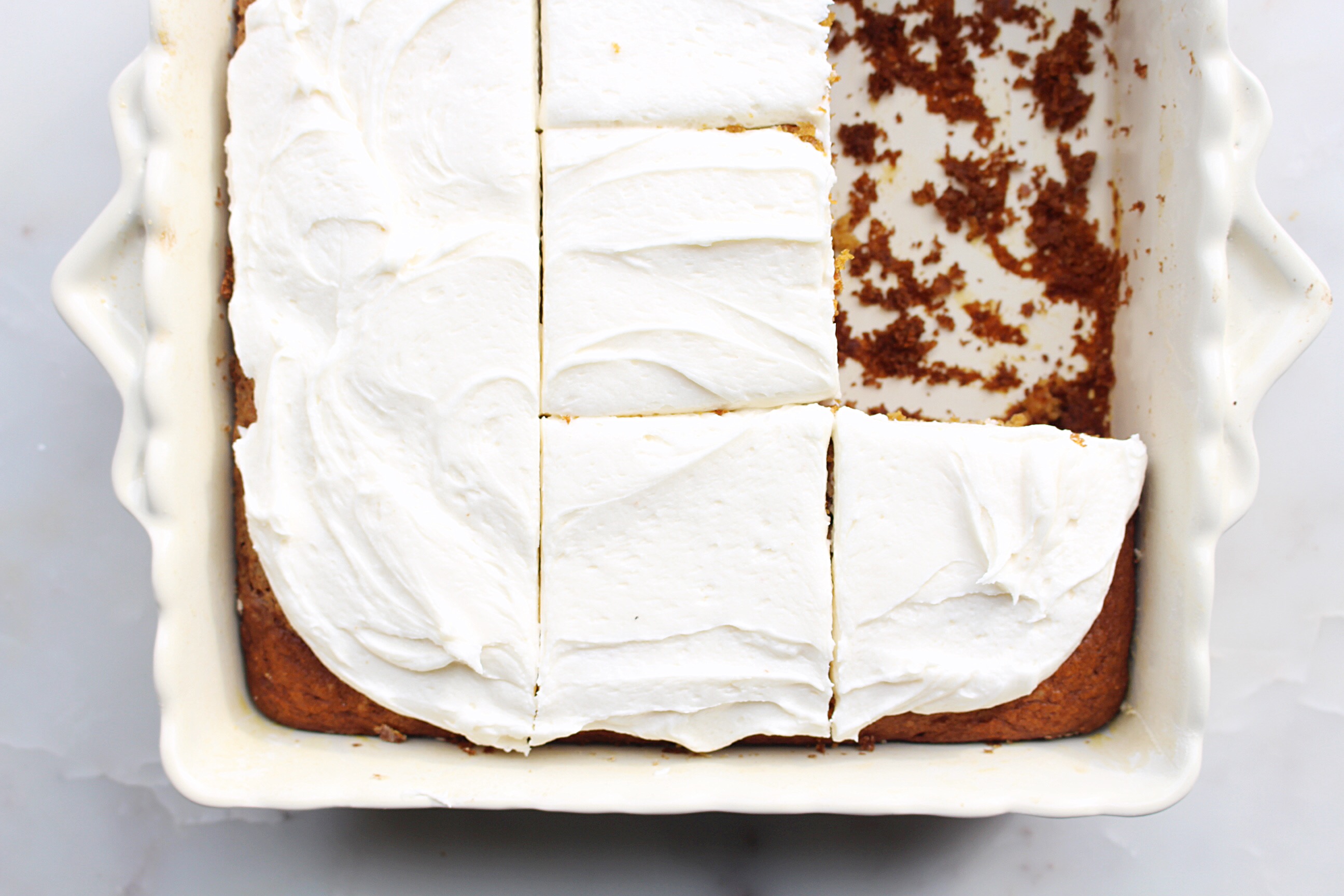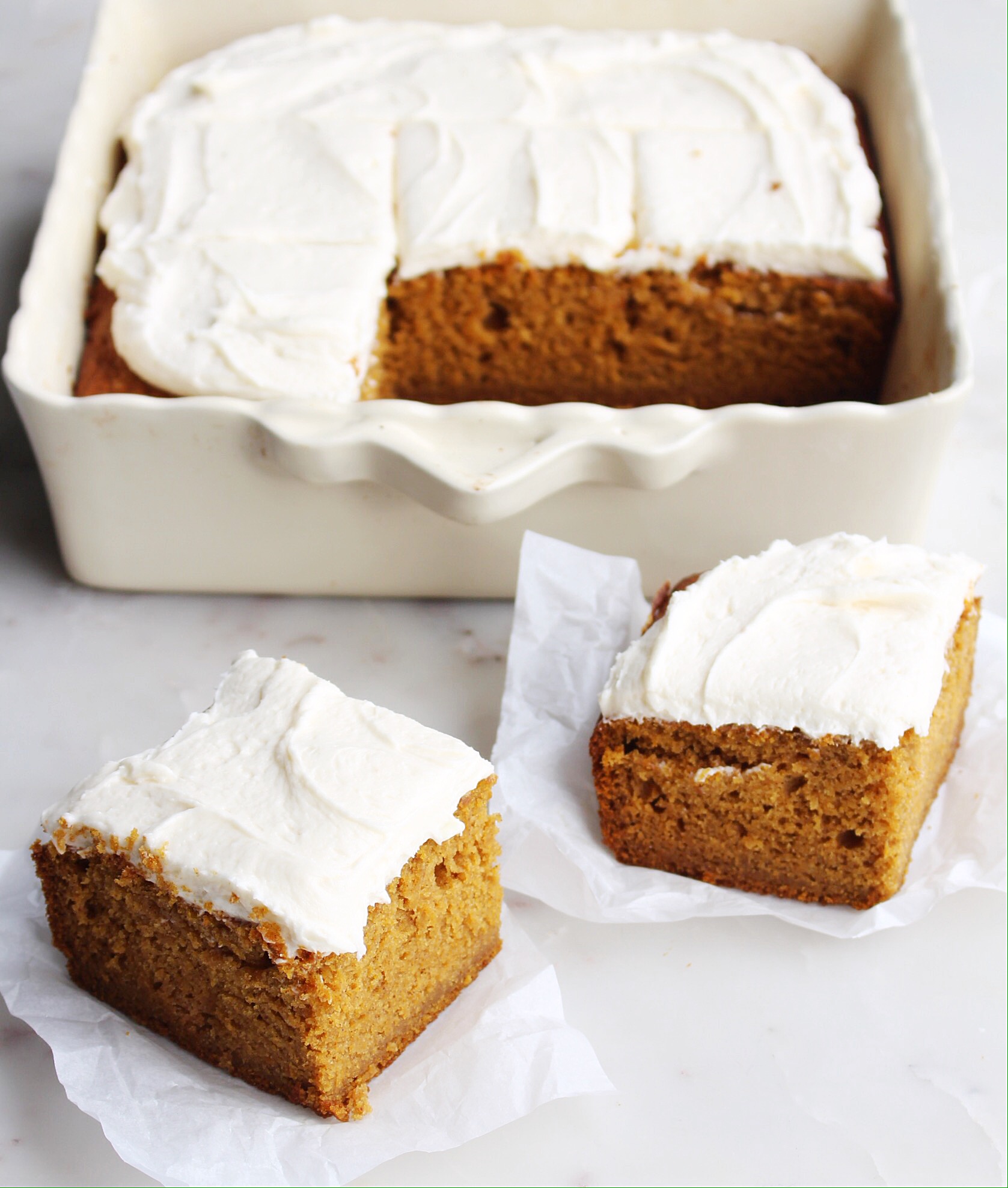 One of our staple desserts each Thanksgiving (aside from pumpkin pie & apple crisp) is this Pumpkin Spice Cake.
The pumpkin makes the cake ultra moist  it has just the right amount of spice, without being overpowering. Not to mention that cream cheese frosting, which was literally meant to be with this pumpkin cake.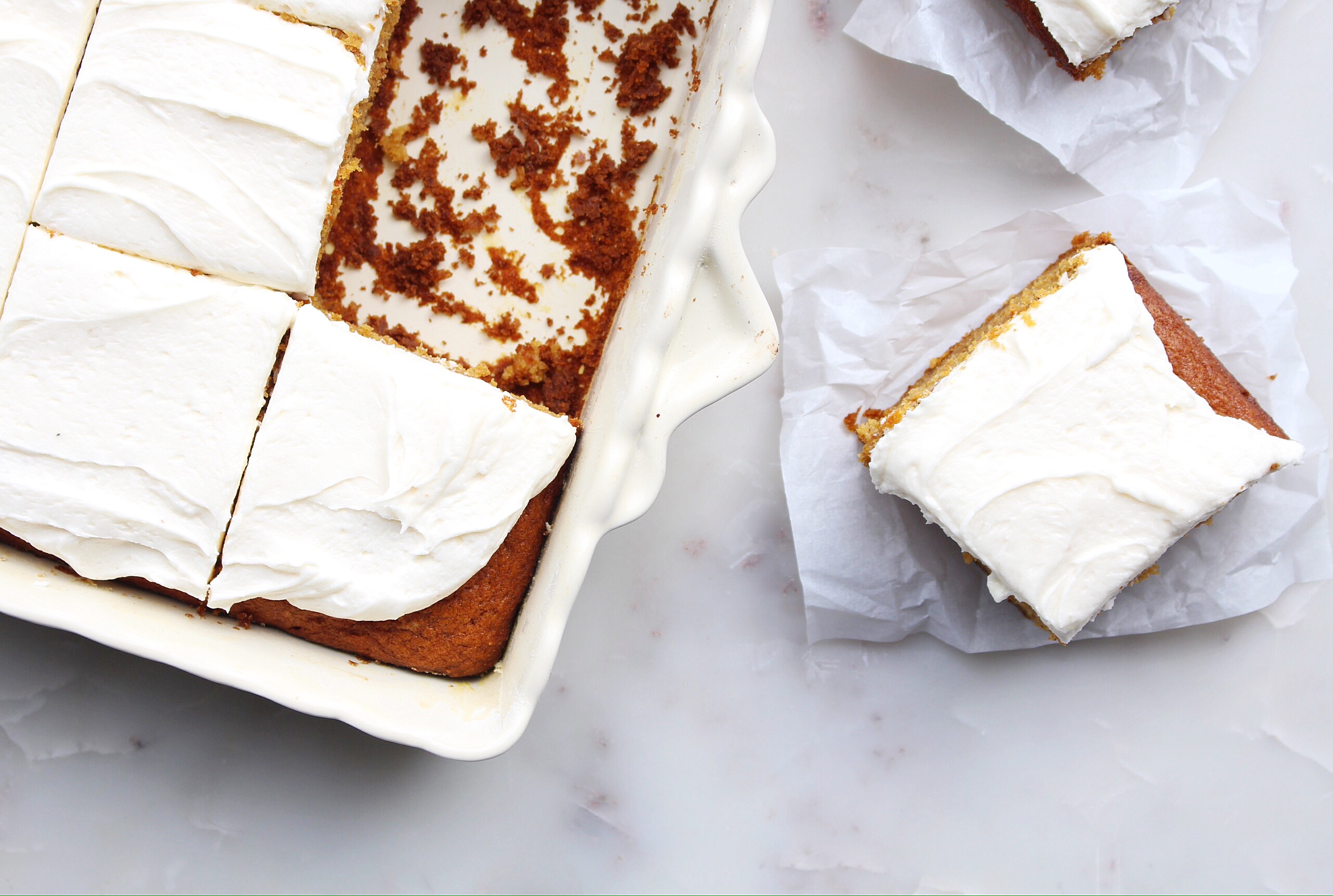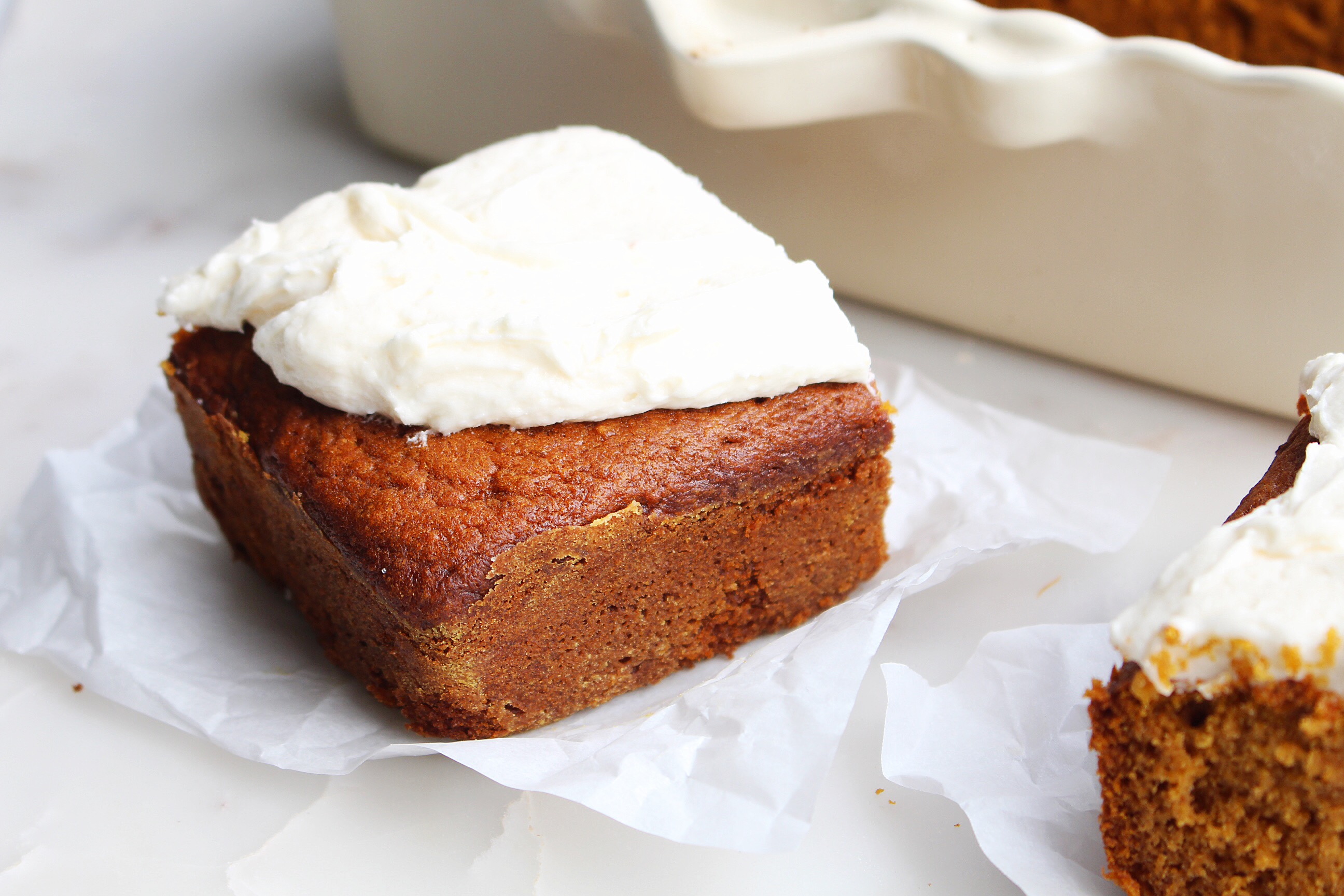 This cake also makes amazing little cupcakes if you are looking for more of a bite sized treat to serve for Thanksgiving dessert or you know… just to have on a Tuesday afternoon.
So Happy Thanksgiving to all of my fellow Canadians – I hope you have a wonderful day filled with joy, family, laughter and yummy food – and maybe a slice of this pumpkin cake.
Happy Baking <3
KP xoxo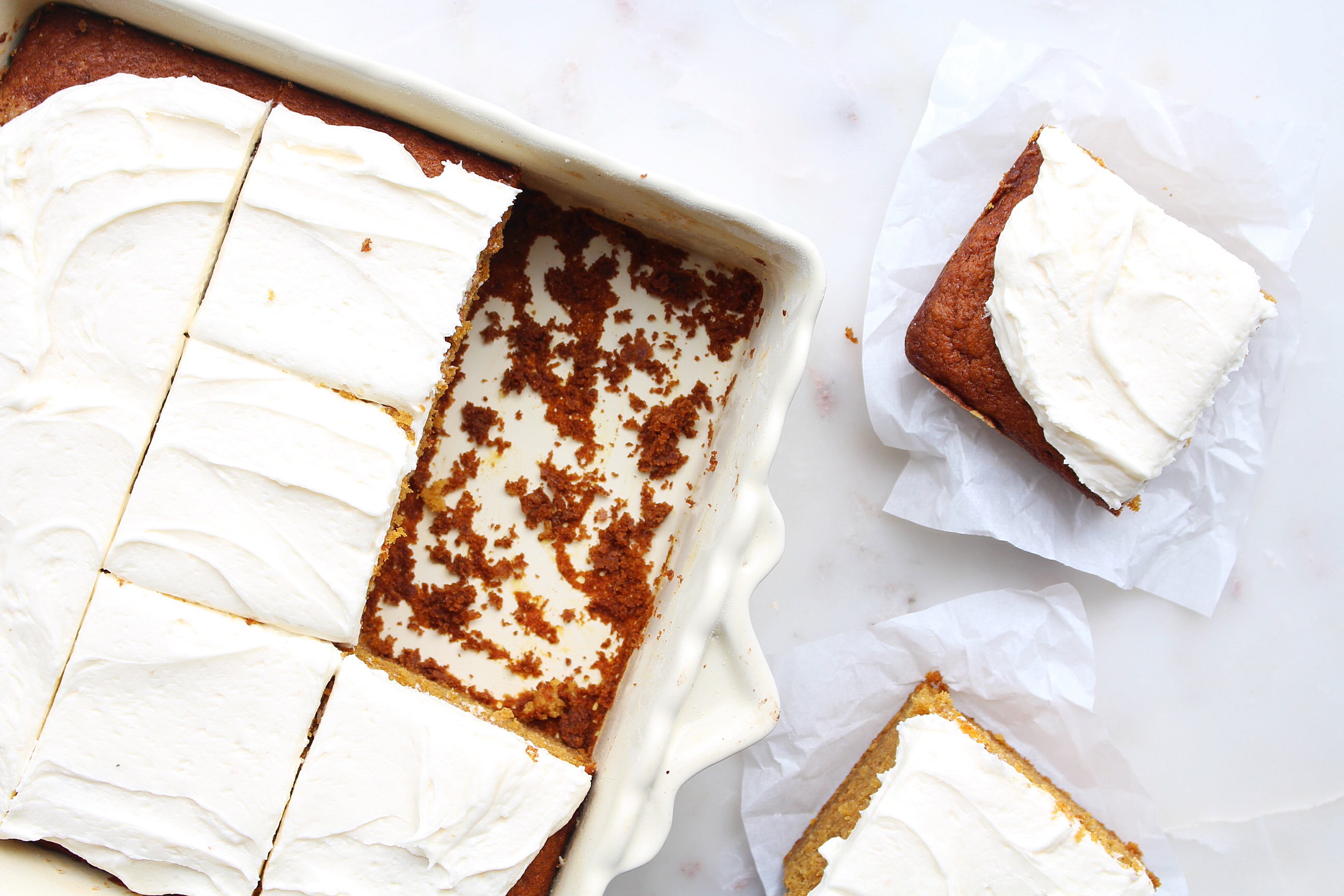 Pumpkin Spice Cake with Cream Cheese Icing
Things you need… 
Cake
1 cup butter, at room temperature
1 cup brown sugar
1/4 cup granulated sugar
1 tsp vanilla
4 eggs, at room temperature
1 can of pumpkin pure
2 cups flour
2 tsp cinnamon
1/4 tsp nutmeg
1/4 tsp ginger
1/4 tsp salt
2 tsp baking powder
1 tsp baking soda
Cream Cheese Frosting
4oz of cream cheese, at room temperature
1/4 cup butter, at room temperature
3-3 1/2 cups icing sugar
1 tsp vanilla
How to make…
Cake
Preheat oven to 350F and line a 9"x12" baking pan with parchment paper.
In a large mixing bowl combine butter and sugars; beat until light and fluffy with an electric mixer. Add the eggs in one at a time, mixing well after each addition. Add in vanilla and pumpkin pure and mix until well combined.
In a seperate bowl, sift together four, baking soda, baking powder, cinnamon, nutmeg, ginger and salt. Slowly add flour mixture to wet ingredients and mix until just combined.
Bake at 350F for 25- 30 minutes or until a skewer comes out clean. Allow to cool completely before icing.
Cream Cheese Frosting
In a large mixing bowl, cream together the butter and the cream cheese until well combined and there are no lumps. Slowly add half of your icing sugar and mix on low speed until well combined. Add in vanilla and  mix until combined. Continue to slowly add in remaining icing sugar and mix for 2 minutes until the icing comes together and is light and fluffy.
If your icing is too stiff, add in some milk. If your icing is too fluid, add in some more icing sugar.
Once your cake is nice and cool, dollop on a few healthy spoon fulls of that fluffy cream cheese frosting, and use an offset spatula to spread to the edges of the cake. You want you icing layer to be about 1/2 inch thick… because this is Cream Cheese Icing we are talking about here, so there is no need to be stingy 😀
Now cut yourself a nice big slice, grab a fork or just use your hands and palm a slice with you to the couch, where you will enjoy your cake in all of its pumpkin spicey, cream cheese icing glory.
* This recipe adapted from the "Betty Crocker Cookbook"  – Pumpkin Squares.