Confession: I am had a little bit of a love affair with these scones…
It was a short love affair – because before I knew it they were gobbled up by my family – but it was a strong and meaningful love affair that was definitely worthy of a recipe share.

For those of you who have been here before, you know that I have a little bit of a sweet spot when it comes to scones. They are probably my favourite thing to bake and definitely my favourite thing to eat. No matter what the circumstance, I will never say no to a good batch of homemade scones; like even if I just finished stuffing myself with a hearty seven course meal, I would still be able to find room for a buttery scone.
Scones are basically my kryptonite. I am utterly powerless to their delicious charms.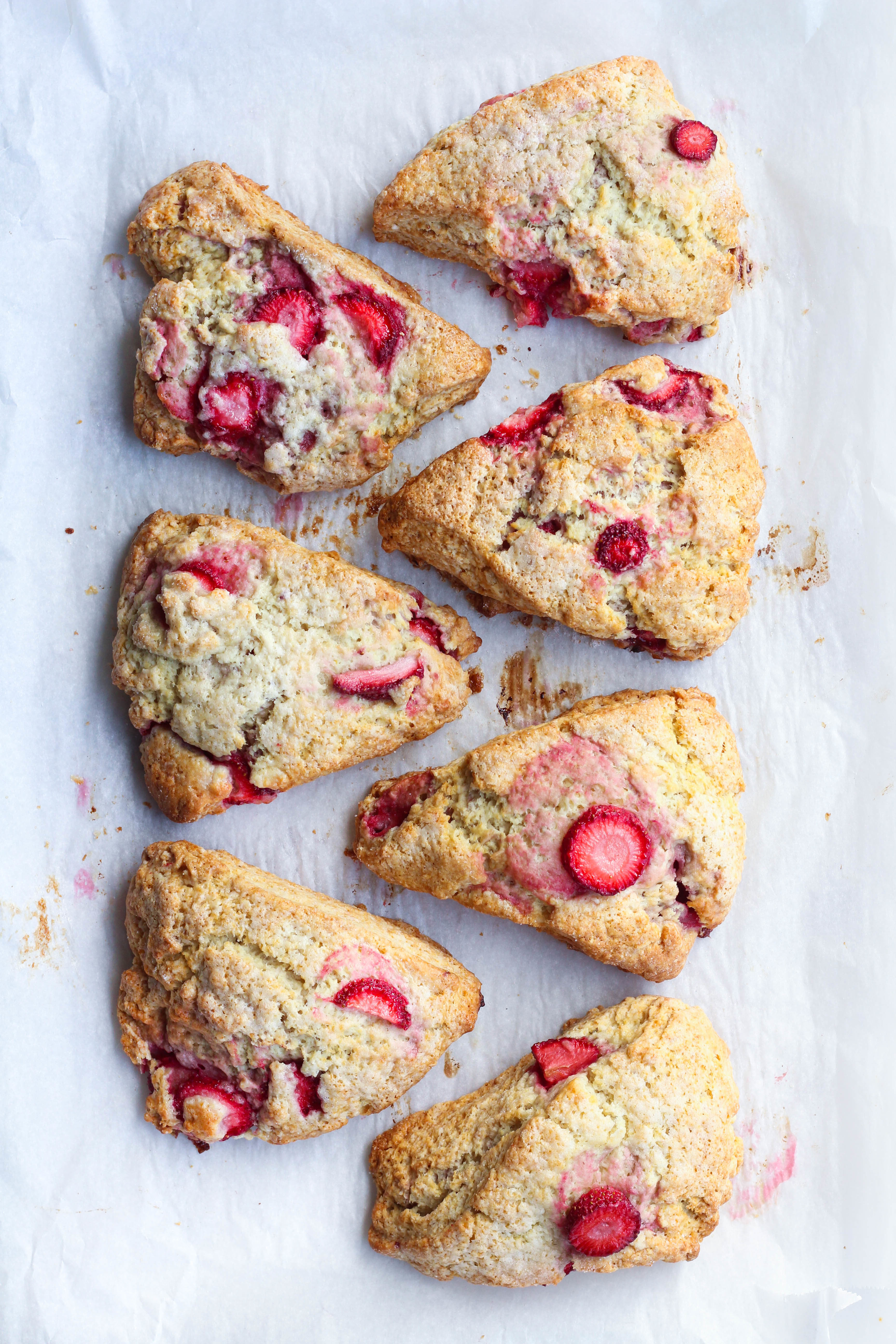 I am also a fool for a good strawberry shortcake, so this past weekend it hit me… Strawberry Shortcake Scones. Mhmmm.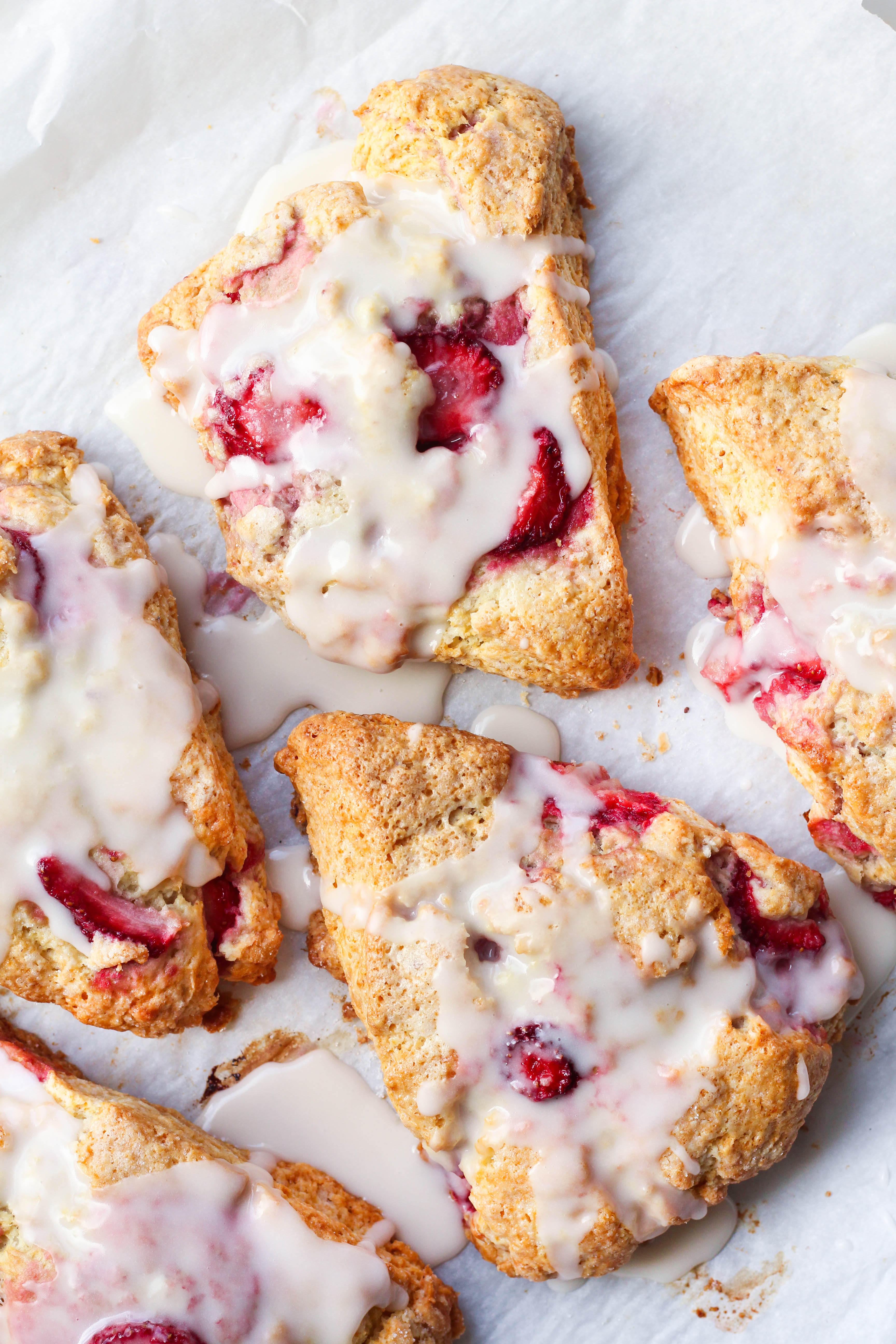 It's really hard for me to put into words just how delicious these scones turned out, so let me just say this; they were everything I hoped they would be, and more. Fluffy, tender, buttery scones loaded with sweet & juicy strawberries, topped with a vanilla glaze that was literally everything. Not pictured… we enjoyed these with a healthy dollop of freshly whipped cream to really give them that shortcake effect.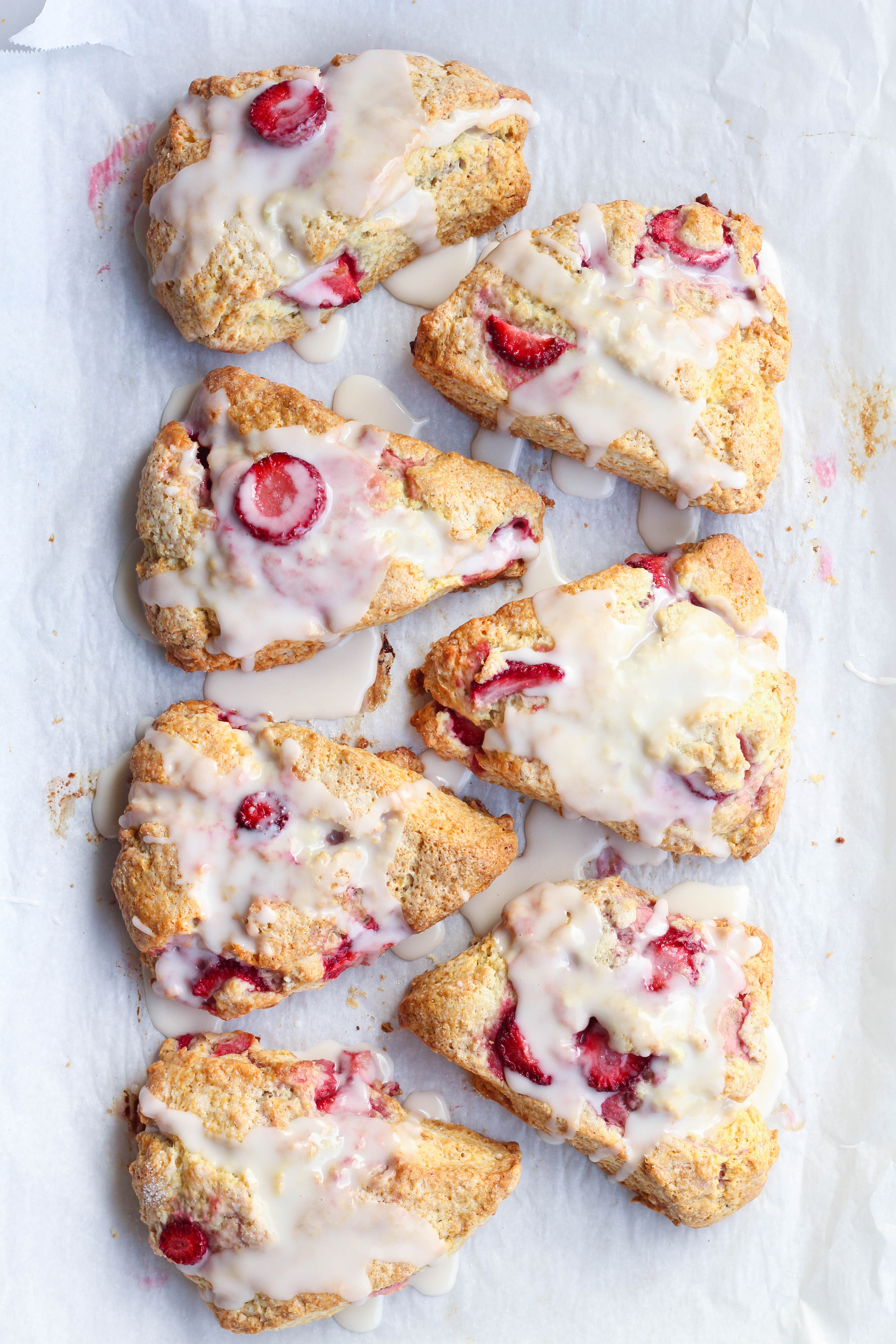 Seriously you guys, I am basically drooling right now just thinking about them! So take advantage of the fresh local strawberries in your area and plan on making a batch this weekend. You will not be disappointed.
Happy Baking!
KP xoxo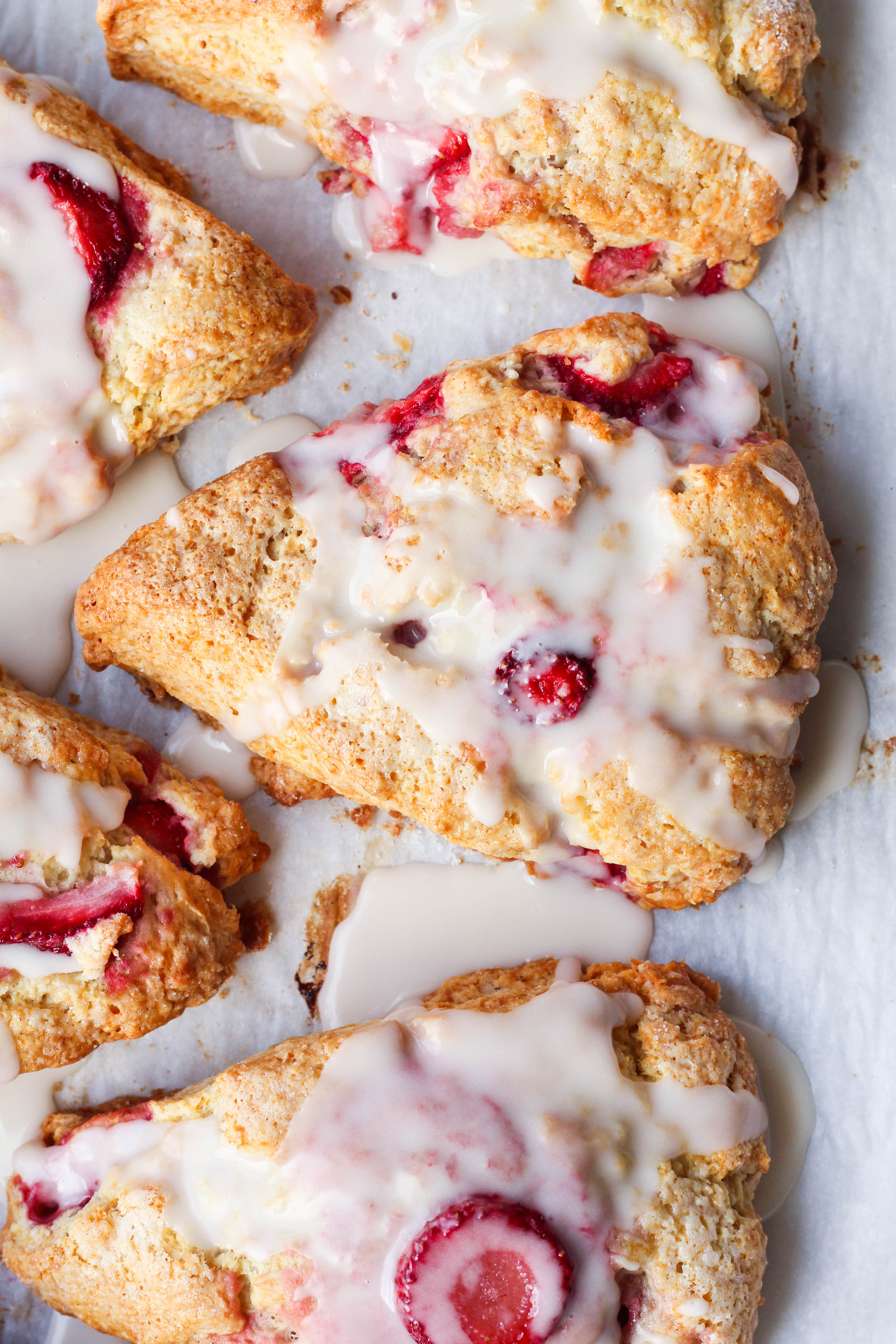 Strawberry Shortcake Scones
Things you need…
Scones
2 3/4 cups all purpose flour
1/2 cup granulated sugar
1 tbsp baking powder
1 tsp baking soda
pinch of cinnamon
1/4 tsp salt
2/3 cup cold butter, cubed
1/2 cup buttermilk
1/2 cup heavy cream
1 1/2 tsp vanilla extract
1 tsp lemon zest
1 egg
1 cup frozen sliced strawberries
Vanilla Glaze (optional)
2-4 tbsp milk
1 1/2 cups icing sugar
1/4 tsp vanilla
How to make…
Scones
Preheat oven to 375F degrees and line two baking sheets with parchment paper.
In a small mixing bowl, combine buttermilk, heavy cream, egg, vanilla,  and lemon zest. Set in the fridge until ready to use.
Next, in a large mixing bowl, whisk together flour, sugar, baking soda, baking powder, cinnamon, and salt until evenly combined.
Add in your cubes of cold butter and lightly toss to coat each of the butter cubes with the flour mixture. Begin working the butter into the dry ingredients with your fingers or with a pastry cutter until most of the butter chunks are the size of peas, with a few larger almond sized chunks. Stir in frozen strawberries to evenly distribute.
Drizzle the chilled wet ingredients over the dry ingredients and use a fork or spatula to gently fold the wet into the dry ingredients until a ragged dough forms.
Turn the ragged dough out onto a cool lightly flour work surface to fold the dough. Gently shape the dough into a rough rectangle & fold the right half of the dough over onto the left half; repeat this process 4 more times.
Now divide your dough into 2 parts. Dust the top of your dough with a bit more flour and gently shape each half into a disk. Use your fingers or a rolling pin to press each disk into a 1 inch thick disk. Use a sharp knife to cut each disk into 6 equal parts, so you end up with 12 scones in total.
Place the 12 scones onto your prepared baking sheets; Brush the tops of the scones with melted butter and sprinkle with coarse sugar.
Place one tray at a time into the center rack of your oven and bake for 20-25 minutes or until the tops are golden brown and the tops spring back to your touch. Set the tray on a cooling rack to cool for about 5 minutes before glazing. If your skipping the glaze, I highly recommend serving them with some freshly whipped cream for the full "shortcake" experience :D.
Vanilla Glaze
Whisk 2 tbsp of milk, icing sugar and vanilla together until smooth and creamy. Add in additional  milk 1 tbsp at a time to thin if your glaze is too thick. Drizzle over warm scones and enjoy!