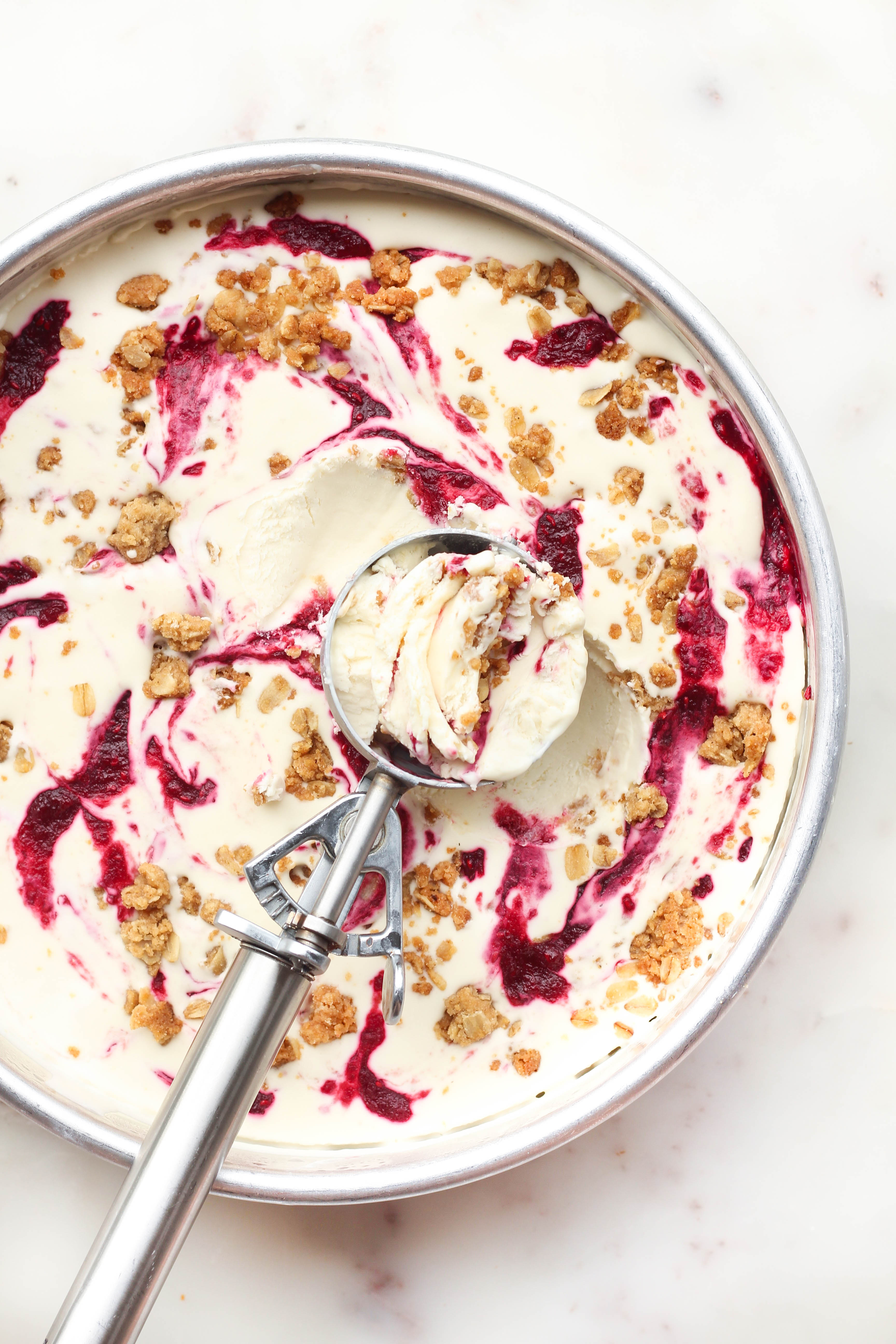 Those of you who have read previous blog posts will know that I have a little bit of a thing for jam; and when I say "a little thing" I mean, I will pretty much eat it on anything and I have no issue eating it straight from the jar. Like, "hi my name is Kristie and I am a jam addict…"
Seriously though. I love jam. I love alllll the jam. Every flavour; sweet or savoury – hit me up with a spoonful of that fruity goodness.
So a couple weeks ago, when the incredible Natalie from East Van Jam offered to send me a couple jars of her Raspberry and Blueberry Jam to try – it was literally like all of my jam dreams were coming true.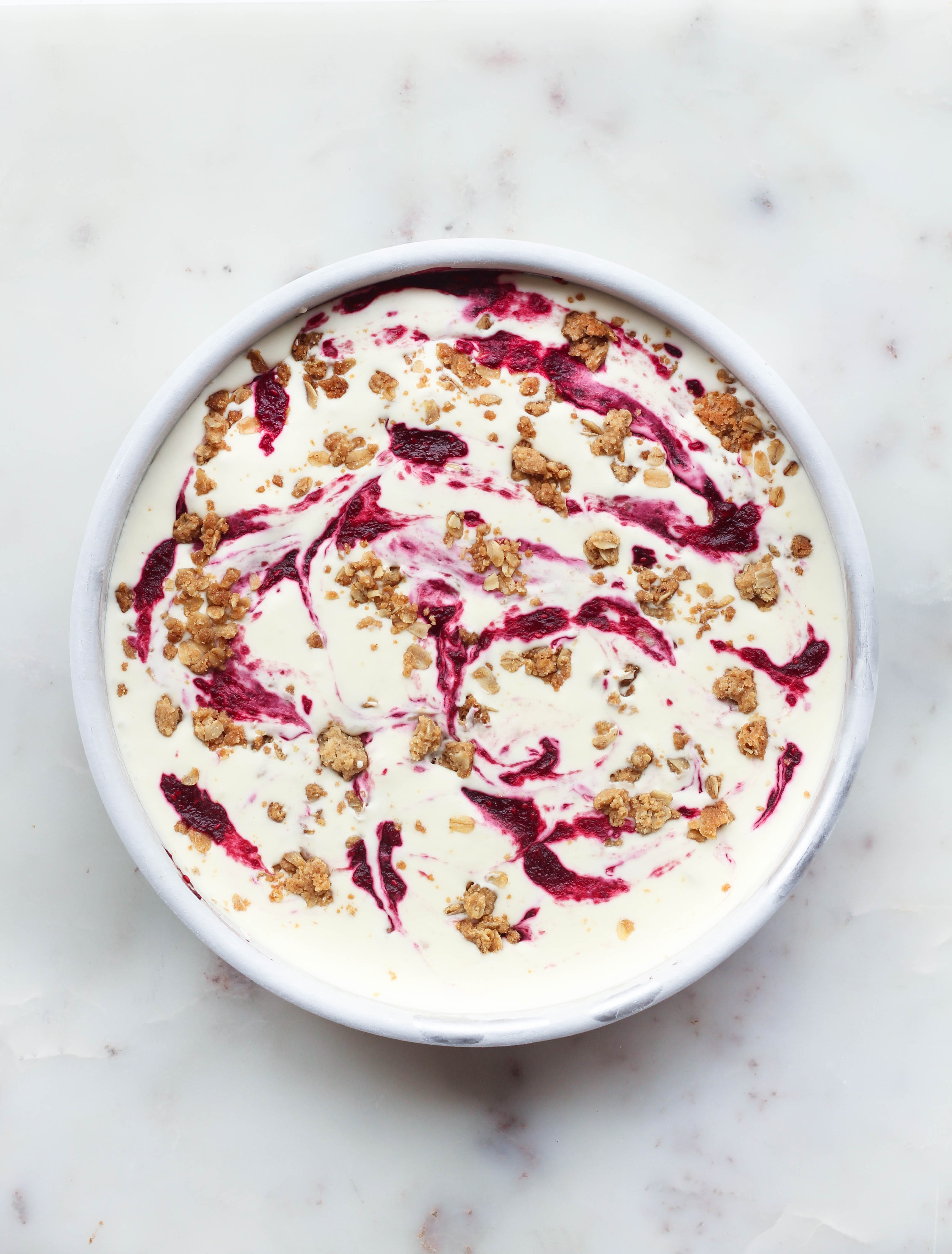 When the little package of jam arrived, I literally jumped up and down with glee exactly three times before proceeding to rip into the package like some kind of wild animal.
Needless to say I immediately opened up both jars and took a spoon to each of them for a taste. I won't get too much into it, but what happened next was a very long series of nommy noises, proceeded by more spoonfuls of jam, and even more nommy noises. I told you I love jam.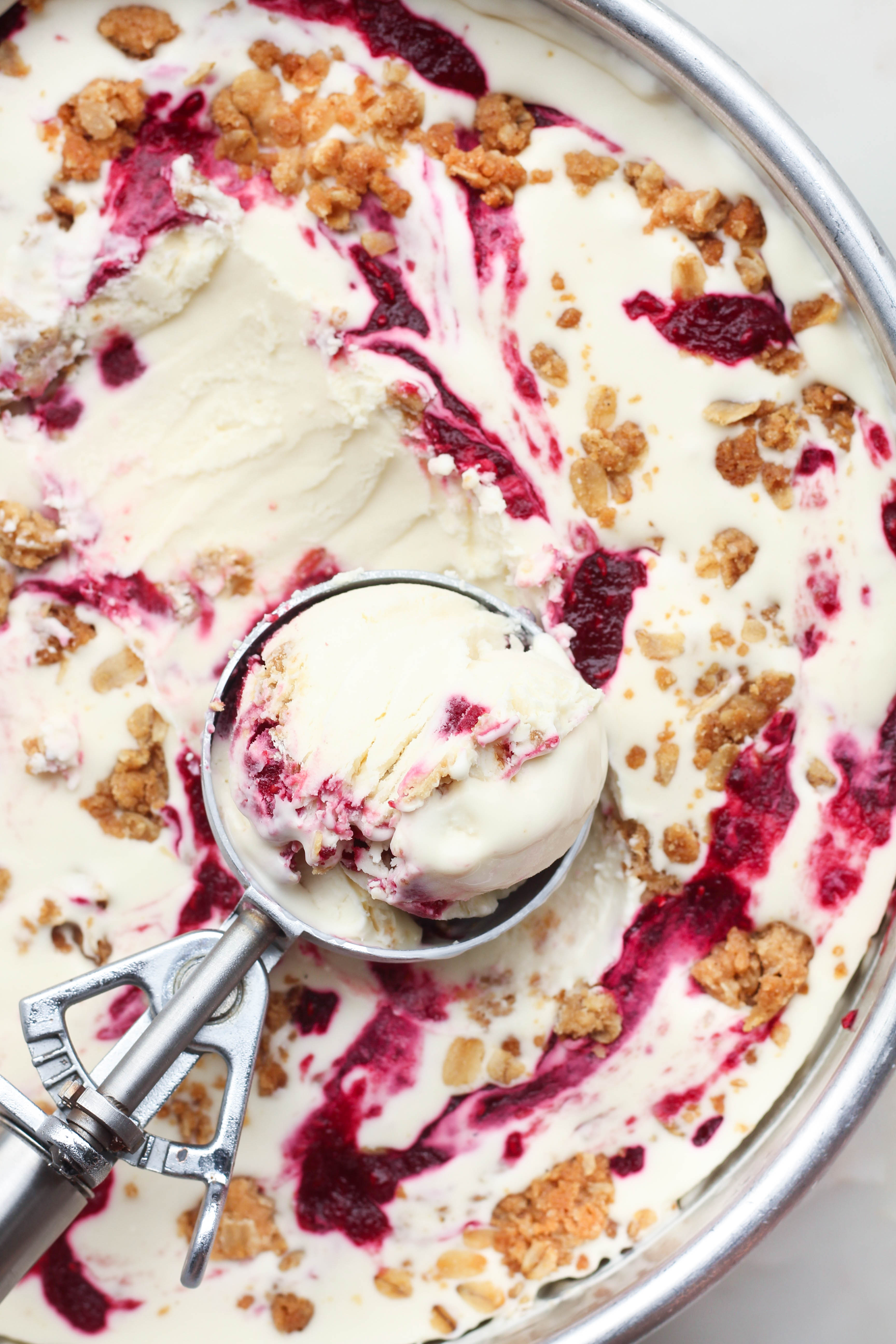 Eventually I found the will power to put down the spoon and put the jars away and began to imagine all the ways I would enjoy every last bit of those jams. I pictured spreading it on a slice of warm toast; smearing it on a buttery scone; pouring it over vanilla ice cream… wait a second – jam and ice cream? Holy shit yes!
Pretty soon I had big plans for the jam, and it included a batch of homemade no churn vanilla ice cream swirled with a buttery brown sugar crumble. Umm hi!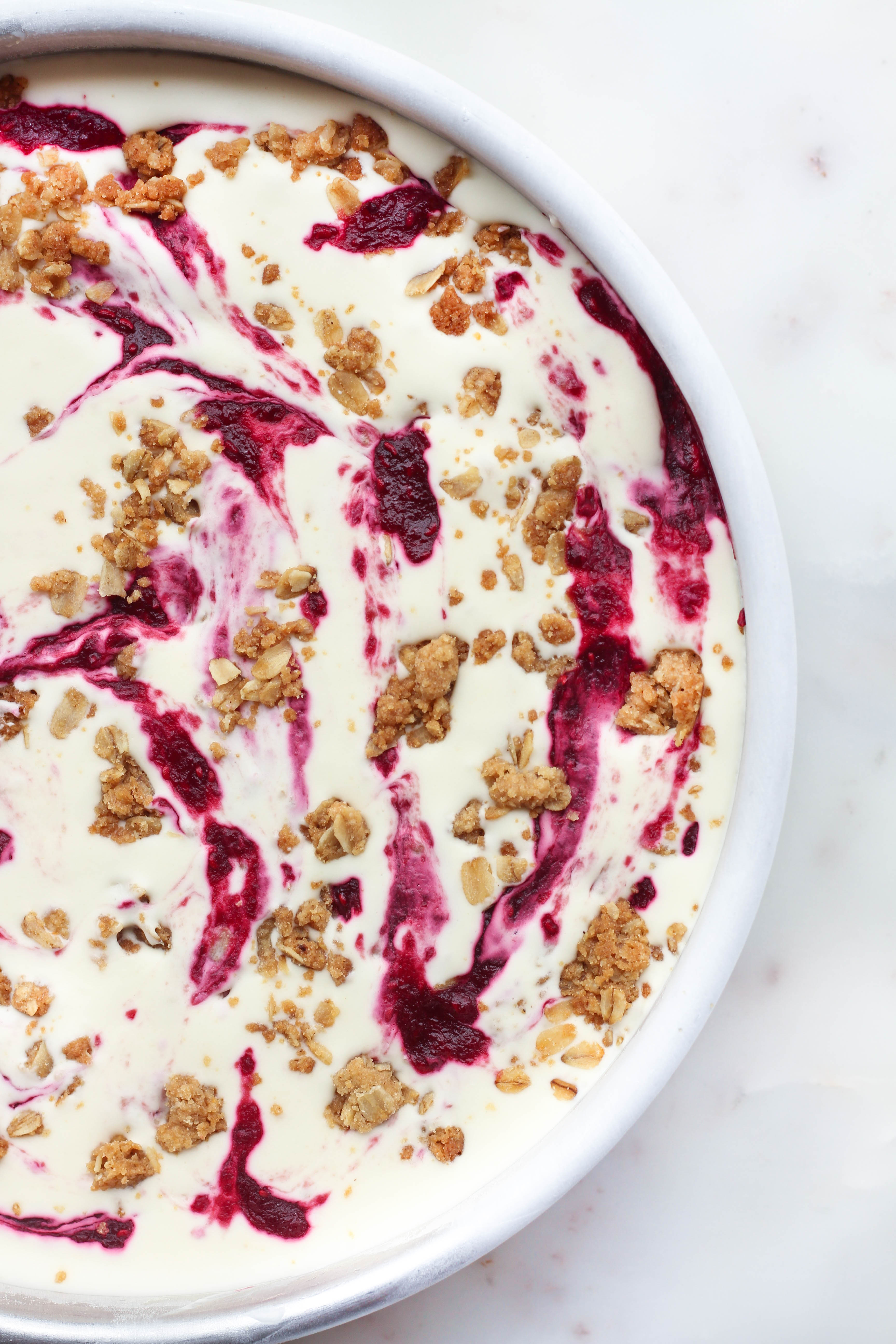 This No Churn Raspberry Crisp Ice Cream was the final result and seriously you guys, I can't even begin to tell you how delicious it is.
All I can think to convey the deliciousness it to tell you that it's too good. Like skip the bowl, grab a very large spoon, and devour half of the batch straight out of the pan kind of good. And then put it back in the freezer (only for a second to pretend you can exercise some form of restraint,) and then pull it back out of said freezer, and continue to eat straight from the pan again. This may or may not have been how I chose to eat my batch of ice cream… no judgement please.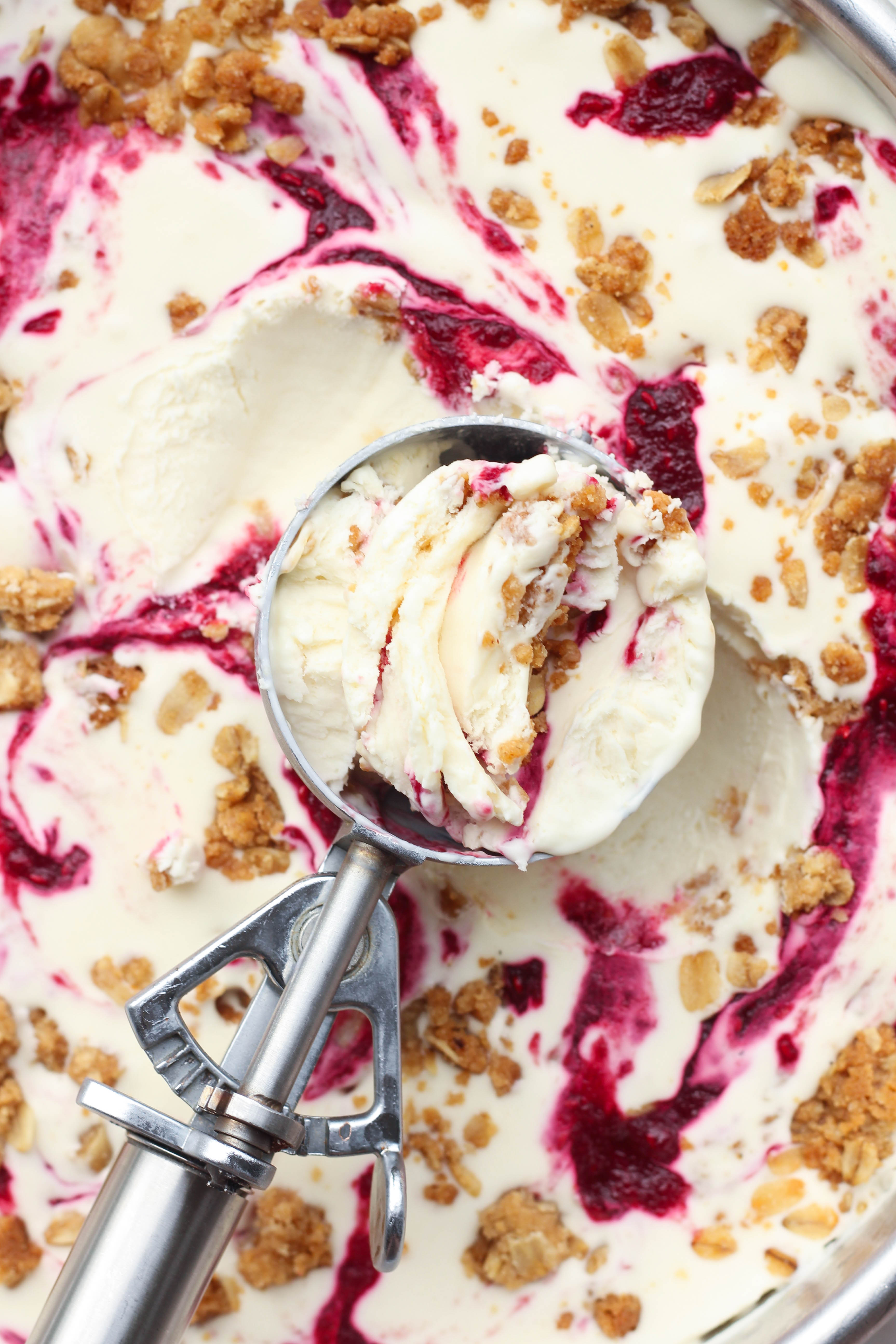 Best thing about this ice cream (besides the obvious deliciousness) –  You don't even need an ice cream maker to make it, and it whips up in no time! But you would never believe that it wasn't churned because it is sooo creamy. Sooooo creamy, and pairs perfectly with the tartness of the raspberry jam. Definitely a must try this summer. And hey, try making it with blueberry jam or strawberry or peach … oh god yes, please try it with peach – because peaches and cream… um yes!
Alright before I stop rambling and sign off for the night; Avery serious thank you must be paid to East Van Jam for sending me her delicious jams, and in turn inspiring this killer recipe! Thank you!
Happy ice cream making!
KP xoxo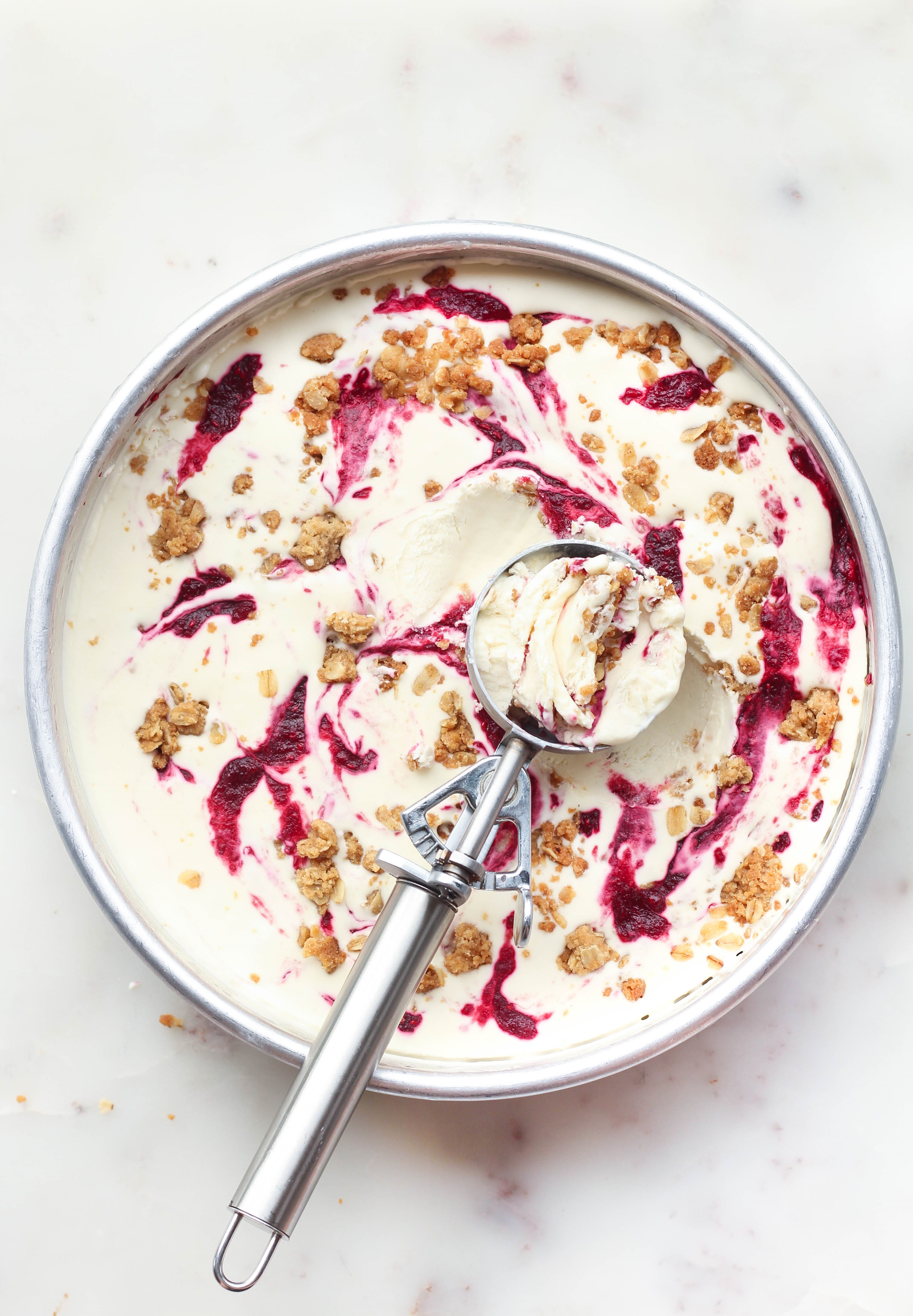 No Churn Raspberry Crisp Ice Cream
Things you need…
Brown Sugar Crisp
1/3 cup all purpose flour
1/3 cup rolled oats
1/4 cup brown sugar
1/2 tsp cinnamon
3 tbsp butter, cold
No Churn Ice Cream
1 14 oz can sweetened condensed milk
1/2 tbsp vanilla extract
1 tbsp lemon juice
1/4 tsp salt
4 oz cream cheese, softened
2 1/2 cups heavy whipping cream
Raspberry Jam, about 2/3 cup, (I used East Van Jam)
How to make…
Brown Sugar Crisp
Preheat oven to 350F degrees and line a small baking sheet with parchment paper.
In a medium bowl, whisk together flour, oats, brown sugar and cinnamon. Add cold butter and work the butter into the dry ingredients with a pasty cutter until the butter is incorporated and you are left with a crumbly mixture. Spread onto prepared baking sheet and place in the oven to bake for about 10-15 minutes or until golden. Remove from oven and and allow to cool completely. Set aside until ready to use assemble ice cream.
No Churn Ice Cream
In a small bowl, whisk together condensed milk, vanilla and salt. Set aside.
In a large bowl, beat the cream cheese with an electric mixer fitted with the whip attachment on high until smooth and creamy and there are no lumps. Turn the mixer to low and slowly add the whipping cream in a steady stream. Once all the cream in incorporated, turn the mixer to high and whip until stiff peaks form; about 3-4 minutes.
Add half of the whipped cream cheese mixture to the condensed milk mixture and whisk to combine. Add the condensed milk mixture to your bowl of whipped cream and use a spatula to fold the whipped cream into the condensed milk until smooth and no streaks of whipped cream remain.
Pour 1/2 of the mixture into a 9 or 10 inch cake pan (alternatively you could use a loaf pan). Set the pan and the remaining ice cream mixture in your freezer for 15 minutes to set slightly. Once set remove and begin assembling your ice cream.
Dollop about 1/3 of a cup of your raspberry jam over the ice cream in the pan. Use a spoon to spread it evenly over the top. Sprinkle with 1/2 of your crumble mixture. Dollop the rest of your ice cream mixture on top and use a spoon to smooth. Dollop the remaining jam across the top of the ice cream and use a knife or the back of your spoon to create the pretty swirls. Sprinkle with remaining crisp mixture.
Cover with plastic wrap and set in the freezer for 5-6 hours before serving.
Enjoy!